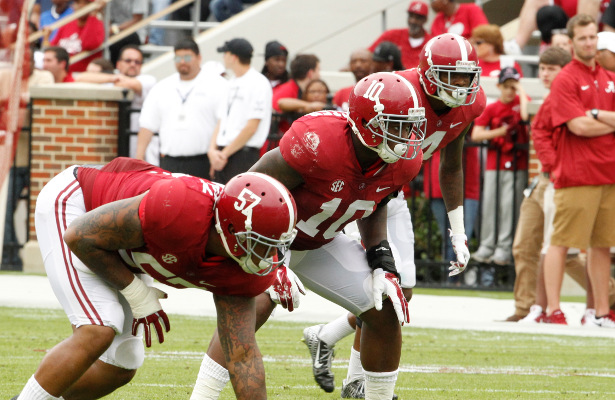 It's a difference in defensive philosophy and the result may be quarterbacks on the ground. (Photo Touchdown Alabama)
The Difference on Alabama's Defense Few Know Now, But Soon Will See
By: Larry Burton
With all the talk this week being about quarterback speculation, it's time to talk about something that will make a bigger difference. After all, if the competition is that tight, then it really won't matter who starts if they're all that equally good, but this is the big thing that no one is talking about now, but soon will be.
There is no question that Nick Saban's teams have been among the best in college football year in and year out in total defense. Yet despite lofty national rankings in the overall defense category, on set of defensive numbers has never reached national leading status. That category is quarterback sacks.
Saban's goal has always been twofold on that issue. It's more important to contain and affect a quarterback than to put him on the ground. In Saban's mind, it's better to rattle a quarterback into fumbling or throwing an interception or maybe scrambling for a yard or two at best.
But the problem is, sometimes Alabama has faced quarterbacks who they weren't able to contain, who scrambled for much more than a yard or two, or were able to avoid being affected by using their feet to roll out or move around and complete big passes. The fans grumbled, Saban yelled and the third down stop ratio wound up looking very bad for the Tide defense.
You play and plan the game around the players you have. That works better than coming up with a plan and trying to get your players to conform to that. That has always been Saban's mantra. What that means in terms of sack counts is that Saban's been doing what he can with the players he's got and while he's had some guys who could contain and affect, he hasn't had a lot of guys that could put a quarterback on his back with any consistency.
Until maybe now.
So this year, if you haven't been watching and listening very closely, there's going to be a different defensive mindset this year, one that the fans have been wanting to see and that is, GO GET HIM!
In the past Saban has said, if you rush full bore at the quarterback and miss him, the hole you came through is open for the quarterback to escape through and a big play can result. Alabama just didn't have the pass rushers with the speed to get there and make sure they didn't miss.
This could be the finest, fastest and most fearsome front seven that Alabama has put on the field in some time and this group has players who have the strength, skills and most importantly, that initial burst of speed to not only get to, but put a quarterback on the ground in a mean and nasty sort of way.
Ryan Anderson showed flashes last season of what he is capable of all season long this year. Last season, without being an every down player, he was second on the team with three sacks and added eight tackles for loss to go with that.  But for a defense to put up big numbers, there has to be more than one player with that unique ability to flash through the line and zero in on a quarterback.
And Alabama has at least one other such sack candidate and his name is Rashan Evans. While he only had one sack, he also had two tackles for loss in very limited play. This year, with a year of learning under his belt, the former 5 star is now ready to step up full time and possibly step into stardom.
But Alabama has many more in that front seven that are capable of not only getting to but planting a quarterback and there a young players who will get a chance here and there to show what they can do.
So with this group of players, Saban is showing signs of turning loose the dogs of war on the quarterbacks this season. He has faith that they can get to and plant the quarterback when they're turned loose, but there are still going to be some times where containment and disruption will be the orders. There will be just be less of those times.
In this group, Saban feels he has men who can get to the quarterback and slam the door, not rush in, miss and leave the door open as they have in the past. It's going to be a fun season to see if they can finally break into the top ten in sacks in the country. So far in Saban's time at Alabama, despite having many of the national leading defenses, Alabama has never ranked higher than 29th in the country in sacks. In the past seven years, Alabama has an average of 53rd in the country in sacks.
Now that you know the numbers from the past, it'll be interesting to see how it goes this season and how the numbers shake out as the season goes on.
Larry has been published in almost every media outlet for college sports and now primarily writes here for Touchdown Alabama. Follow Larry on Twitter for inside thoughts and game time comments at  https://twitter.com/LBSportswriter
Thanks for sharing the link to this story on your Facebook page
Come to the "Points After" Forum on the Touchdown Alabama site and discuss your feelings on this article.