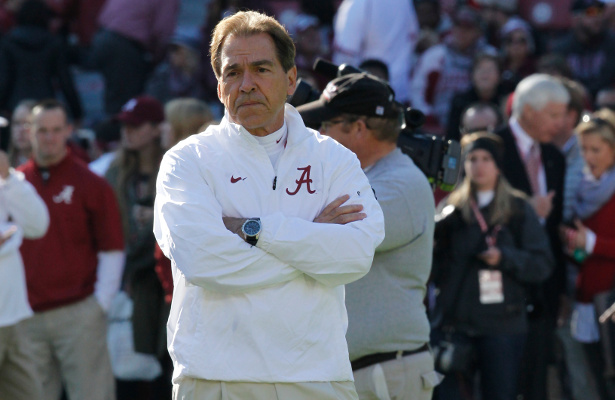 I'm sure Saban chuckled knowing what this depth chart would do to reporters and fans.
Alabama Releases First Week Depth Chart, Or Does it?
By: Larry Burton
I'm taking the week off to enjoy some sunshine, scuba and lots of rum before the grinds of football season starts but I have my phone set to alarm the instant the depth chart gets announced in Tuscaloosa.
It seems Saban isn't interested in giving out much detail, because the key word in this depth chart is OR.
Read the details below and see if you agree:
OFFENSE
QB: Jake Coker OR Alec Morris OR Cooper Bateman OR Blake Barnett OR David Cornwell
RB: Derrick Henry, Kenyan Drake, Damien Harris
WR: Robert Foster OR Calvin Ridley, Deionte Thompson
WR: ArDarius Stewart, Daylon Charlot OR Cam Sims, Derek Kief
WR: Richard Mullaney OR Chris Black
TE: O.J. Howard OR Ty Flournoy-Smith, Michael Nysewander
TE: Dakota Ball, Hale Hentges
LT: Cam Robinson, Lester Cotton, Korren Kirven
LG: Ross Pierschbacher, Dallas Warmack, Isaac Luatua
C: Ryan Kelly, J.C. Hassenauer, Brandon Kennedy
RG: Alphonse Taylor OR Bradley Bozeman, Richie Petibon
RT: Dominick Jackson, Brandon Greene, Matt Womack
DEFENSE
DE: A'Shawn Robinson, Jonathan Allen, D.J. Pettway
NG: Darren Lake OR Daron Payne
DE: Jarran Reed, Dalvin Tomlinson, Da'Shawn Hand
OLB: Dillon Lee, Rashaan Evans, Christian Miller
MLB: Reggie Ragland, Shaun Dion Hamilton, Walker Jones/Adonis Thomas
MLB: Reuben Foster, Keith Holcombe
OLB: Denzel Devall, Ryan Anderson, Tim Williams
CB: Cyrus Jones, Bradley Sylve, Maurice Smith
CB: Marlon Humphrey, Tony Brown OR Minkah Fitzpatrick
Star: Minkah Fitzpatrick, Tony Brown, Maurice Smith
S: Eddie Jackson, Ronnie Harrison, Shawn Burgess-Becker
S: Geno Smith, Jabriel Washington, Hootie Jones
Clearly Saban is not tipping his hand to the opposing defensive coordinator this weekend and knowing Nick, I'm sure it's making him smile knowing what this doing to those of us in the press as well as the fans who have waited all spring and summer long to find out who may win the quarterback battle and I'm sure it infuriates the opposing coaches almost as much as the Alabama press and fans.
Well planned coach Saban,,, well planned…
Guess it's time to put on more sunscreen and head back to the bar now that my work day is over, it's not like they'll be much more to report for a while.
Larry has been published in almost every media outlet for college sports and now primarily writes here for Touchdown Alabama. Follow Larry on Twitter for inside thoughts and game time comments at  https://twitter.com/LBSportswriter
Thanks for sharing the link to this story on your Facebook page
Come to the "Points After" Forum on the Touchdown Alabama site and discuss your feelings on this article.