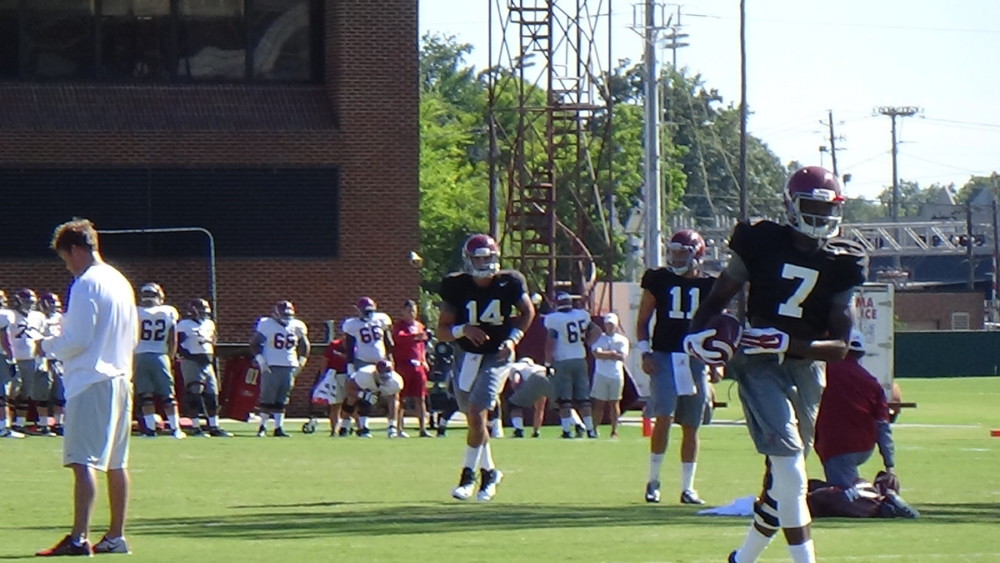 How many quarterbacks will play on Saturday? Read and see if you agree…
Expectations on Quarterback Play From Alabama This Weekend
By: Larry Burton
With Saban, there is only one thing you can be absolutely certain of when it comes to game planning and that is that you can't be 100% certain of anything.
Last season, with another quarterback battle that was well publicized, Saban had told the media that he expected both quarterbacks in the mix to see action. But in reality, the only action Jacob Coker saw was from the bench.
Following the game in the press conference Saban was talking about why Sims played the entire game and the only real time he thought about pulling him and giving Coker a shot. It was in the second quarter, when Sims had called the wrong formations in the huddle.  Saban explained, "And it wasn't his play, it was … he called a couple formations wrong in the huddle, he called a couple plays wrong. There was some confusion on the field."
But the reality was that Sims started out slow but in the second quarter got 17 points on the board and by halftime the score was just 20-17 Alabama and Saban may have been a little scared to change horses in a game that was so close, so Sims got to keep going and finish out the game. Coker never really got another shot and being the quarterback after that.
Had Alabama jumped out to a big lead, Coker would have been given his shot and who knows what could have happened, but on that day with the offense beginning slow and the defense giving up big plays and points it just never happened.
If history is any other indication, let me take you back to the AJ McCarron, Phillip Sims quarterback rivalry in 2011. That game opened up against creme puff Kent State and Saban had no problem letting each quarterback go just about equally through the game. McCarron showed himself to be the better man and Sims was effectively done as a starting quarterback option after that game despite what was publicly said by the coaching staff.
This weekend Alabama opens up against a team that is certainly not in the creme puff category. This was the team that beat Auburn in a bowl game this past year. You do not take this team lightly or you get whipped.
So what should you expect? While Wisconsin is hardly a creme puff, neither is Alabama and to be honest, they will not have lined up against a defense like this one. It would not surprise me to see this defense completely and utterly dominate this game to this point that Saban might just allow both quarterbacks he feels are the top two, to both see playing time.
But if the game is tight in the first half and the starting QB doesn't make big mistakes, you may him stay into the game until there is a little breathing room. Last year, the West Virginia team kept things close enough that Saban just didn't feel comfortable changing horses.
So in this game, ironically the Alabama defense will determine how many quarterbacks will see, perhaps more so than how the offense does.
Scenario one: Getting to see at least two QB's in the first half
Let's say the Alabama defense some quick three and outs and the Alabama offense moves a little on the first drive and scores on the second. In a scenario like that, expect to see the number two quarterback get some snaps.
If the first QB option comes in and just seems out of place, makes some bad reads and God forbid throw an early interception. Expect to see number two right away. I don't think Saban will allow much of a "calm down" period with a dangerous team on the field opposing him.
By design, Saban has already scripted that QB 1 goes in for the first three series and QB2 goes in the next three, just as he did during the McCarron/Sims battle.
Scenario two: Just seeing one quarterback
Alabama has limited success on offense, drives stall because of a dropped pass or things that weren't the QB's fault, but Wisconsin also has some success and the game is close. Saban may revert to his change quarterbacks in a close game in question especially if he seems capable of moving of the team.
This is really the only scenario I see playing out where we only see one quarterback. The starter in the first series is the guy that Saban feels is number one. That was McCarron in 2011 and Sims in 2014. In a close game, he'll ride that horse to end because he'll fell that's the best option.
Even if the first quarterback comes out and scores on each of his drives, I expect to see Saban play his number two if the defense is half the unit I think it is and he'll do it for the following reason. He'll want to see if the Wisconsin defense is just that porous and if anyone can move the ball on them and see if the second is just as prepared as the first.
While in theory, every coach in American would like to see all four of his quarterback options execute flawlessly and light up the boards, Saban is hoping that one quarterback clearly stands head and shoulders above the rest to stop the quarterback competition both in the media and on the team and get everybody behind one guy.
And this is what I expect will happen, but like most of you, I have no idea yet who that will be. I was wrong last year in thinking Coker had it all locked up and I won't go into this year touting another one over the other. Let's just hope the best man wins.
Larry has been published in almost every media outlet for college sports and now primarily writes here for Touchdown Alabama. Follow Larry on Twitter for inside thoughts and game time comments at  https://twitter.com/LBSportswriter
Thanks for sharing the link to this story on your Facebook page
Come to the "Points After" Forum on the Touchdown Alabama site and discuss your feelings on this article.