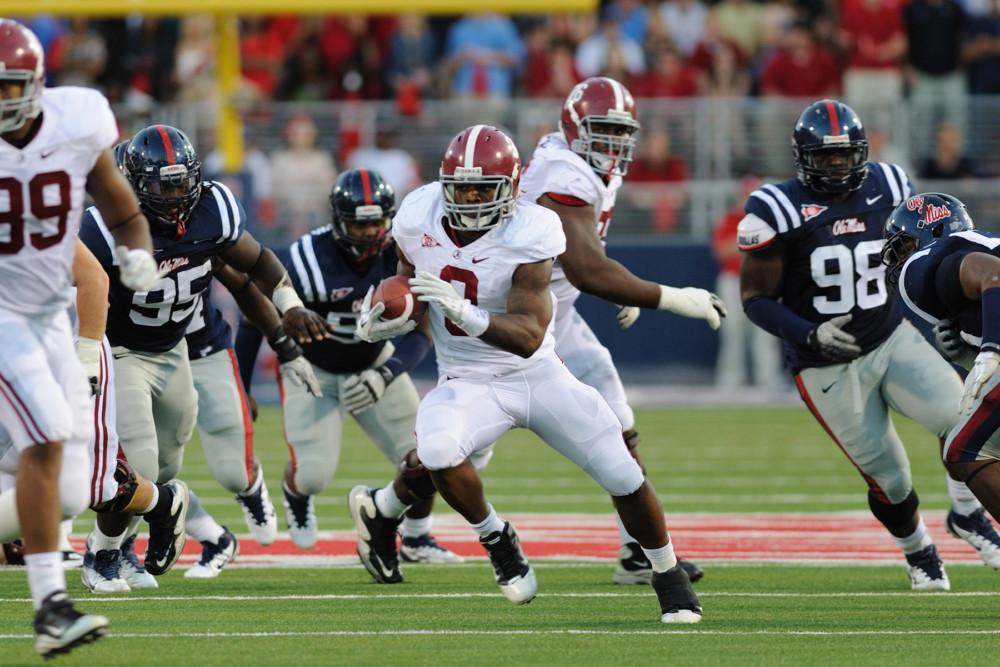 It's hard to believe a guy with this much talent has now sank so low. Can he return to greatness? (photo Cedric Mason TDAL)
What the Hell Happened to Trent Richardson?
By: Larry Burton
After finishing his junior year at Alabama as the leading rusher and a Heisman finalist and the Doak Walker Award winner, given to the nation's top running back, if anyone looked like an NFL lock, Trent Richardson surely did. After all, he broke Mark Ingam's single season rushing record and proved he could take on the nation's top defenses, even as a freshman. He should have stormed the NFL, so what happened?
I talked to Barry Krauss, a very famous Alabama player from the 70's who went on to play in the NFL about the subject of college standouts washing out in the pros in general with no person specific being talked about in the press box over a pregame meal a few years back and his insight was keen on the subject. "It's not because they don't have the physical ability to handle the NFL in most cases, it's because they don't make in mentally." Krauss said. "Some let the money and fame go to their head and they just lose it, and some can't go from being the most important guy on the team to just another guy on the team. There's a lot of reasons, but we see it happen almost every year on almost every team. If you don't come into the NFL with the mindset that you have to start all over, come in humble and prove yourself all over again, you probably won't make it." Krauss concluded.
This from a guy who had a play that immortalized him forever for Alabama fans, the famous "Goal Line Stand" against Penn State in the national championship game. That play became a song, a painting and gave Krauss a bigger shot at the NFL than he would have had without it. It's hard to imagine a bigger hero at the time. But he said when he went to the NFL, that that play meant nothing to his team mates and that he had to work his butt off and prove to them that he could could cut it with them.
Now no one, certainly not this writer, knows what went on in Richardson's head since leaving Alabama. But there are clues that tell us football may not have been his key focus early on. Richardson was certainly one of the brightest stars on the Alabama team when he left and perhaps he just assumed the NFL would be just as easy for him as college football was.
He was wrong.
Despite being picked by the Cleveland Browns third in the 2012 NFL draft, the highest picked running back in the draft, Richardson seemed to struggle with the NFL from the onset. First there was talk about him one day being the Brown's best running back of all time, something that didn't set well with Hall of Fame and former Cleveland running back, Jim Brown, who played there from 1957 to 1965. Brown said of Richardson, "He ain't proved &%$# yet." and those words would end up ringing true.
In his first year with the Browns, he was hampered with a knee injury and only rushed for 950 yards and a 3.6 yard per carry average. In his second year, things started spiraling for the new rich man with a 13.6 million dollar signing bonus and a four year 20.4 million dollar contract.
2013 saw him only rush for 105 yards with the Browns before they traded him to the Colts for a first round pick. The Browns didn't get their money's worth out of Richardson, but they were at least rid of the remaining years of his contract.
Then the rumors starting flying around about Richardson being in a porno movie with three young women. The movie was "shopped around" by people and it made national headlines. Clearly Richardson had his mind on something else other than football at this point. But just like his NFL career, his porno tape got no offers and the seller was bummed that no one wanted to buy or distribute it.
There was other rumors of partying that was a little on the wild side.
This was a far cry from the extra polite young man I used to interview after Alabama football games. He was humble, maybe a little shy and maybe because I'm in my late 50's, he always called answered me with "Yes sir" and "No sir" when appropriate. I was always in awe of him as a player, but even more so how he conducted himself in interviews.
The rest of 2013 saw him struggle as a running back and he was soon demoted to second string behind Donald Brown, hardly a household name. His first playoff carry was a fumble that was cashed in later for a touchdown by Kansas City. It was just sort of emblematic of how his time with the Colts would go. In fact in two playoff games, Richardson would rush only three times for one yard for a .02 per carry average and a fumble. He finished 2013 playing for two teams and just barely getting over 600 yards total. He did worse in 2014 and the Colts were done with him.
He was signed on March 17th of this year by the Raiders, but was cut before the first game of the season. Richardson was not just bad in his time with the Raiders, but even looked stupid at times. Perhaps the worst example was him missing a hole you could have driven a bus through and instead running into a crowd of defenders. He was an ESPN laughing stock and was cut from the team for plays such as this.
If Richardson's NFL career ends today, he'll make a top ten list alright, but it will be a "Top Ten NFL Bust List". But is his career over?
Richardson doesn't have to play another down in the NFL to retire and have a comfortable life. He can use his status as an Alabama legend to land a job somewhere and use his name to help him a future career path. He didn't spend all his guaranteed money and has that to fall back on too.
But I don't think the NFL has seen the last of Trent Richardson. Something tells me the young man I used to admire is still somewhere inside that brute of a running back and that whatever demons have haunted him until now can be slain. They say you have to hit bottom before you can start back up and let's face it, Richardson can fall no further.
This is not the way Richardson wants to leave the game he loves. This is not the way he wants his daughters, his fans and his teammates to remember him as a player. Maybe some time off to heal the physical wounds but maybe more importantly, the mental ones, will do Richardson some good. Maybe the best thing that can happen is for Richardson to take some time and examine his past, present and future and then decide for himself what's best in his life.
Maybe he needs to come back to Tuscaloosa, be around Coach Saban and the Alabama team and remember what he did and what it took to make him great once again.
No matter the decision he makes or what the future holds for this still young man, I will always remember him as the ultra polite, humble game breaker that helped Alabama so much in his time there. That was the young man I admire and always will and somehow I know he'll give us reason to be proud of him once again in some light or another. Sooner or later, the best always rises to the top.
Larry has been published in almost every media outlet for college sports and now primarily writes here for Touchdown Alabama. Follow Larry on Twitter for inside thoughts and game time comments at  https://twitter.com/LBSportswriter
This article contains the thoughts and words of this author and is not the feelings of Touchdown Alabama Magazine, its owners, writers or staff.
Thanks for sharing the link to this story on your Facebook page
Come to the "Points After" Forum on the Touchdown Alabama site and discuss your feelings on this article.