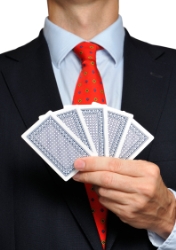 When will the cards not be so closely held to vest? Don't look for changes this week.
Kiffin Played Offense With Cards Close to the Vest Against Badgers
By: Larry Burton
If you wanted to see any new wrinkles that Lane Kiffin had worked on all winter and spring, you didn't see them in last week's game. Hand off to Henry, hand off to Drake, short slant patterns, a few bubble screens and maybe a few deep pass attempts. There wasn't any trick plays, reverses, tackle eligible passes. You didn't see Drake lined up in the slot and you didn't see a lot of two back sets or option plays.
What you saw was Kiffin breaking in a new quarterback, using vanilla plays that would only bolster a shaky quarterback's confidence, relying on his offensive line and star running backs. He limited a new quarterback's possiblility to make game changing mistakes.
By the second half, you could tell the plan was working and the quarterbacks seemed relaxed. Kiffin really didn't need a lot of plays to beat the badgers, Alabama's stifling defense would make sure of that. I think Saban and Kiffin both felt that would be the case going into the game, but Wisconsin's second quarter success threw a slight concern in that plan. Had Alabama kept the Badgers off the board, we would have seen Cooper Bateman sooner.
I said in an article last week, (click here for that article) that quite accurately foretold how the quarterbacks would be played and in what circumstances we would see substitutes and when. But that article was for that game and if you're wondering about this week's game it's all entirely different.
With Middle Tennessee being the opponent, there is no doubt that if Saban sincerely sees the job still up for grabs, we will see two quarterbacks in the first half of the game so that both will have a similar opportunity against a similarly fresh opponent.
Likewise,  you can expect Kiffin to perhaps open up the playbook a little too to see if the quarterbacks are ready for more than just vanilla plays. And they'll need the prep for utilizing a bigger playbook with Ole Miss, who piled up a ton of points on offense in their first game. With the Rebels aggressive defense and and offense that can light up the scoreboard, the quarterback battle will need to be settled by this game and the winner should be able to play his cards a little less close to the vest and maybe throw a wild card or two on the table.
Until that game, you may not see Kiffin show what he thinks any quarterback can do. So if you think the Alabama coaching staff are going to give the Rebels any tape to study on any new and exciting wrinkles, just wait.
They're going to hold the cards close to the vest until the Ole Miss game. Then we'll all get to see what Kiffin and this new quarterback can do.
Larry has been published in almost every media outlet for college sports and now primarily writes here for Touchdown Alabama. Follow Larry on Twitter for inside thoughts and game time comments at  https://twitter.com/LBSportswriter
Thanks for sharing the link to this story on your Facebook page
Come to the "Points After" Forum on the Touchdown Alabama site and discuss your feelings on this article.