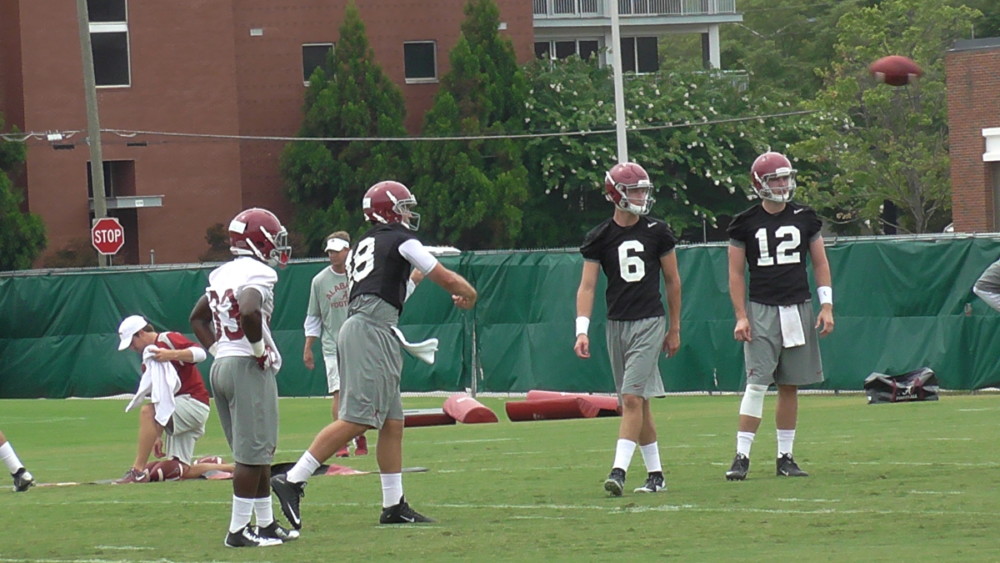 There's a lot to measure when it comes to quarterback play, but it seems it doesn't matter to the press.
Commentary on Quarterback Battle: Coker Won Battle? Not Hardly!
By: Larry Burton
It's hard for me to listen to the media christen Jacob Coker the winner of the quarterback battle. Let's be clear about one thing before I go too far in declaring a winner myself, because neither I nor anyone else in the media really knows the dynamics of who is really in command of the other players or who is the man they'd follow into battle with first. Those things seem to be criteria that Nick Saban has exposed to anyone who will listen as his reason a winner will be crowned.
Personally I believe, like any good players, that these men would follow any of these quarterbacks to the gates of hell and back. That is not because these are Alabama men, but just men who place the process, the good of the team and more in front of personalities or friendships. These are men who want to prove themselves to be potential NFL players where such things are common.
In the NFL, personalities don't matter like in college. People win jobs based on numbers and data from film.
Using that criteria, how does one anoint Jacob Coker the winner of Cooper Bateman?
Here's the raw numbers:
Quarterback Rating: Bateman wins: 58.9 to Coker's 57.3
Completion Percentage:  Bateman wins 87.5 percent completion average over Coker's 71.4 average
Sacks for Loss: Bateman wins: 1 sack 2 yard loss only compared to Coker's 2 sacks for 24 yards in total loss.
Rushing yardage: Since they count sacks as part of that rushing total as they should: Bateman wins: His 4 positive yards bests Coker's -13 yards
Now the "Beauty Pageant":
What we mean by that, is just how did the guys look to just the eye test?
Pocket Presence: Bateman wins: Coker's sacks were because he held the ball far too long and showed poor decision making in lot trying to either make a run to minimize loss or to try and just throw it away before the  inevitable. They were dumb sacks and at least the commentators did fairly mention that. In Bateman's case, coverage failed early and he sprinted forward to minimize the loss as a smart quarterback will do.
Bad throws: Bateman wins: with only one incomplete pass, this was a no brainer.  Not only did Coker throw some bad passes, some of his completions were to players he should have not thrown to in favor of other players more wide open with more big play potential.
Results out of the starting gate: Bateman wins: Coker's first possesion was a 1 yard pass completion, a ten yard sack and a punt. Bateman's first possession was a 6 yard run, a 5 yard pass completion, followed by a 7 yard completion for a first down, followed by a 13 yard pass completion for yet another first down. He then threw a 2 yard pass and the drive stalled after he drove them to the 22 where Adam Griffith missed a short field goal attempt.
Lastly, Cooper seemed more comfortable taking the plays from the sidelines, getting the guys to the line and making the correct reads.
But to be fair:
When different players play at different times of the game, it's not uncommon to get results are skewed.  As I said in an article last week in predicting quarterback play, Saban was not about to change horses in a close game. That's just his M.O. But it would have been more fair the quarterbacks to have gone two series each from the beginning to end. Since Coker had more plays than Bateman, he had more chances to be make bad throws, make bad reads and be sacked more.
By the time Bateman came in, the game was pretty much decided so it's hard to read how much difference that made on the Wisconsin defenders.
Still, just based on the raw numbers and the eye test, Bateman didn't just win the majority of those things, he won them all, so the heck can anybody, much less the vast majority of the media, anoint Coker as the  winner. With the positive upside in having a player who could be around for years taking snaps, it would seem if the numbers were equal, that you'd go with the man who will be there for a while, but in this case, the numbers aren't equal, they're already all in Bateman's corner.
But in the end, it's not the numbers, it's not beauty pageant or any eye test that will win job, but as stated before, but by Saban's opinion of who has the best handle on the team. The point of this commentary by an old seasoned sportswriter, is that the press has no sanity in calling Coker a winner at this point, not when all measurable data points completely to the other man.
Larry has been published in almost every media outlet for college sports and now primarily writes here for Touchdown Alabama. Follow Larry on Twitter for inside thoughts and game time comments at  https://twitter.com/LBSportswriter
Thanks for sharing the link to this story on your Facebook page
Come to the "Points After" Forum on the Touchdown Alabama site and discuss your feelings on this article.