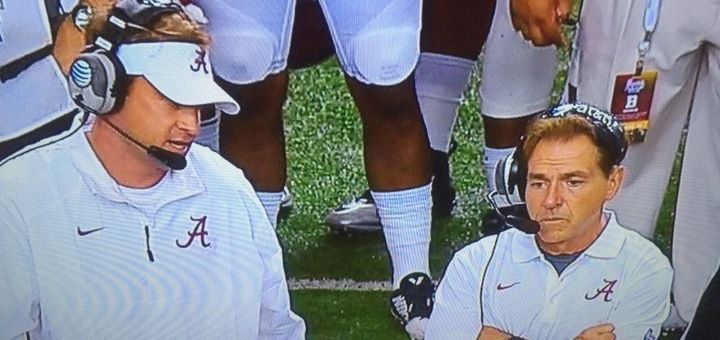 Saban doesn't appear to be overly thrilled with the production from this year's offense.
Tide Rolls In, But It Wasn't The High Tide Bama Fans Had Hoped For
By Larry Burton
This was to have been a high Tide kind of game that was to have washed away a quarterback battle and got the Alabama offense in high gear, but someone forgot to inform both quarterbacks involved in this battle of that as both looked very pedestrian.
Coker ended the evening with a very boring 15 of 26 passing  stat and a 57 percent completion ratio. Less than last week's average and this was against a much more inferior competitor.  Bateman had a chance to grab the job, especially after Coker threw a pick and several other errant passes that should have been picked off. However Bateman threw an ugly pick of his own and another pass that could have, should have also been picked off. He ended his night with a 11 for 17 passing stat than equated to just a 64 percent average.
Sure, that was higher than Coker's, but not impressive enough to grab the starting job for him.
Except for the running backs at Alabama, to be brutally honest here, no real star has emerged so far this season on offense and no quarterback has dazzled the fans. Third down conversions still are abysmal, with tonight's totals being just 4 for 13 for a horrible  30 percent average. Maybe Alabama should place Alec Morris in this battle at this point as long as the team is plodding along with this kind of production.
While the Crimson Tide was never in a position to be upset on this day, as other SEC teams were on this Saturday, on offense they seemed to completely underwhelm when it came to quarterback play and third down conversions.
Overall, there's little to be concerned about on defense for Alabama fans. The nagging problem remains on getting opposing teams off the field on third down. While Alabama struggled with that 30 percent third down conversion average and just 4 total conversions, Middle Tennessee was able to convert 6 third downs out of 19 attempts for a 31.5 average. Alabama should not convert less third downs than a team like Middle Tennessee. That is almost unforgivable.
Alabama was a 34.5 point favorite, but only won by 27, just another measurement of how the offense failed to live up to their billing.  If Kiffin's magic pixie dust he used on Blake Sims last season is still working, then both quarterbacks must have been much further behind to talent scale than fans would have thought. That or either Lane Kiffin just can't get the light to come on in the head of either quarterback so far this season.
Coker looks pitiful attempting almost any deep throw and while Bateman's stats might have looked better had receivers not dropped passes that hit them right in the hands, he didn't excite the crowd a lot either.
With Ole Miss coming to town next week, lighting up the scoreboard like a pinball machine, things had better turn around on offense and turn around not only mightily, but quickly. This didn't look like an offense you'd want to be involved in a shootout with.
When this offense does get on track, this will indeed be one of the most dangerous teams in the country, but with the offense plodding along like this, it could be a long season for this year's Crimson Tide team.
Larry has been published in almost every media outlet for college sports and now primarily writes here for Touchdown Alabama. Follow Larry on Twitter for inside thoughts and game time comments at  https://twitter.com/LBSportswriter
Thanks for sharing the link to this story on your Facebook page
Come to the "Points After" Forum on the Touchdown Alabama site and discuss your feelings on this article.