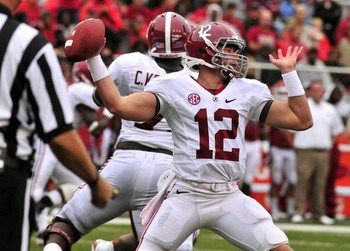 Ely always did a good job at Alabama, but just couldn't crack into the starting job.
Did Alabama Let A Jewel Get Away? Former Bama QB Phillip Ely Beats Arkansas
By: Larry Burton
With a far worse supporting cast around him on both sides of the ball, former Alabama reserve quarterback Phillip Ely guided the underdog Toledo Rockets to a huge win over one of the SEC powers yesterday when Toledo defeated Arkansas in the Hogs home stadium 16-12.
This is a feat that many SEC teams will find difficult to do this season, but Ely, being a former SEC player, was clearly not intimidated with that task at hand. He was 21 for 38 for 237 yards and one touchdown. He didn't turn the ball over all day and looked calm under the huge pressure of a big underdog from the MAC conference in an SEC stadium.
Unlike Arkansas, who got into the red zone and only had one score to show for it, Ely made the most of his opportunities when he had they and really pulled the year's biggest stunner so far.
Now it begs the question of what Ely could have done with Alabama's assets around him? The other question is did Alabama loose a jewel and perhaps a starting quarterback in letting Ely get away? Both are interesting questions and neither can ever really be answered.
Ely did get some mop up duty at Alabama in 2012, going 3-of-4 for 1 touchdown and 42 yards. He is from Tampa, Florida and was the only quarterback signed in 2011 by Alabama. He was the 20th rated pro style passer by rivals coming out of high school. He spent two years, one with a red shirt at Alabama before transferring to Toledo.
He sat out 2103 because of the transfer rule and spent most of 2104 out with a knee injury. That same injury led him to miss much of the spring, but he looks to be in fine form now and is the unquestioned leader of the Rocket's offense.
Larry has been published in almost every media outlet for college sports and now primarily writes here for Touchdown Alabama. Follow Larry on Twitter for inside thoughts and game time comments at  https://twitter.com/LBSportswriter
Thanks for sharing the link to this story on your Facebook page
Come to the "Points After" Forum on the Touchdown Alabama site and discuss your feelings on this article.