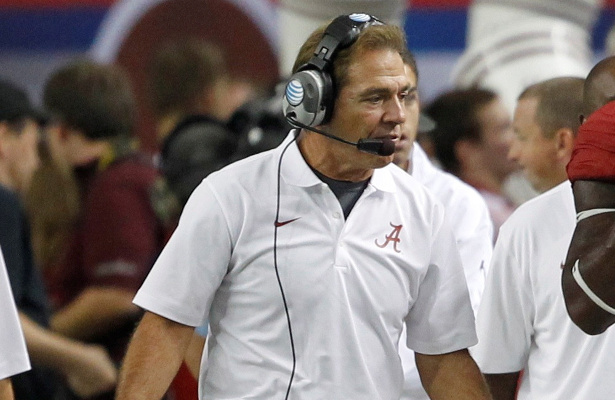 There are lots of ways to win and lose this game, see what they are.
Winning and Losing Scenarios for Alabama Against Ole Miss
By: Larry Burton
Despite the fact that Las Vegas feels that Alabama is  a heavy favorite against Ole Miss, Bama fans know from recent experience that you'd better not take the Rebels too lightly. Last year the Rebels beat Alabama, straight up, toe to toe.
So what are the scenarios that could cause that again this season and what are the scenarios for Alabama's revenge on the Rebels for last year's defeat?
Ole Miss Wins (or could win) If:
1. Ole Miss wins if it becomes a track meet, Alabama loses. Neither quarterback has shown the ability to be the type of quarterback to keep up a steady stream of scoring.
2. Ole Miss wins if it's a close game and comes down a field goal. Adam Griffith is looking far from reliable this season and though he's due to start making those kicks, he's certainly a liability at this point.
3. Ole Miss wins if the Alabama secondary has a rough day. Ole Miss quarterback Chad Kelly has proven he can pick apart a secondary and if the Alabama defenders have a bad day, see number one, it will become a track meet and Alabama loses.
4. Ole Miss wins if the Alabama quarterback play is not improved over last week. In this game an interception could turn the game and last week each quarterback threw one each. Also, Alabama must find a way to improve their third down conversion rate. Jacob Coker, the apparent starter is just not good at moving the chains on third down and has far too many three and outs. With Ole Miss showing the propensity to score at will, the Alabama quarterbacks have to move to chains and clock along in this one.
5. Ole Miss wins if the Rebels find a way to stop the running game or substantially slow it down. As stated previously, neither quarterback has shown that they have the ability to win a game as tough as this without a winning running game. This game can't be placed on their shoulders yet.
6. Ole Miss wins if they win the turnover battle. Yes, I know it's an age old adage, but it's still true. Win the turnover battle and you more than likely win the game.
Alabama Wins (or could win) If:
Alabama wins if the running game piles up over 300 yards. That keeps the Rebel offense on the bench where they can't hurt us and runs the clock. Plus having the running game working so well will allow the passing game to throw in some significant yardage as the Rebels over focus on stopping the run.
Alabama wins if they keep it a low scoring game. Alabama will get their points, but may not get as many as they want. But if they keep the Rebel offense under 24 points, the Tide should win.
Alabama wins if the secondary players play up to their level of talent. Shutting down the Wisconsin running game was an amazing feat and one that the Tide seems capable of repeating each week. If the secondary plays up to their ability, it could be along and frustrating day for the Rebels indeed.
Alabama wins if the pass rush lives up to their billing and gets into Rebel quarterback Chad Kelly's head. If Alabama registers three or more sacks in this game, that could be the difference. Though Kelly is known as a duel threat, Rebel Coach Hugh Freeze won't want him running against this front seven, thus making him an easier sack target.
Alabama wins if the quarterback in Crimson has a great day. It's no secret that the Rebel defensive game plain is built around stopping the run first against Alabama. They do not respect or think that these Alabama quarterbacks can beat them with their arm. Should the passing game click early, the entire defensive game plan for Ole Miss will be thrown out and confusion will reign.
Alabama wins if they win the turnover battle. See number six above. It works both ways here.
Likely Scenario:
Look for Alabama to come out on offense with some crossing patterns and short to intermediate throws early on to get the Rebels out of a "stop the run" mindset. Kiffin may start by passing on more likely running downs and running on more likely passing downs just to keep the Rebel defense off balance.
The Rebels will open up passing likewise and Alabama will counter with a lot of fake blitz packages and dropping defenders underneath to try and disrupt passing lanes.
Look for Alabama to be in the nickel for most of the day on defense. Look for Drake and Henry to both be in the backfield together at least a few times with Drake going in motion to the slot. The quarterback will then make a read and if Drake is covered by a linebacker on the motion, then it goes to him. If a linebacker moves to cover and a defensive back swings over to support the linebacker, then look for Henry to exploit that moving linebacker's former spot.
Since Alabama's deep ball in the passing game just plain sucks, you may not see many attempt tonight in that department. Instead, look for Alabama to concentrate on short passes and the running game to move the chains and clock along. Long drives consume time and every offensive opportunity you deny the Rebels could be crucial to winning this game.
Alabama will go with a bend but don't break defensive strategy this weekend on defense. You may not see a lot of one on one defense by the backs as they will play not to give up the quick score, but force the Rebels into long drives of their own. The Rebel running game is all but forgotten as early attempts prove it be a useless and futile waste of time.
Jacob Coker opens the game like a bad car on a winter morning, hard to start. Look for the game to be close in the first half before Alabama opens it's lead up. Then look for the usual foot off the gas approach and the Rebels to mount a comeback that falls short as the clock runs out.
Possible final score – Alabama 28 – Ole Miss 24
Larry has been published in almost every media outlet for college sports and now primarily writes here for Touchdown Alabama. Follow Larry on Twitter for inside thoughts and game time comments at  https://twitter.com/LBSportswriter
Thanks for sharing the link to this story on your Facebook page
Come to the "Points After" Forum on the Touchdown Alabama site and discuss your feelings on this article.