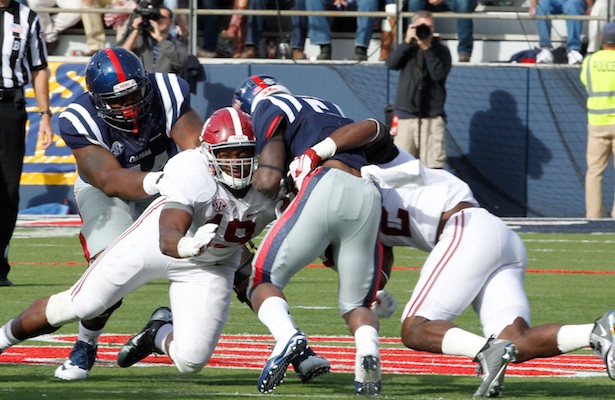 Can the Crimson "Crash" contain the Rebel "Flash"?
Ole Miss Flash vs Crimson Crash. Will Defense Win In This Game?
By: Larry Burton
No doubt about it, Ole Miss has flash. This offense is clicking like a Swiss watch and putting up points like an NBA team. Likewise, the defense has brought back memories of the "Landshark" defense. Together, in two games so far, they've averaged over 70 points per game and held opponents to just a 12 point average. Now that's flash.
On the other hand, Alabama's offense has sputtered at times, but the defense has sported a "Crash" defense that has shut down opponents with great efficiency. The Alabama offense has averaged just over 36 points per game, about half the points Ole Miss is averaging, but the defense has held opponents to just 13.5 a game, close to the same average as Ole Miss.
So how does Alabama have a chance?
So far Ole Miss hasn't played a team with a winning record last season and one of their opponents isn't even a division one school. On the flip side, neither of Alabama's opponents so far had a losing record last season and Wisconsin was a top 15 team last season as well as being ranked in the top 20 again this season.
But things like that mean little when the ball is snapped and bodies collide.
Alabama's offense has been purposely vanilla so far this season, while the Rebels have opened the playbook wide open. Alabama's offense has some things that Ole Miss won't have film on and the defense has some tricks up their sleeve as well.
Alabama is sure to get their points against Ole Miss. Last season, Ole Miss' defense was the number 13th rated defense. This season, Alabama played Wisconsin who was rated as the fourth best in the nation. Alabama scored 35 points on them this season. Clearly with the offense limping along running vanilla plays and still trying to find a starter, the propensity for Alabama's offense to finally kick into high gear is great. The Ole Miss offense on the other hand is flying about as high as they'll get all season and has nowhere to go but down as they start playing quality teams.
This year both teams feel they are better than last season. The Rebel offense thinks they are among the nation's best, the same thing goes for the Alabama defense. This weekend they'll clash again and while Las Vegas has Alabama a healthy 8.5 favorite, others see this a clash that could go down to the last team holding the ball.
There's an age old saying that has been proven more times than not, that defense wins games, and while Ole Miss will make the argument that they have a defense equal to that of Alabama's, the simple truth is, that's not correct. Alabama is currently the nation's 28th rated defense and has played at least one top opponent and one average team while Ole Miss is rated as the nation's 44th best defense and this is after playing a non division one team and another not so great team rated in the cup cake category. In total defense so far this season, Alabama holds teams to an average of just over 30 less yards than Ole Miss.
Therefore, it's easy to see who does have the best defense. But does the best dense always win? Not hardly.
On the other hand, there's no question that Ole Miss has the better offense, at least on paper so far after two games. Currently after two games, they are the nation's number three offense. To find Alabama, you'll have to go down that list to number 18. The difference in yardage is about 117 yards more offense a game for the Rebels.
So the real question is, will Alabama's "Crash" defense be better than the Ole Miss "Flash" offense? That is the question and it won't be answered until late Saturday night and it will be a great one to watch.
Larry has been published in almost every media outlet for college sports and now primarily writes here for Touchdown Alabama. Follow Larry on Twitter for inside thoughts and game time comments at  https://twitter.com/LBSportswriter
Thanks for sharing the link to this story on your Facebook page
Come to the "Points After" Forum on the Touchdown Alabama site and discuss your feelings on this article.