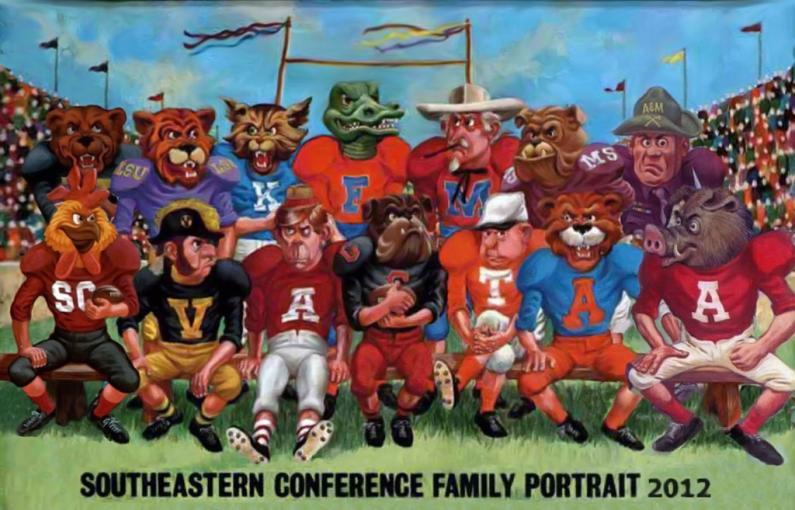 Larry's Losers in the SEC – Week 3 – 2015
By: Larry Burton
Old Bacardi the Wonder Dog, football's only pigskin pickin' pooch thinks he's a rock star these days with the correctness of his calculations. I wanted to go with Tennessee last week and he insisted they weren't ready for prime time yet and he kept telling me he wasn't sold on those gamey cocks from South Carolina and I wouldn't listen, so he's celebrating being right on both of those picks and feels like a rock star so far.
Bacardi the Rock Star – Click on the link for his video as a rockstar.
Yes, we've had a lot of success so far this season, just missing the huge upset in Arkansas and me not listening to the predicting pooch on South Carolina. Right now we are 23-2 and sporting a 92 percent average. That's an A on everybody's report card  and we hope we can continue the course as the season goes on and the SEC on SEC games start becoming more commonplace. The pretenders, take a step forward Arkansas, South Carolina and Auburn, are being separated from the contenders in week two and soon some more will get cut from the herd.
There's some doozies this week and we hope you enjoy watching the weekend as much as we do! So even if you favorite team lands on the losers list, there's still a lot to enjoy as the season gets hotter, so without any more ado, let's get to listing and laughing at the list of likely loosers.
U Conn at Missouri – Noontime kickoffs the contest between the hapless Huskies from U Conn against the might men from Mizzou. This pack of pitiful puppies won all of two games last season and this game is little more than a glorified scrimmage game for these Tigers.
Folks should only watch this game only because it's a little less pitiful than the other game on TV.
I'd like to say there's something redeeming about this game, but just like these hapless hounds, that Dog won't hunt either. In a blowout – Larry's loser – U Conn
Nevada at Texas A&M – The other noon time game is the Weary Wolf Pack coming down to try an aggravate the Aggies of Texas A&M. This is another game that gives a good reason to go start grilling your burgers and dogs and get ready for the real games that come later.
Coach Kevin still needs some time to fine tune both the offense and defense on this family of farmers and this game will give him a good practice squad to test out some new tricks.
Bacardi the Wonder Dog is sure the Aggie defense pitches a shutout in this charade of a showdown and so it will be worth seeing if they do. Larry's loser – Nevada
Auburn at LSU – Finally a game worth watching at the 3:30 hour two Tigers start a cat fight that could be a doozie to watch. Gus Malzahn's tribe of Tabbies have a great offense in their dreams and LSU Cajun Kitties are known for defense so this is gonna be a slobber knocker of SEC proportions.
The Bayou Boys will be without their former defensive daddy and this will be their biggest test so far with the new Steele wall defenders. Certainly new defensive coordinator Kevin Steele will have his hands full trying to force a blowout to the tires of the Gus bus that Auburn coach Gus Malzahn plans on driving to the SEC championship game this season.
If the Bayou Bengals pounce on those plains Pussycats early and force that pass picked play maker from Auburn to have to save the day, this could get ugly in a hurry. If the Worn Eagles lose this one, fans are gonna start grumbling louder than their tigers are growling. Larry's loser – Auburn
Northwestern State and Mississippi State – At 4:00 pm the Deamons from Northwestern State try to come down the Starkvegas and Deamonize these Doggies in their own backyard.
But Mullen's Mutts won't give these dreadful Deamons a worry as Dak Prescott puts up some numbers that will get the attention of these Puppies future playmates down the schedule. The dogs are wanting to regain a little pride after getting swatted with a newspaper last week and this should put some pep back in their step.
With Auburn and LSU on the other channel, it's not like anybody will really care, but Larry's loser is Northwestern State
Austin Peay at Vanderbilt – The other 4pm game could be just as bad, but it will be worse. These Governors only won one game last season, so if you're a Commodore fan, this is one game you may want to DVR as this week these song city sailors won't be going down with the ship.
If coach Derek Mason is ever going to ask for a contract extension, the Monday after this game would be the time to do it and this week even these sinking swabbies will look like Admirals.
So if you just want to see Vanderbilt look great, this may be the one chance you get this season. At least to look this good. Larry's loser – Austin Peay
South Carolina at Georgia – At 6pm with the sun setting, the first of many good night games get going. In this series, Spurrier seems to always have his Carolina Cluckers at their best and when the season is over, this is the game that's caused Georgians to scratch their heads and point to for why they aren't in the SEC championship series.
This year the boys with the big beaks come between the hedges and hope to peck these Puppies into submission one more time on their home turf. But once they get here and look around, they'll find these Puppies have grown up are ready to give these Chickadees a plucking they won't soon forget.
And that's just what we expect to happen in this one. No feathered football is going to cluck up these Bulldog's season this year. Larry's loser – South Carolina
Texas Tech at Arkansas – At 7pm the sun will set over Fayetteville and the hogs will have a chance to see their stock rise with a win over a quality team full of Red Raiders from the Big 12. This is the kind of win that the head Hog Hugh hopes will head them on to bigger and better wins against bigger and better opponents.
But the Raiders head cow poke, Kliff Kingsbury knows that if he instead can wrangle his red roughnecks into the win column with this game, then it will be his team getting some new buzz and excitement going, so he plans on providing plenty of pork products to his pupils as he hopes to slaughter a few Hogs right in their own pen.
But when snorting, whooping and smoke clears, it'll be the Hogs dining on the rumps of the Red Raiders and the the buzz over the upcoming Texas A&M game gets much much hotter. Larry's loser – Texas Tech
West Carolina at Tennessee – 7pm also has a game that no one will really care about except the remaining Vol fans, as the Catamounts come a callin' to Neyland Stadium for a big payout and a bigger powder burn from the muskets of these mountain men.
The question won't be whether or not the Vols win, they certainly will, but if the stadium will be full after the Vols hopes of greatness took a turn last week with a late game meltdown. The other question is how many fans will look for West Carolina on the map.
In what should be a blowout win, Larry's loser – West Carolina.
Florida at Kentucky – 7:30 brings us a game that has a little interest in it now that the usual Mildcats have continued to be Wildcats with a very big win over South Carolina last weekend. Now one has to wonder how these Kentucky Kitties will defend the home litter box against a group of Gators from Gainesville.
Mildcat head coach Mark Stoops better ask for a raise before this one, because few thought he'd start the season at 2-0. Meanwhile in Gainesville, they expect big gains in the win column and this is one game they've had in that column even before the first kickoff, so if new coach head Jim McElwain wants to keep the heat off his seat, he'd better take care of business in this one and at leave that cat box with more than just a smelly turd.
And that's what will happen as the Gators chomp the kitties in little kitten size chunks and crunch down these cats for a nice Saturday night dinner. Larry's loser – Kentucky
Ole Miss at Alabama – 9:15 brings us the last game and maybe the best game of the day as the rip roaring, high scoring Rebels come into Bryant Denny Stadium in Tuscaloosa with musket's blazing and fully intending to pummel those pachyderms into submission just like they did last season.
But Nick Saban has something to say about that scenario and though the Rebels have been scoring about 70 points a contest, he feels his mighty elephants can trample that offense into submission and then roll on the Rebel defense with two tusked tramplers named Henry and Drake and limit the number of times the Rebels have a chance to score.
My pooch and partner is telling me I'm looking at this one through Crimson colored glasses and only seeing an Alabama win in this one and he's sure the high flying Rebels will simple outscore the offensively challenged Crimson clan for the win, but as senior parter, I get the tie breaker in this one. Larry's loser – Ole Miss
Well that's it for this week folks. Let's hope the hot streak in football forecasting continues through this week and that the upset bug doesn't bite too much.