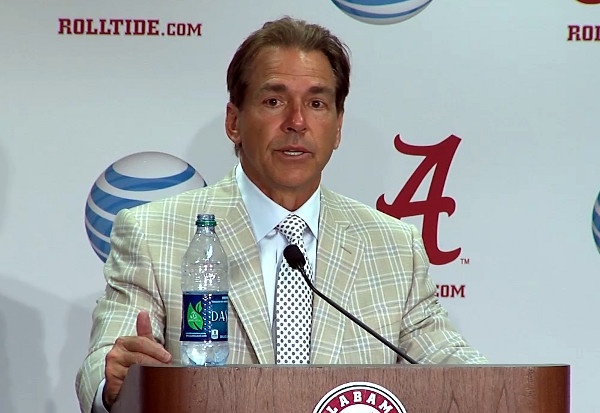 Were Nick Saban to assess the "State of the Union" of the Alabama Nation today, I think it would go something like this.
Alabama Football's State of the Union Following Ole Miss Loss
By: Larry Burton
Every so often, the President of United States is asked to give a speech that tell us where we are as a nation. If Nick Saban were to give a state of the union speech today, it may go something like this.
The state of the union, the parts that make up Alabama football as a whole are strong, but like any union, there are strengths and weaknesses.
To address the strengths, we are financially sound, well managed with great people in place to help make great decisions and great coaching . We have state of the art facilities a name and reputation that is in the elite realm of scholastic and sport achievement.
We have brought in great athletes from around the country who work intensively to improve and get better, stronger and wiser.
Attitude, physical ability and resources are not a problem at the University of Alabama right now, but there are problems.
Inexperience, intensity and decision making are problems we still face, but we are working on. Those problems show up most publicly at the critical position of quarterback. And it's not fair to cast blame caused by inexperience and decision making because these are problems that just need continued work, continued coaching and time.
There's a reason youth and experience cause a thing aptly named "growing pains". It painful when we lose, it is painful for the coaches to see that they fell short in getting players to the point they should be at. It is painful to the fans who may know all the underlying reasons for the problems that come with youth and or experience. And make no mistake, it is painful to me, to see that everything that should have been done wasn't done. Any blame that needs to be placed needs to squarely placed where it's deserved and that is at my feet, not the boys who didn't get all the help they needed.
We've never lost a game under my watch because the men on the field didn't try, we've never lost because we didn't have men who just couldn't win, we lost because we and for the most part I, did not have them prepared enough to win.
I can't think of a loss we've endured together in the past several seasons that we couldn't have won with just a little more coaching, just a little more preparedness and just a little more game management.
All this goes to say that we have what we need, right now, right here and that the state of the Alabama nation is strong. We still have much to play for and as history has shown us, we still have a chance to climb back to the pinnacle of where we all want to be.
Now is not the not the time to lament the things we have lost, the past is history and only the future lays before us and I assure you the future is bright.
We just need the fans 100% behind us, 100% of the time, we just need the players to seek to execute at a higher level and secure that ball as tightly as they hold their dreams for greatness and lastly we need to have every coach, including most importantly myself, to preparing each player so they can go onto that field with all the strength, wisdom and mental preparedness they can possess.
If we do that, we will be winners and the state of this union will be clearly seen by all.
Larry has been published in almost every media outlet for college sports and now primarily writes here for Touchdown Alabama. Follow Larry on Twitter for inside thoughts and game time comments at  https://twitter.com/LBSportswriter
Thanks for sharing the link to this story on your Facebook page
Come to the "Points After" Forum on the Touchdown Alabama site and discuss your feelings on this article.