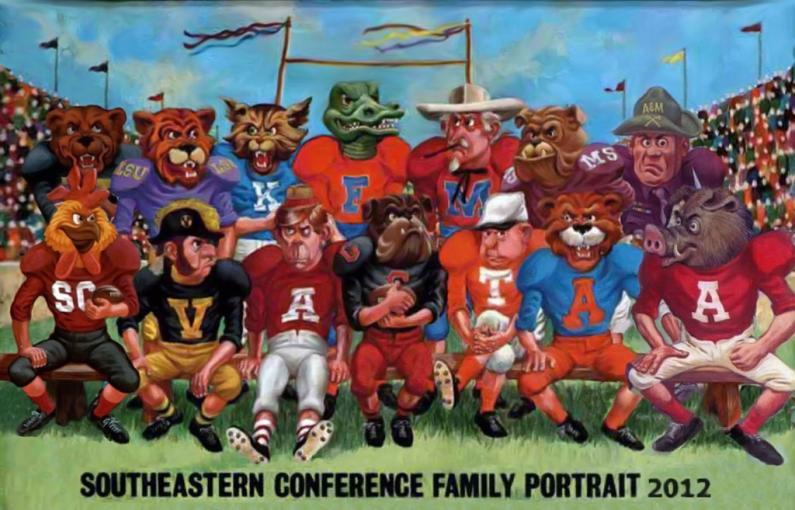 The upset bug is biting and this week we have the repellent or the right choices to make it a good week.
Larry's Loser in the SEC – Week 4 – 2015
By: Larry Burton
Ok sports fans, last week wasn't our best effort as we didn't see the upset bug biting big bad Bama in the butt and we didn't see the Hogs playing like slop instead of just eating it, so with those two losses our record is 31-4 for the year and while we consider that bad, it's still the best average you'll see from any other writer, or to be true, any pair of writers out there. That drops us to 88% accuracy, and while that makes you rich in Vegas, the prognosticating pug, my partner, says he warned me about Ole Miss, but I wouldn't listen, so I'm going to lean towards his wisdom this week.
All these game times are central time, where most of the SEC teams reside and with lots of opportunities for screw ups this week, we're just a little nervous, but let's just dive right in with this weeks picks of practically perfect prognostication and predict who'll wind up on the short side of the stick.
UCF at South Carolina – An 11am kickoff at at the Henhouse as the Central Florida Knights try and be a Saturday fright for these down and out Carolina Cluckers. Now UCF isn't having the kind of year they though they'd have at this point, but a win over an SEC team would certainly help them shake off that early season loss to little FIU and the stomping from Stanford.
But Steve Spurrier is still smarting seeing his big peckers go limp against those Kentucky Kitties and he ain't gonna let these shiny steel suited footballers ride into town and pluck them in front of the home crowd.
This could be a close game if the feathered footballers don't get the offense rolling, but we both feel that the Knights have been left out in the rain too much this season and come into this game just a little too rusty. Larry's loser – UCF
LSU at Syracuse – is another 11am kickoff and these Bayou Bengals travel all the way to New York to try and try to outlast the Orange Men and enjoy a little New England fall weather.
These players in prison orange have jumped out to a fast start this season and they know that if they knock off these Cajun Kitties that they'll get the national attention they feel they're due.
But Les Miles didn't take this trip to see the leaves change or to help out a bunch of Yankee citrus boys and he's gonna turn that Frightening Fournette and he'll trample into orange juice by half time. Larry's loser – Syracuse
Southern University at Georgia – Yet another 11am kickoff as these Jaguars come between the hedges to take on those red clay hounds. Now Southern knows they could pray from now till kickoff and still not have a prayer to win this game, so they'll be content to take that big check and turn both cheeks as the Bulldogs beat them all day long.
Now Mark's Mutts may have some tougher Tabbies on the schedule down the line, but they can pussyfoot all day long with these losers and even play the tuba section in this one.
So it goes without saying that in this slaughter… Larry's loser is Southern University
Tennessee at Florida – 2:30 sees the start of this sizzler as the Volunteers will try and not volunteer for another vanquishing as the Gators have beat them silly since Old Smoky has been born.
Yes, old Butchy the former band boy hasn't had a lick of luck so far when it comes to the repelling these Reptiles, but this year he figures on showing these Gainesville Gators that they can win in this series before this current mascot meets his maker.
But new coach McElwain feels like it's best not to disturb history and let this series go on as it has for oh so long and steal the spotlight from this Tennessee troop as the real SEC East up and comer and this is how we see this one.  It's a battle of who's getting better and the Vols seem to be getting there faster. Larry's loser – Florida
Louisiana Monroe at Alabama – Some three o'clock football sees the Warhawks wander into Tuscaloosa to pick up a big check and a butt whipping. The only thing worth watching is if the quarterback battle continues and if so, who looks best this week.
I'd like to call this a game, but this is just a play day for these pachyderms as they use this as an extra week to get ready for the Bulldogs from red clay country next week. Nick may rest some starters, play the water boy and let the players stay on the bench at half time and enjoy the show.
If he doesn't do all this, he may as well. But the Alabama fans can go off life support with this win. Larry's loser – Louisiana Monroe
Texas A&M at Arkansas – At 6:00, a border war rivalry in the making as the Aggies drag the team over to Arkansas to wallow in the mud with Hogs and try and come out with bacon for breakfast on Sunday morning.
Now head coach Brett Bielema quit boasting on his Bovine Swine's tough schedule since getting rocked by the Rockets from tiny Toledo and schooled by Texas Tech but he knows that this win could go a long way halt all the ha ha's from his hollering about other people's schedule.
But the head farmer in this Aggie commune isn't about to have folks talking about his Texans letting one get away. He feels like they can catch this greased Pig and go forward to the tougher tussles that are sure to come in the SEC and that's just what they'll do. Just one of many good contests to watch, Larry's loser – Arkansas
Vanderbilt at Ole Miss – 6pm sees the Commoders, uh, I mean Commodores, in SEC action, or as we say around the Larry's losers headquarters, in no win land. These Song City sailors have had a rough time so far this season and the waters only get rougher as they cruise into their SEC scedule.
Ole Miss is ready to get back to their winning ways Rebel coach Hugh Freeze isn't about to let these silly swabbies sashay  into the Rebels home fort and sully their season with a loss from the worst team in the SEC.
Though they may not go back to scoring 70 points a game, they'll win a country mile in this one. Larry's loser – Vanderbilt
Mississippi State at Auburn – In another 6:30 contest,  Dan drags the Dogs down to the plains to take on the Tabbies in Jordan-Haire Stadium and he aims to catch these Kitties licking their wounds from previous pummelings and come away with a much needed win.
But head coach Gus is hoping that these cats land on their feet after the tossing and tangling in this tussle takes place and that he can start rebuilding his reputation and there's no better way to keep the boss happy that by blasting the bulldogs at home.
But breaking in a new quarterback against this team isn't the best thing to do as Auburn will find out and the Dogs have their day, or night as it may be in this case, but it could be close. Larry's loser – Auburn
Missouri at Kentucky – In yet another 6:30 (Central) time kickoff, Mizzou's Cats come over to take on their Kentucky Kitty cousins and hope to end these Wildcat's hopes for a great season once and for all and keep alive their dreams of another East title and a trip to Hotlanta this winter.
But these Wildcats will stoop to anything to keep from returning to the SEC cellar in the East and they're going to throw everything and the litter box into this one in hopes of keeping the good times going. It's so hard to believe that Kentucky can beat a former SEC East champion, but Missouri just hasn't impressed us all year.
While it's hard to believe we're doing this, in sort of upset of the normal state of things, we both see the mild cats going wild in this one and continuing the climb up the SEC East rankings. Larry's loser – Missouri
Well that's it for this week folks, it's time for us to start happy hour and you should have guessed that my little buddy and I both like a little Bacardi and Coke when we're through calculating these contests and we hope you enjoyed the listing of these losers.
Next week we'll be sending in the stories from stories from the South Sea Islands as it's month long vacation from the Princess Cruise Line's Pacific Princess and lots of little islands with funny sounding names. The only person manning the Larry's Losers headquarters will be a short tempered ex army ranger who will house sit with his favorite 45,  so don't come by for pictures with Pug for the month of October, 'cause you won't like the treat and the trick will be a bad one.
So till next week, keep those footballs inflated and your ego deflated, 'cause there's still a lot of losers to come and lots of tears to be shed before the final whistle. We'll see you then.
Larry has been published in almost every media outlet for college sports and now primarily writes here for Touchdown Alabama. He writes is a colloquial and irreverent style for this series of articles. Larry's views and sense of humor may offend, but he aims to offend everyone equally. If he hasn't insulted your favorite team with Larry's Losers, just wait. Follow Larry on Twitter for inside thoughts and game time comments at 

https://twitter.com/LBSportswriter
Thanks for sharing the link to this story on your Facebook page
Come to the "Points After" Forum on the Touchdown Alabama site and discuss your feelings on this article.