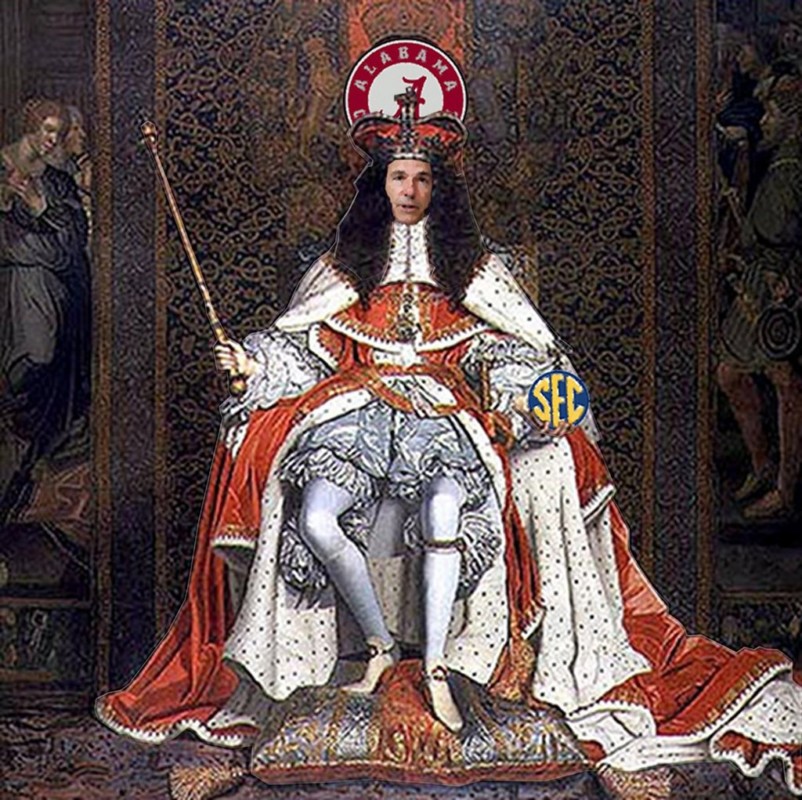 Not ready to give up the throne just yet, so all hail the King!
Long Live the King, Saban Not Ready to Hand Over Crown
By: Larry Burton
All week media pundits have said that the Alabama "Dynasty" is on the verge of crumbling and that with a win, Mark Richt would lead the Bulldogs to the throne of the SEC.
But a funny thing happened on a Saturday in Athens, Georgia. Georgia didn't end the Alabama reign and not only did they lose the game and a chance to finally step up and out of the realm of "Can't win the big one", but they were thoroughly and totally stomped into the rain soaked field between the vaunted hedges.
The came out of the tunnel with a sense of cockiness, barking at the Alabama players and taunting them as the Alabama players exited the tunnel themselves. That ended quickly as one Alabama player was heard to say near the end of the second quarter to a Georgia player, "You ain't barkin' too loud now!"
Indeed all the big talk from Georgia fans and the media are now quieted once again, just as the Tide shut them up in the famous 2008 blackout game and the 2012 SEC Championship Game. Now Georgia fans are destined to go back to mediocrity for a few more years like it seems they always have and Mark Richt will once again hear how he can't win the big one and squanders more talent than any coach.
Instead of this game marking the end of the Saban dynasty, it may have marked the end of the Mark Richt era for Georgia. Quite clearly this is not the best Alabama team in a few years, at least up to this game. But Georgia seemed to have the shelves full of great talent and seemed to be firing on all cylinders. Clearly this was not a team to be so thoroughly whipped and demoralized as the punishment Alabama inflicted upon them.
But the score doesn't lie.
Clearly the Saban dynasty isn't ready to end just yet and even more so at the hands of these Georgia Bulldogs.
Nick Saban is 3-1 at Alabama over Mark Richt and the Bulldogs. Two of the losses were laughing stock losses. So to all the media who declared the Alabama dynasty as over, ask the Georgia Bulldogs, a top 10 team, if they feel that way.
The King is still on the throne, long live the King.
Larry has been published in almost every media outlet for college sports and now primarily writes here for Touchdown Alabama. Follow Larry on Twitter for inside thoughts and game time comments at  https://twitter.com/LBSportswriter
Thanks for sharing the link to this story on your Facebook page
Come to the "Points After" Forum on the Touchdown Alabama site and discuss your feelings on this article