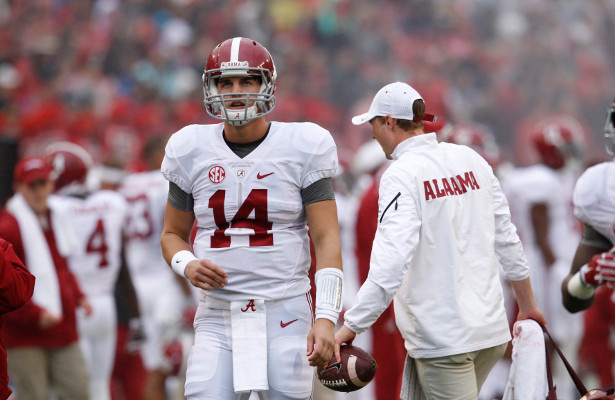 The Good / Bad Coker Has to End For Alabama to Win it All
By: Larry Burton
Jake Coker has some attributes that earned him the starting job. First of all, the team likes him and encourages him, secondly, he has shown a determined attitude to succeed and help the team win.
While his shortcomings with consistency with his long passes is something that the coaches are willing to overlook for now, his interceptions are something that may cause the coaches to open up the competition for the starting job at this late date in the season.
Coker is like two works of literature, one, Dr. Jekyll / Mr. Hyde and the other a nursery rhyme that goes, "When she was good she was very very good and when she was bad she was awful." Right now Alabama is ranked around 113 in third down conversion percentage.
So goes Coker. Looking at the final stats, 24 completions in 33 attempts for 262 yards and two TD's you think, that's not to bad against a good SEC defense. But then you see the two interceptions and you look at the first half time of possession and score and realize that because of Coker Alabama is winning all the stats and losing the game.
This was exactly the recipe that cost the Tide one game already this year at Ole Miss and looked very capable of happening again for much of the game against Arkansas. Alabama can not win it all this year with a quarterback this inconsistent. Coker has to step it up and do so quickly.
The Alabama defense once again managed to bail out Coker with their superior play, but that didn't help them against Ole Miss where turnovers cost them the game. Certainly Coker alone didn't cost them that game, Cooper Bateman also threw one pick and two usually reliable ball handlers coughed up two fumbles to add to the turnover travesty.
But Coker is supposed to be past these early season setbacks by this time of the year. Alabama quarterbacks so far this season have thrown about the same number of interceptions as Greg McElroy and AJ McCarron threw for their careers it seems.
If both those former quarterbacks were in fact correctly pegged as "Game Managers" then order one from the management was not to turn the ball over and it was something that both did very infrequently.
Against a better team, those two interceptions could very well been the difference in the game and while it may it not be fair or politically correct to hold a first year starting quarterback to such a high standard, you must remember these two facts, this is his only year as quarterback of Alabama and he's a 5th year senior who should have the bugs worked out by now. Coker is a far cry from a young freshman and therefore not only deserves a higher standard to be thrust on his shoulders, but an expectation for better results.
This is not the game that Alabama fans saw themselves biting their nails over, but Coker's mistakes made it a reality. The second half shows what he and the offense is capable of doing sans the mistakes and it's time for Coker to show that consistency for 60 minutes as he did against Georgia.
The Good Jake / Bad Jake times have to stop and stop now before the Tide takes on other SEC teams capable of beating them when they aren't playing at the level they should and turning the ball over.
Jacob Coker is capable, but he needs to start proving it and proving it consistently to keep things humming along and to keep Alabama in the SEC race.
For the next few weeks I'll be out of pocket and can't post stories to many Facebook sites I usually do and internet is VERY slow in the South Pacific Islands, so please repost on YOUR and your favorite facebook pages for me while I'm out of good coverage area… Thanks….