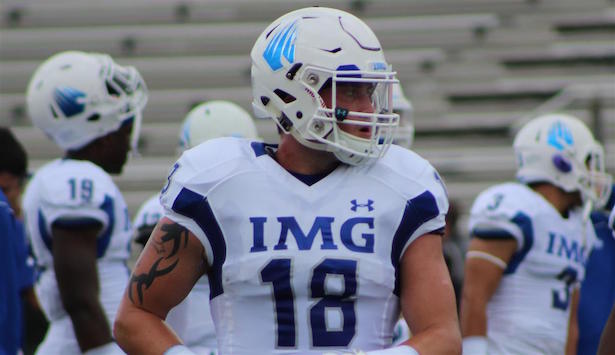 ---
With the announcement of USC head coach Steve Sarkisian being terminated, it has been a rough week in recruiting for the Trojans, losing a commitment one of their biggest recruits, 5-star linebacker Daelin Hayes, out of Ann Arbor, MI. This is a huge loss for their 2016 class, and on top of that, the nation's top tight end, Isaac Nauta out of IMG Academy in Bradenton, Florida, has canceled his USC official visit. Nauta was supposed to attend the USC versus Arizona game on November 7th, but announced via Twitter (@inauta18) that he will be visiting Alabama instead when LSU comes to Tuscaloosa.
Nauta is rated by many, including Touchdown Alabama Magazine, the #1 tight end in the 2016 class. Initially committing to Florida State in December of 2014, he then chose to decommit from the Seminoles and open up his recruitment. Nauta is an ideal tight end, bringing the size at 6'4″, 240 pounds, but also possesses the athleticism that a lot of teams are looking for. He is a natural ball catcher, not needing to use his body and is a lot quicker than he is given credit for. The biggest attribute to his game is that he blocks very well for an athletic tight end. He has great initial pop and technique, finishing every block, very similar to Arkansas' Hunter Henry, who considered by many the top tight end in college football. He would fit well into Alabama's scheme very well due to his run-blocking ability, but can also be a threat at any moment to make a catch downfield. I believe that Lane Kiffin would love to have a guy like that in his offense.
Isaac Nauta is set to commit January 9th at the U.S Army All-American Bowl in San Antonio, TX. He will visit Michigan this weekend as they take on in-state rival Michigan State, followed by an official to Ole Miss for the Texas A&M game, Alabama for the LSU game and will finish his visits at TCU on November 27th when they face Baylor.
Stay tuned for more on Isaac Nauta's recruitment with Touchdown Alabama.
Justin Wagner is the Scouting Coordinator for Touchdown Alabama Magazine. You can follow him on Twitter (@jwag718)