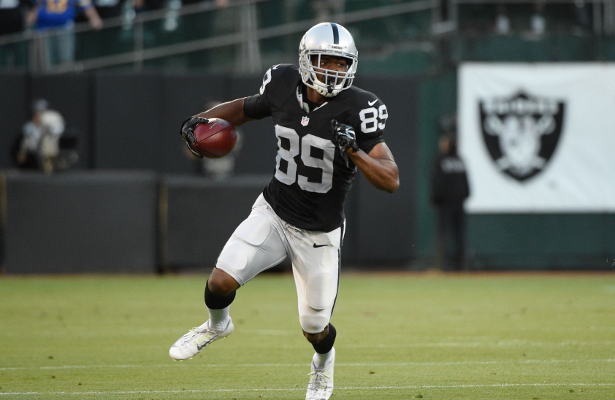 When former Crimson Tide receiver Amari Cooper declared for the NFL draft this past January, many thought would have a promising career. So far five games into his NFL career Cooper has gone above and beyond the highest expectations that the Raiders had.
In five games Cooper has totaled 28 receptions for 386 yards and two touchdowns. If you compare Cooper's stats to that of former Raider and hall of fame receiver Tim Brown you can see why Raiders fan would be very excited with the arrival of Cooper.
In the first year of his hall of fame career Brown had 43 receptions for 725 yards and five touchdowns. Brown put up amazing numbers despite starting in just nine games his rookie season.
The stat line that speaks volumes as to why Cooper can be the next "great" receiver for the Raiders is Cooper's average yards per catch. So far in the NFL Cooper is averaging 13.8 yards per catch, Brown averaged 13.7 yards per catch in his NFL career.
That is the main factor that separates Cooper and Brown for the rest of the pack, their big play ability. Both averaged over 10 yards catch meaning that these two men have the superb ability to break away from defenders and create open space for quarterbacks to place the ball.
Last season the Raiders leading receiver was undrafted fifth year player Andre Holmes who had 693 receiving yards. In his worst statistical season with Alabama Cooper had 736 receiving yards and that was in just 12 games.
Despite only being five games into his NFL career the sky is the limit for the former Alabama wide out. With more playing time in Oakland, Cooper will only get better as time goes on. Saying he will be a sure Hall of Famer might be a rush to judgment, but with the talent and ability that Cooper possesses such high expectations might be warranted.
Ivan L. White is a contributor for Touchdown Alabama Magazine. You can "like" him on Facebook or "follow" him on Twitter, via @ilwhite1