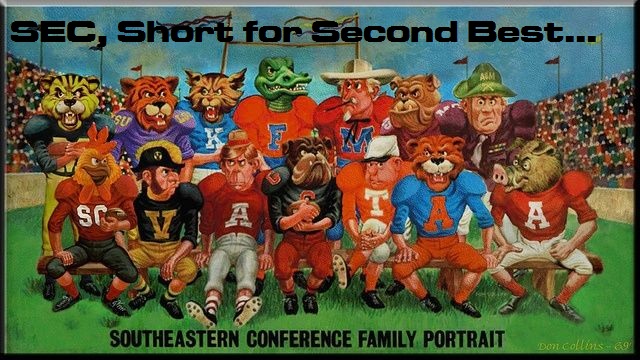 Larry's Losers in the SEC – Week 7 – 2015
By: Larry Burton
Well sports fans, last week had the upset bug biting hard on the hinies of the hounds from Georgia. Now they're reeling red clay canines and Richt's seat is getting hotter that a majorette! That big upset meant we went 5-1 last week as no one thought the Bulldogs wouldn't bounce back from the Bama brawl, but that's just what happened.
Now we're sending you this week's picks from Polynesia from some pretty funny sounding named islands. Mrs. Larry made sure that she got this vacation in even if it comes at a bad time for the pigskin pickin' pooch and me.
So let's just jump right in and predict what's what in the land of the losers.
Missouri at Georgia – Many thought this would be the contest that could finally let Georgia play in Atlanta in the SEC Championship this season, but now these darned Dogs are holding on to slim hopes. Pinkel's Pussycats aren't ready to let go of the SEC East title without a fight, so he's trained his Tigers in the arts of Bulldog battle to secure their hold as the top cat in the East.
But Mark's Mutts have plans of their own and one of them is to not be home when the two SEC division champions collide up the road in Hotlanta, he has designs of Dogs in that dome and he's not going to be denied this dream this year even though the best and brightest have already written them off.
And when all the biting and scratching and fur flying ends, the Dogs may be well on their way to holding on to the dream for at least one more week. Larry's loser – Missouri
Florida at LSU – The Gators come all the way down to Bayou Country and they think they'll feel right in home in another region known for their swamps and Gator kinda country. But Les Miles ain't planning on putting out the welcome mat for these Cajun cousins as he's got these Bayou Bengal's claws sharpened to rip these reptiles a new one and keep the dream alive for another SEC title.
Now new coach Jim McElwain knows a little something about taming these Tigers from his time with Tide and he aims to get his Gators growling and snapping early and throwing these Tigers off their game and hopefully escaping Deaf Valley with a well fought win.
The Gators are living the dream right now and have high hopes for even more, but there's a big difference between hoping and happening and the Gators will learn that hope won't stop a Tiger in his tracks when he's on the hunt. Larry's loser – Florida
Auburn at Kentucky – The Gus Bus travels all the way to the Blue Grass State to take on those Kentucky Kitties. It's been a long season for these stripped Siamese from Auburn as the Bus Gus has been running with a few cylinders not firing and this week they hope to catch these kitty cousins napping and nab a much needed SEC victory.
But these Wildcats sleep with one eye open this season and they're not ready to let this year's Cinderella story end by letting these unpleasing Pussycats pause their rise in the SEC standings.
One thing's for sure, the fur will fly in this one and it could be a close one, but when the dust and fur settle, it'll be Tigers running for the Gus bus to get the hell out of Commonwealth. Talk about another coaching hot seat, Malzahn's butt could melt asphalt after this one. Larry's Loser – Auburn
Ole Miss at Memphis – The Rebels have rounded up the gang and gone North up the Mighty Mississippi to Memphis to take on the non SEC kind of Tiger and enjoy a little win and some nice blues.
But folks, let me tell you, these Memphis men can be troubling and if the Rebels trifle with these Tigers and don't take 'em seriously, these Tabbies can trip them up and take them to the wood shed.
While we're short of trying sell you an upset, this one's gonna be closer than the boys in Vegas might thing, but the Rebels get their win. Larry's loser – Memphis
Louisiana Tech at Mississippi State – A non SEC brand of Bulldog comes over to his brother Bulldog's yard and hopes to have a fun play date and leave with a big check this Saturday.
But these Bulldogs from down in Cajun country have been there and beaten an SEC big boy before and they're thinking they might just catch these dogs looking past their pitiful presence and not just just steal the bone, but the win too.
But Mullen's Mutt's ain't throwing out the welcome mat for these flea bitten brothers and while they'll leave with the big check, they'll leave all chewed up. Larry's loser – La. Tech
Vanderbilt at South Carolina – When the season started, who would've thought that the old hen master would be needing a win over Vanderbilt to keep him in the bowl picture? But that's just how the Rooster croaked, not crowed this season so far.
So that's why these Song City Sailor bring their sinking ship into dock at South Carolina with hopes of continuing these Carolina Clucker's clucked up season with another loss.
But these prized Pullets aren't going down without a fight and they aim to keep Vandy in the SEC cellar for another week with a pecking party these Pirate wanna bees won't soon forget. Larry's loser – Vanderbilt
Alabama at Texas A&M – Nick Saban slides his elephant hides into Texas this week to check out the newly renovated Kyle field and to see if he can quiet the crowd by prancing his pachyderms up and down the field and trampling the Texans as they try and traverse the same trail on offense.
But Coach Kevin thinks he has these Aggies ready to tumble these tusked Tuscaloosans and take over the SEC West. He thinks he can simply watch the Tide go out as he streaks his offensive firepower around those big slow trunked ones and that his new defensive daddy, John Chavis can keep those Bama boys from keeping up.
It ought to be a good one, but the Alabama win in this one throws the SEC West into a tight knit affair as Larry's loser is Texas A&M.
Well that's it for this week folks.
Larry has been published in almost every media outlet for college sports and now primarily writes here for Touchdown Alabama. He writes is a colloquial and irreverent style for this series of articles. Larry's views and sense of humor may offend, but he aims to offend everyone equally. If he hasn't insulted your favorite team with Larry's Losers, just wait. Follow Larry on Twitter for inside thoughts and game time comments at  https://twitter.com/LBSportswriter
Thanks for sharing the link to this story on your Facebook page
Come to the "Points After" Forum on the Touchdown Alabama site and discuss your feelings on this article.