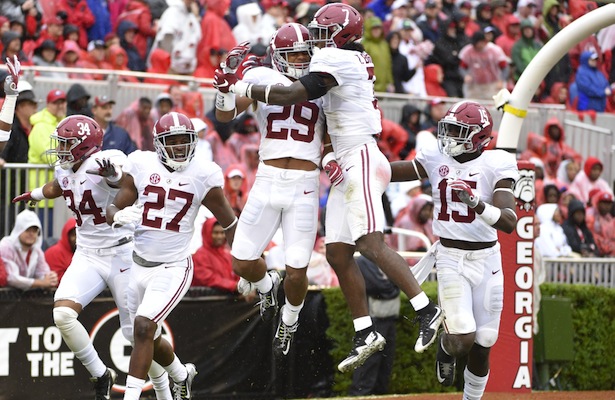 Alabama had much to celebrate today, but the biggest may have been winning the turnover war
Alabama Finally the Beneficiary of Turnovers and Rolls Over the Aggies
By: Larry Burton
What goes around, comes around and this time it was Alabama benefitting from turnovers that enabled them to simply roll over the Texas A&M Aggies Saturday in Kyle Field by a score of 41-23.
Alabama lost their only game of the season so far due to interceptions and fumbles that resulted in points on every turnover they gave the Ole Miss Rebels. Today, Texas A&M, the nation's number 9 team in the country, knows exactly how Alabama must have felt as the Texas A&M quarterbacks were overly generous in throwing so many footballs to men in the wrong colored jerseys.
In all the Aggies threw four interceptions, three of which were run back for touchdowns. Take away those three touchdowns and the score may have been much closer.
Or maybe Alabama would have just handed the ball the Derrick Henry a few more times. The Aggies simply had no answer for the 6'3" 240 pounder from Yulee, Florida who ran at will against the A&M defense all day long. He ended the day with a whopping 236 yards but could have had more had the Tide needed it from him.
The real delight for Tide fans, except of course for the win, was not the stellar play from Henry, that has been expected all year long and this was the breakout game Henry needed to jump start his own campaign for best running back. The real delight was seeing Alabama play at a high level of play all day long with no interceptions, just one fumble and one real mental lapse which came in the form of a punt return by the Aggies to get them excited and back into the game.
Coker was an efficient 19 of 25 but with no interceptions.  Though he had no touchdown passes either, it was a great day for Coker who kept his team on the plus side of the scoreboard all day long as well as keeping himself calm and mistake free.
Against Georgia and now Texas A&M, very quality top 10 teams, Alabama has shown what they can do when they win the turnover battle as well has how bad they can look when they don't, as was the case against the Ole Miss Rebels.
One big added bonus is that when Alabama does pick off a pass, the defenders certainly seem to know what to do with it as they looked like the best running backs or receivers as they twisted and ran three back to the end zone today. In all, it was a great win for the Tide and a great way to see how important the turnover battle is each week.
Larry has been published in almost every media outlet for college sports and now primarily writes here for Touchdown Alabama. Follow Larry on Twitter for inside thoughts and game time comments at  https://twitter.com/LBSportswriter
Thanks for sharing the link to this story on your Facebook page
Come to the "Points After" Forum on the Touchdown Alabama site and discuss your feelings on this article