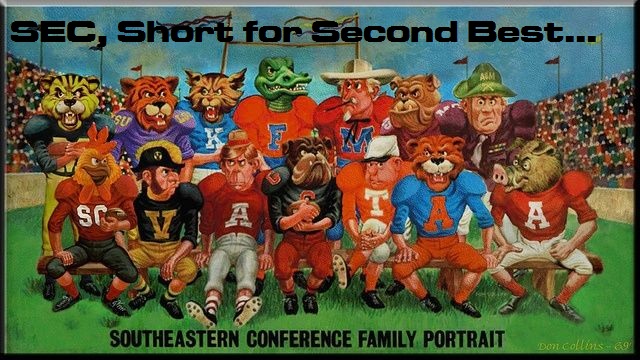 Larry's Losers in the SEC – Week 8 – 2015
By: Larry Burton
My oh my how time does fly! Do you realize we're over halfway done with this season already and the real questions everybody wanted to know by now are still questions and not statements. Who will win the West? Who's the beast in the East? We just won't know for a while.
And the upset bug is biting some teams harder than others this season. Last week not even my little flealess football forecaster sniffed out the upset for Ole Miss even though we did warn everyone that it was possible and the smart money would be on Memphis if you were a betting kind of guy.
So last week we missed that one and the Auburn game for what was statistically at least the worst week we've had so far this season. So I guess all this time off in the South Seas is causing us to lose concentration more than usual. Well this is our last pack of picks until I'm back home and reunited with my little buddy, the pigskin pickin' pooch, who by the way sent me a nasty email today to lay off the local rum and go over these picks on last time, so without rum or further ado, let's get to leering and the losers this week.
Tennessee at Alabama – Coach Butch brings his band of Volunteers South to take on the Tusked Tuscaloosans and hopes that he can turn around this season with just one game. This was supposed to be a great year, but the oh so close, could'a should'a games have just ripped the joy from the fans in Orange this year and a win here would finally make the statement they've been wanting to make all year.
But the only statement that Saban wants to hear from the Vols is, "Wait till next year!" He aims to have the running game in high gear and the defense as solid as always and he wants to give the fans the win they want on their home turf.
But Tennessee always plays beyond their usual limits in this game and the prognosticating pug is warning of an upset if the Tide blinks in this one, so in a closer than expected game, since the Vegas boys say 1.5, Larry's loser – Tennessee
Auburn at Arkansas – The Hogs have not only eaten slop this season, but they've played pretty sloppy at times too and they know that to get to a good bowl game this year they better start busting some butts with those sharp tusks on their snouts.
Auburn is struggling just to make a bowl game this year and if they lose this one, it could be a winter at home in the SEC cellar watching all the other teams play and Gus knows if that happens, he better start polishing that resume off and looking elsewhere once again.
This could be a dandy, but when it comes to playing in the mud of the Hog pen, these Tigers just haven't got what it takes. In a close one, the Prognosticating Pug reminds me, go with the home team. Larry's loser – Auburn
Western Kentucky at LSU – This won't be one of the marquee match ups in this week's contests as the Hilltoppers become road floppers in this one.
They will however, get a big check before being rudely shown the door to the exit in this one. The only reason to watch this game is to see if these Blue Grass Boys make more first downs than LSU has touchdowns.
In a rout – Larry's loser – Western Kentucky
Kentucky at Mississippi State – The Kentucky Kitties are hoping that they can come down to Starkvegas and bet on a winner once again and keep their dream alive of going to a bowl game.
But Dan's Dog pound is full of big bad Bulldogs and he ain't about to let this bunch of Cats sneak into his yard and leave with a win. This could be one of the better games of the day to watch as the pug and I have gone back and forth on this one seeing that each team could have his day.
But in the end, even though he has a strong Dog bias, Bacardi the Wonder Dog reminded me that every Dog has it's day and when in doubt, go with the home team. So that makes Larry's loser – Kentucky
Texas A&M at Ole Miss – Coach Kevin is still smarting from his troubles with the Tide, but he wishes them no ill will and in fact hopes to help them by handing the Rebels a loss and getting the Tide back into to quest for the SEC's best.
But with his eyes on the prize, Coach Freeze isn't about to let this team go through a late season cold shoulder like they got last year and plans to keep things hot for a while to come with a big home win against these Agriculture and Mechanical boys. He isn't going to let them come in and plant any problems for their SEC season in their home sod.
But in an upset of sorts, since the Vegas boys are going the other way, that's exactly what happens as the Aggies get red hot and melts Freeze's footballers on their own home turf. Larry's loser – Ole Miss
Missouri at Vanderbilt – Two teams with disappointing seasons get together to decide on who's the worst of the bad. Missouri is finally having a down year after many years of great success, but Pinkel's Pussycats figure they've still got enough Tiger in them to sink these Sailors one more time.
I'd like to say that Vanderbilt has a chance in this game and they do if Missouri can't find the stadium by kickoff, but other than that, this is definitely a loss for the Commodores.
In a boring game that doesn't mean a thing, Larry's loser – Vanderbilt.
Well that's it for this week folks, a man can only take so much vacation and this one's been a long one, so it's time to get back and knuckle down and strengthen the brain cells for season's final weeks where the teams will either be battling for bowls for headed to the house for the holidays. I just hope that darn little partner of mine didn't chew up my favorite house shoes for not listening to him last week and going with Auburn instead of Kentucky.
So till next week, remember, not everyone's a loser unless Larry says so, so you've got a seven days to think your favorite team can still win until the next column comes clean with the list of losers once again.
Larry has been published in almost every media outlet for college sports and now primarily writes here for Touchdown Alabama. He writes is a colloquial and irreverent style for this series of articles. Larry's views and sense of humor may offend, but he aims to offend everyone equally. If he hasn't insulted your favorite team with Larry's Losers, just wait. Follow Larry on Twitter for inside thoughts and game time comments at  https://twitter.com/LBSportswriter
Thanks for sharing the link to this story on your Facebook page
Come to the "Points After" Forum on the Touchdown Alabama site and discuss your feelings on this article.