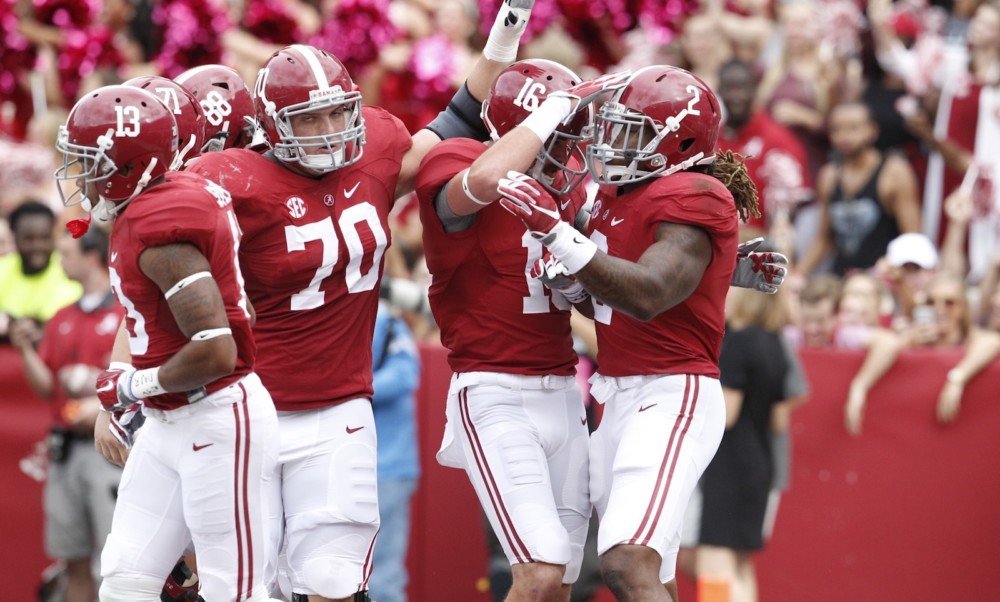 *Hear this out before all comments are made
One created all living beings, while the other formed a dominance of Alabama football over Auburn. One way to equate God with former Crimson Tide legendary coach Paul Bryant is that both have a set of rules, instructions to be followed by all means necessary.
The children of Israel had the 10 commandments, which were laws that God gave to Moses in order to ensure obedience and understanding. Coach Bryant gave players and fans victories, championships and a persona that nothing was bigger than Alabama football, especially not Auburn. A choice to root for Alabama (Bammers) or Auburn (Barners) starts in early childhood.
True Christians know there is no other God like Jesus, and in the same notion, Alabama fans want nothing to do with the university on the other side of town that happens to play football. 
This weekend, however, will present a daunting task to the Crimson Tide faithful.
Auburn literally has nothing to play for aside from a spot in a bowl game. Preseason hype and inconsistency play on both sides of the ball have it at 4-3 overall and 1-3 in conference play. The Tigers will face Ole Miss Saturday, a team that controls its own destiny in the SEC West.
Regardless of its flaws, the Rebels would get to Atlanta and play for a Southeastern Conference Championship if it wins out. Five turnovers for Alabama placed Mississippi in the driver's seat, as it achieved a 43-37 win over the Crimson Tide at Bryant-Denny Stadium.
Hatred for Auburn is legit and loathing Tennessee is factual, yet it is the Magnolia state that stands in between Alabama and a 25th conference title. It goes contrary to every belief system for an Alabama fan to cheer for Auburn, but on Halloween, something has to give.
Yours truly of TDAM has four reasons why Alabama fans should secretly pull for Auburn.
Game venue: Jordan-Hare Stadium
Summary: Auburn fans got all it could ask for at Jordan-Hare Stadium in 2013, with fortunate highlights that featured a 75-yard touchdown pass from Nick Marshall to Ricardo Louis and the dreaded "Kick Six" against Alabama. Ole Miss has loss to Auburn twice under head coach Hugh Freeze, with one coming in 2013 at Jordan-Hare by a score of 30-22.
2. Auburn plays with nothing to lose, Mississippi with all to lose
Summary: All preseason hype is over and Auburn is seen for what it is, a team that is not there yet. With this being noted, the Tigers will come out loose and inspired this week. Redshirt freshman quarterback Sean White should play with a lot of confidence and Auburn's defense will feed off the crowd noise. Mississippi, at 6-2 (3-1 in SEC), is potentially walking into a trap.
The Rebels are in the same position it was in last year. It had a chance to win the SEC West, but it allowed Auburn to keep the game close. Ole Miss took a 17-14 lead into halftime, but it was out scored 21-14 in the second half. Playing to tight at home last season caused Mississippi to lose 35-31, losing its No. 4 ranking. The very same thing can happen again.
3. Mississippi's lack of a balanced run game will bite it
Summary: Coach Freeze has brought in three special recruiting class, but neither of them came with a compact running back. It should not be difficult for the Rebels to sign a 5-foot-11, 220+ pound ball carrier, yet Ole Miss remains content with speed backs. Senior Jaylen Walton leads the team in rushing, nonetheless, he has just 480 yards and it is the halfway point of the season. Quarterback Chad Kelly has four rushing touchdowns (team-high).
Auburn, on the other hand, has found its workhorse.
Sophomore Peyton Barber emerged over Roc Thomas and Jovon Robinson. Barber is averaging 25 carries and 110 rushing yards per game. He has totaled 770 yards with 12 touchdowns. A consistent dose of Barber will help settle in Auburn's passing attack and limit Mississippi's field time. Production from Barber gives Auburn's fast-paced offense a chance.
4. Mississippi's inability to finish a season
Summary: Since 2012, Ole Miss has been viewed as a team with great potential. Multiple college football analysts believe the Rebels can win a national championship; however, let the truth show that under Freeze, Mississippi has failed to finish an entire season.
Mississippi started 2012 at 3-1, prior to face Alabama. It lost 33-14 and would go on to drop five of its last nine games, limping to a 7-6 season. The following year brought wide receiver Laquon Treadwell and defensive lineman Robert Nkemdiche to Ole Miss. It started 2013 a perfect 3-0, until a trip a Bryant-Denny Stadium came on its schedule. Mississippi would be held off the scoreboard, suffering a 0-25 loss to Alabama. It would lose five of last 10 games, ending the year at 8-5. Ole Miss almost became a force to be reckoned with in 2014.
It started a perfect 4-0 and even defeated Alabama 23-17, but like all previous seasons, the Rebels would decline. Mississippi lost four of its last nine games, including a 42-3 embarrassing loss to TCU in the Chick-fil-A Peach Bowl. It finished last season at 9-4.
Does playing Alabama fatigue Ole Miss throughout the season? The answer is yes. Coach Freeze has compiled a 17-16 record (four years) in games before and after Mississippi has played the Crimson Tide. It sounds weird, but the Rebels are due for another loss.
In conclusion
It goes against all things bright and beautiful to root for Auburn, but in this case, Mississippi is public enemy number one. Once again, the Tigers lone role for the remainder of the season is "spoiler." Alabama fans will look for its team to defeat Auburn in November, but for now, will it pull for the spoiler this week against Ole Miss.
Stephen M. Smith is a senior analyst and columnist for Touchdown Alabama Magazine. You can "like" him on Facebook or "follow" him on Twitter, via @ESPN_Future.