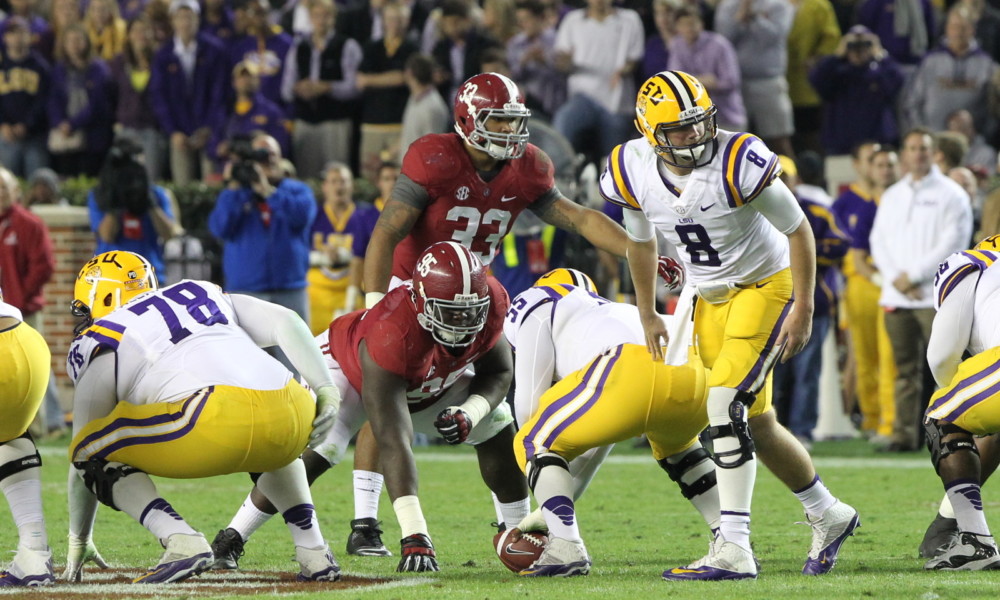 1. Turnover margin
Entering this Saturday's high profile match-up the turnover battle has been the Achilles heel of the Tide this season.
In their only loss of the season the Tide were sloppy with the ball turning it over five times against the Ole Miss Rebels. Alabama has turned the ball over only six time since then, and have only one other game with multiple turnovers this season.
Winning this margin will not guarantee victory but keeping the ball in your possession certainly helps, even with the five turnovers against the Rebels, the Tide were still able to almost complete the comeback and win. Alabama had two turnovers against Georgia in terrible weather conditions and was still able to win the contest, 38-10. The Tide have proven that is does not lose often when it protects the ball.
2. Let Brandon Harris Throw
This season, LSU quarterback Brandon Harris has not been talked about much despite being very safe with the ball this season. Harris has nine touchdowns and zero interceptions, showing that he can be relied upon to protect the ball.
What hasn't been proven is whether or not Harris can lead the Tigers to victory with his arm. Harris has thrown almost 100 less passes this season than Tide quarterback Jake Coker and has a 58 percent completion percentage, compared to Coker's 63 percent. LSU ranks 28th in total offense in the country but with the 116th passing attack Harris needs to be tested early and often. Look for the Tide not to load up the box, sit in their zones and make Harris defeat you with his arm while not letting his escape the pocket.
Harris has playmakers on the outside, but with the talent that Alabama has in the secondary, it will take Harris having a career day to defeat the Tide.
3. Third Down Conversion Rate
The Tide have not done very well at extending drives this season. Out of 127 teams in college football, Alabama ranks 111th in the nation at third down conversion percentage. Alabama only has 38 third down conversions in 2015.
The Tigers only have 36 third down conversions but rank 26th in the nation in third down conversion rate because of Leonard Fournette and his big play ability. Fournette averages 7.7 yards every time he touches the ball, but his average could fall in this contest. The key will be if either team can stay on the field on third and five plus situations. Whoever wins this battle will put themselves in prime position to win this game and possible a trip to Atlanta.
4. Jacob Coker- Protecting the ball/Own the moment
Saturday will be a huge test for Coker against LSU's defense. He has played well on the road, completing 70 percent of his throws with no turnovers, yet Coker has struggled at home.
All seven of his interceptions happened inside Bryant-Denny Stadium.
Alabama's offensive line must excel in pass protection, but Coker has to do his part of taking shot only when they are given. He was able to manage the game against Wisconsin, Georgia, Texas A&M, Arkansas (second half) and Tennessee. The very same stability has to be in order for him against the Tigers. He cannot afford to have mistakes.
5. Clean game on special teams
Alabama's special teams accounted for two of the five turnovers it had against Ole Miss. Fielding and protecting the ball on kick and punt returns will be imperative.
Horrid weather conditions may call for Alabama to consistently try to keep a dry ball.
Sophomore punter JK Scott has found his groove again. He has improved his average to 43.3 yards per boot, with 11 of his kicks falling inside the opposition's  20-yard line.
Forcing LSU to drive the length of the field constantly should bode well for Alabama.
Ivan L. White is a contributor for Touchdown Alabama Magazine. You can "like" him on Facebook or "follow" him on Twitter, via @ilwhite1
Stephen M. Smith is a senior analyst and columnist for Touchdown Alabama Magazine. You can "like" him on Facebook or "follow" him on Twitter, via @ESPN_Future.