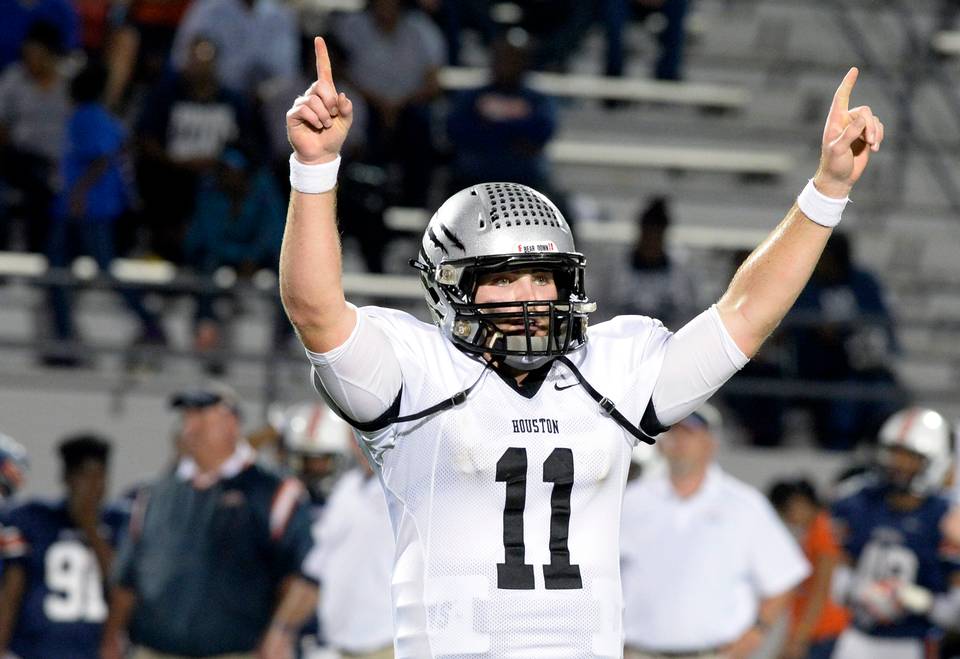 Alabama has picked up eighteen commits in the class of 2016 and eight in the class of 2017. Most of these commits are competing for state titles in the playoffs, some have finished their junior or senior season and are enjoying the recruiting process. Touchdown Alabama is keeping you updated weekly on what the future of the Alabama Crimson Tide is up to.
2016
 Jonah Williams, OT, Folsom, CA (Folsom)
Williams anchored the Bulldogs offensive line to help the offense total nearly 400 yards, 227 of it coming on the ground in a 63-0 win over Kennedy. Folsom is 11-0 and will face 7-4 Franklin Wildcats in the second round.
Kendell Jones, DT, Killeen, TX (Shoemaker)
Jones helped the Grey Wolves win their first playoff game in program history in a 10-7 win over Sache, a team that was averaging 50 points a game. Next week, Shoemaker will face North Mesquite (9-2). No stats were recorded for Jones.
Raekwon Davis, DT, Meridian, MS (Meridian)
Meridian took care of Gulfport in a 42-6 victory and this week they will get a rematch with 10-2 Oak Grove, who they lost to earlier in the season in a close 3-point game. No stats were recorded for Davis.
B.J. Emmons, RB, Morganton, NC (Freedom)
Emmons ran for 137 yards and 3 touchdowns for Freedom in a 55-18 win over Patton. The Patriots are 11-2 play the 10-2 Kings Mountain Mountaineers in the second round next week.
Trevon Diggs, ATH, Gaithersburg, MD (Avalon)
The Avalon Black Knights' season came to an end last week, finishing with a 5-6 record. Diggs made news last week when he decided to commit to the Crimson Tide, he will now focus on his schoolwork to make sure his grades are in line to get to Tuscaloosa.
Chris Owens, OG, Arlington, TX (Lamar)
The Vikings (10-1) won a close game over Abilene by a score of 39-33. Owens was crucial for the line as Lamar passed for 186 yards and ran for 176. This week they will play Eastwood (9-2) in the second round.
Deonte Brown, OG, Decatur, AL (Austin)
The Austin Black Bears (10-3) shutout Briarwood Christian (5-7), 27-0 in the second round of the playoffs. They will face 10-2 Gardendale next week in round three.
Charles Baldwin, OT, Brooklyn, NY (ASA College)
The ASA Avengers ended their season last week with a 6-5 record.
Jaquan Yulee, ILB, Chesapeake, VA (Indian River)
The 9-2 Braves blew out Bethel 47-7, ending the Bruins' season at 6-5. This week they will face the 5-6 Kecoughtan Warriors. No stats were recorded for Yulee. Yulee has been heavily recruiting other guys to come to Alabama; many say he was a big factor in Trevon Diggs' commitment.
Jalen Hurts, QB, Channelview, TX (Channelview)
Channelview did not end its season on a high note, being blown out by 9-2 Manvel, 71-21. Hurts passed for 174 yards, ran for 126 and got in the end zone once. Manvel is a loaded team with eight players ranked in the state and all eight who will play power five football next year. Hurts had an amazing season, completing 63% of his passes for 2371 yards and 26 TDs to just 4 INTs. He had a very similar impact on the ground, rushing 161 times for 1393 yards and 25 touchdowns. (3,764 total yards, and 51 TDs)
Quinnen Williams, Birmingham, AL (Wenonah)
The undefeated Dragons fell to 11-2 Mortimer Jordan 36-20, ending their run at a state title. Williams had a good game though, playing on both sides of the ball and on defense consistently getting into the Blue Devil backfield.
Miller Forristall, TE, Cartersville, GA (Cartersville)
Cartersville moved to 12-0 on Friday after stomping Columbia 42-7. Next week they will face the 8-3 Liberty County Panthers in the second round. No stats were recorded for Forristall.
T.J. Simmons, WR, Pinson, AL (Clay-Chalkville)
Clay-Chalkville, the top team in the state of Alabama, just squeaked by Homewood 40-39 in the second round of the playoffs. Simmons was huge for the Cougars, catching 3 passes for 55 yards and the two biggest touchdowns of the game. Clay-Chalkville remains undefeated and will play 8-4 Minor next week.
Shawn Jennings, ATH, Dadeville, AL (Dadeville)
Jennings' season was cut when he broke his kneecap earlier this season. The Dadeville Tigers were eliminated from the playoffs by Andalusia last week. Dadeville finished this season, 7-6
Joshua Perry, S, Amite, LA (Amite)
Amite destroyed Port Barre 54-0 in the first round of the playoffs. Perry had an interception in the game. Amite is 6-7 on the season, and looking to make a run in the playoffs as they face North Webster.
Brendan Scales, TE, Baldwin, MO (Lafayette)
The Lancers were eliminated from the playoffs a few weeks ago. They finished 7-4.
Riley Cole, OLB, Oneonta, AL (Oneonta)
The Redskins were eliminated from the playoffs last week, ending their season with a 4-7 record.
Eddy Pineiro, K, Miami, FL (ASA College)
Pineiro has redshirting in 2015 to have full eligibility when he gets to Tuscaloosa.
 2017
 Najee Harris, RB, Antioch, CA (Antioch)
The undefeated Panthers will face Amador Valley next week in the second round of the playoffs. They had a first round BYE.
 Cam Akers, RB, Clinton, MS (Clinton)
Akers led the Arrows to a 56-42 win over Columbus with his 311 yards passing and 144 yards on the grounds with five total touchdowns. Clinton will have a big rematch with Starkville this week, which is loaded with Alabama prospects.
Netori Johnson, OF, Ellenwood, GA (Cedar Grove)
Johnson anchored the Cedar Grove offensive line to a 47-0 win over Pierce County, in which they rushed for 364 yards and passed for 141 (505 total yards). The Saints move to 8-1-1 as they face Oconee County next week.
Alex Leatherwood, OT, Pensacola, FL (Washington)
Washington ended its season with a 2-8 record.
Chadarius Townsend, ATH, Tanner, AL (Tanner)
The Rattlers took their season down to the wire as they lost a double overtime game against Ranburne by a score of 56-55. No stats were recorded for Townsend except a fumble and an INT.
Jake Fromm, QB, Warner Robbins, GA (Houston County)
Fromm had a monster game in Houston County's 53-6 win over South Effingham. Fromm completed 25 of 35 passes for 406 yards and six touchdowns to help his Bears move to 10-1. They will face Mays next week in the second round of the playoffs.
Xavier McKinney, S, Roswell, GA (Roswell)
Roswell put a beat down on Parkview 63-25 on Friday. McKinney had two interceptions; five tackles and two pass defections and a kickoff return for a touchdown in the victory. The undefeated Hornets will face Camden County next week.
Brian Robinson, RB, Tuscaloosa, AL (Hillcrest)
The Hillcrest Patriots were eliminated from the playoffs by Opelika by a score of 48-0. No stats were recorded for Robinson in the loss. The Patriots finished 8-4 on the season.
Justin Wagner is the Scouting Coordinator for Touchdown Alabama Magazine, you can follow him on Twitter, at @jwag718