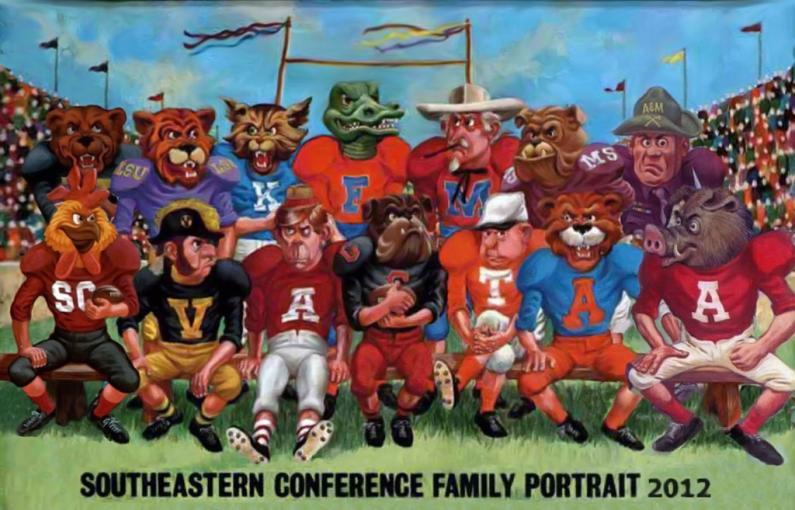 Larry's Losers in the SEC – Week 12 – 2015
By: Larry Burton
Well folks, we last week had the upset bug biting pretty hard as we thought LSU would bounce back from the Bama beat down and the Mormons would do more than ring the Missouri Tiger's doorbell, but those two games didn't go as we thought they should.
So last week we went six out of eight for one of the worst weeks we've ever had. What a season this has been and my oh my how the other prognosticators are looking even worse than us.  Who would have thought that Auburn would finish in last place in the SEC West after being picked by SEC press corp to finish first? It's just been that kind of season.
But these final weeks will clear away the rest of the muddy water and show us all just who landed where, but till then, there's still a lot of football left that matters and we need to get to picking the losers.
Florida Atlantic at Florida – FAU proves that all Owls aren't wise as these feathered footballers fly into the Swamp to try and rip those reptiles a new and feast on Gator tail after the game.
But McElwain's Mud Puppies aren't about to let these two win Hooters come in and mess up their dreams for post season playoffs, so look for the feathers to fly in this one as the Gators send them home with a big check very few survivors.
And the ones that do survive won't be flying South for the winter, not with the plucking they're going to get. Larry's loser – FAU
The Citadel at South Carolina – A bunch of military type Bulldogs plan to raid the coop and leave with more than just a big check in this contest. They figure these ragged Roosters are prime for an upset and they are just the team to do it.
But though this season has seen them lose their coach, their winning ways and much of their dignity, this coop of Carolina Cluckers still have some big peckers and they plan on sending these hounds barreling back to the barracks with their tails between their legs.
And that's what will happen as the Gamecocks may end their season without a bowl game, but they'll have this win to keep them warm this winter. Larry's loser – The Citadel
LSU at Ole Miss – Les Miles brings his banged up Bengals up North to take on the Rebels in hopes of having something to be thankful for this Thanksgiving by stopping the losing streak.
But Hugh Freeze's Rebel Bears plan of piling on these Pussycat's problems by adding at least one more loss on their losing list and cementing themselves in a better bowl for the holidays.
This could be a good game, but lately the Pussycats are plum pitiful and the Rebels are ready to add to the travesty of these Tigers. Larry's loser – LSU
Idaho at Auburn – In hopes of finding someone they can beat to get to even the worst bowl in Birmingham, the Auburn Tigers invited the Vandals to come down from Idaho for a mercy win and bowl eligibility.
From first to worst in the West, the wheels are truly coming off the Gus Bus but they are still hoping to salvage some semblance of a season and the not going to let this bunch Vandalize that.
I'd like to say the Vandals don't have a shot, but then I did say that about division two Jacksonville State and Auburn almost lost that one. But they'll pull this one out, this team is just really that bad. Larry's loser – Idaho
Charleston Southern at Alabama – This bunch of Buccaneers travel down to Tuscaloosa to take on the tusked ones and they want these football fans to know that they are just a one loss team and they aren't scared to come to come to T-Town and take on the Tide.
Now while Nick Saban will say this is the most important game of the season because it's the next one, I don't think they'll spend more than an hour braining over these Buccaneers before moving on to the Auburn game plan.
So while Charleston may not be scared to take on the Tide, they aren't smart either, because these pachyderms will drive them into the dirt. Larry's loser – Charleston Southern
Mississippi State at Arkansas – Dan's doggies drive up to the land of Hot Springs and hope to have a Hog to slaughter for a little after game barbeque.
But Brett's hot Hogs are planning to finish this season with a flurry and add to woes of the Rebel faithful who will have to endure another late season meltdown once again.
This one could be close, if there is a blowout, it'll be all Hogs as they're playing "snouts out" football at the end of the season. Since they've been writing a lot lately on "The Alabama Effect" where teams suffer for weeks after playing Alabama, we'll play along. Larry's loser – Mississippi State
Georgia Southern and Georgia – The Eagles hope they can fly in quickly between the hedges and catch the Bulldogs licking their wounds from a season gone sour and leave with an upset win as well as a big paycheck.
While Mark's Mutts lost their SEC dreams, if they drop this one, they'll surely lose their coach too. So there's reason to clip the wings on these war birds and give the fans something to be happy about for one more week.
Now while we're not calling for an upset alert in this one, this isn't a total pushover team and strange things can happen in the SEC, but we don't see the upset bug biting here. Larry's loser – Georgia Southern
Tennessee at Missouri – Butch brings his bunch of ball players over to Missouri to try and wrangle a win and improve his bowl game. The Vols think it's a good time to kick a Kitty while he's down.
But Pinkel's pussycats know that they'll lose that label after the end of this season with their skipper calling it quits after a very productive and successful career with these Cats. So the boys are wanting to say goodbye with some good wins and send him out a winner.
There are few men that both Bacardi and I admire more than Gary Pinkel and while we'd love to see him go out a winner, this is just the wrong team to tussle with to get that way. So Coach Pinkel, it's with regrets that we place you on this list and if we miss a game this week, it won't hurt our feelings if this is the one. Larry's loser – Missouri
Texas A&M at Vanderbilt – These are two teams that may have looked good for a while and then took a nose dive, but the good news is that one of them will leave this game a winner again. Coach Kevin is hoping that it's his Aggie boys will get back to planting some opponents like they do the crops in Aggie land and that he can end the season with 10 wins to take away the pain of some bad losses.
But Derek has designs of his Commodores confusing the clan of sportswriters and notching his third SEC win this season and if you think about it, he has a good shot to run the ball against these Aggies just like everyone else has done all season.
But in the end of the season, just like the end of the churning session, to creme rises to the top and the Commodores have sank so many times this season, their creme's just a little too watered down. Larry's loser – Vanderbilt
Charlotte at Kentucky – The 49'ers come over the Commonwealth with hopes of adding to the catastrophic close of the season for these troubled Tabbies from Kentucky. After a hot start going four out of five, they turned back into mildcats losing the last five in a row.
Needing two more wins to make it to a bowl and regain some respect, this coach will Stoop to anything to get those two wins and this one against Charlotte is all but a given, so it's really going to make next week's war against old foe Louisville even that much more important.
So with this fifth win, they'll be some excitement over the week's game. Larry's loser – Charlotte
Well that's it for this week folks. There's a couple of games that Bacardi the Wonder Dog as nervous as going to a family reunion of fleas. So we'll be watching them all with you and praying for perfection with our pigskin predictions.
So till next week let me remind you that the season is almost over but there's still teams trying to sew up a lot of post season plans, so if you want the inside scoop on how it will all go down, we'll see you back in seven days with the latest list of Larry's losers.
LARRY HAS BEEN PUBLISHED IN ALMOST EVERY MEDIA OUTLET FOR COLLEGE SPORTS AND NOW PRIMARILY WRITES HERE FOR TOUCHDOWN ALABAMA. HE WRITES IS A COLLOQUIAL AND IRREVERENT STYLE FOR THIS SERIES OF ARTICLES. LARRY'S VIEWS AND SENSE OF HUMOR MAY OFFEND, BUT HE AIMS TO OFFEND EVERYONE EQUALLY. IF HE HASN'T INSULTED YOUR FAVORITE TEAM WITH LARRY'S LOSERS, JUST WAIT. FOLLOW LARRY ON TWITTER FOR INSIDE THOUGHTS AND GAME TIME COMMENTS AT

 HTTPS://TWITTER.COM/LBSPORTSWRITER
THANKS FOR SHARING THE LINK TO THIS STORY ON YOUR FACEBOOK PAGE