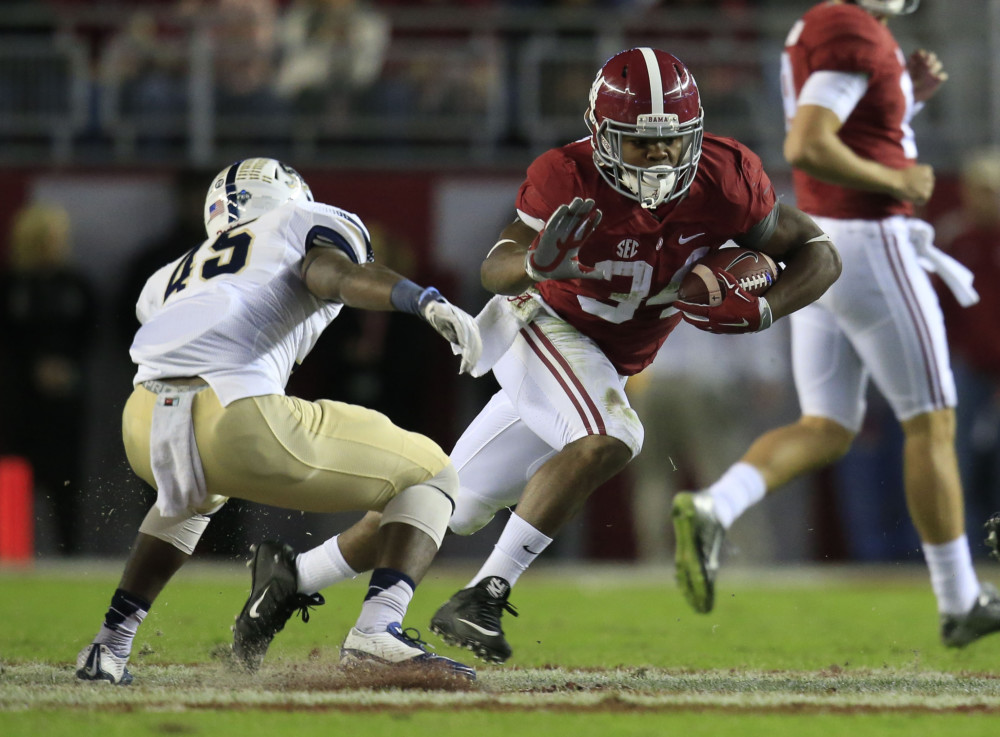 Bama's Backups Don't Disappoint
By: Larry Burton
Despite Nick Saban's coach speak rant earlier in the week, everybody with a pulse knew that the Charleston Southern game would be one where we see a lot substitutes with meaningful game time snaps. It was a chance to see the stars of the future and for the most part, they didn't disappoint.
In the much anticipated "Battle of the Back Up Backs", neither Scarbrough or Harris disappointed. Both had ten carries and Bo Scarbrough got 69 yards for a 6.9 per carry average, while Damien Harris ended the night with 44 for a 4.4 yard per carry average. Ronnie Clark from on down the list also got some carries and did well too averaging 5.5 yards a carry on two runs.
On defense, a few regular starters were either out or being rested due to knicks and such, so leading the team in tackles for the first time was senior Bradly Sylve, playing in his last game in Bryant Denny Stadium. He ended the night with 4 solo tackles including one tackle for loss. Second was Dalvin Tomlinson with 1 solo and 3 assists followed by Shaun Hamilton, Tony Brown, Cyrus Jones, Reggie Ragland and Jarran Reed who had 3.
On offense, virtual unknown Hale Hentges, a freshman tight end got his first start and at right tackle, Korren Kirvin, a junior did likewise. Both did a good job and the offense clicked along as if they were always starters. In all Saban was able to play 73 players in total.
Even playing so many subs, Alabama was able to keep Charleston Southern under 7 points. Since Nick Saban's arrival in Tuscaloosa, this game marked a stunning defensive performance and was the 56th time that a Saban defense has allowed fewer than 10 points and the fifth time this season.  But it was also a record setting night for the offense.
In Saturday's game, Alabama has now scored in the first half of it's last 114 games, the longest streak in the nation now and has scored in their last 194 straight games, also a national leading record. Also, with his two first half touchdowns, in very limited play, Derrick Henry has tied the career touchdown mark shared with Trent Richardson for 4th place with 35. T.J. Yeldson is third with 37. Second is Shaun Alexander with 41 and leading that list is Mark Ingram with 42. With perhaps three games yet to play, it is conceivable that Henry could break that record.
In all, it was a good day for the Tide in many respects. First of all it was a win, secondly no one was injured in a way that would keep them from next week's game and thirdly, fans got a chance to see many stars of the future and were reassured that when they did play, the team never missed a beat. This was the one game where Saban actually allowed a smile to escape and be seen on national television.
Larry has been published in almost every media outlet for college sports and now primarily writes here for Touchdown Alabama. Follow Larry on Twitter for inside thoughts and game time comments at https://twitter.com/LBSportswriter
THANKS FOR SHARING THE LINK TO THIS STORY ON YOUR FACEBOOK PAGE