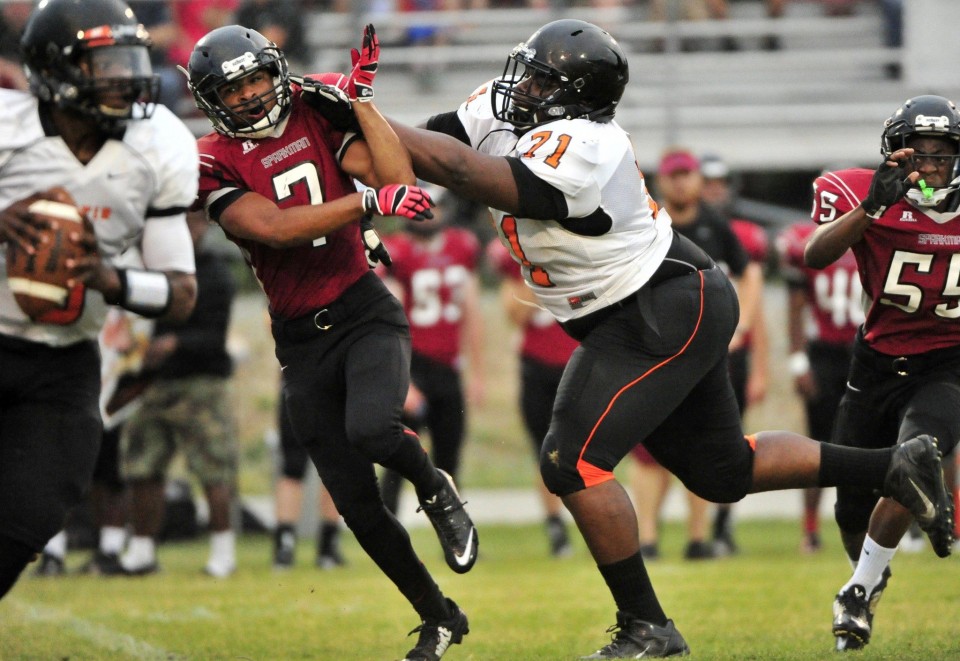 As Alabama's regular season is coming to an end, the future of the program is in the playoffs and trying to lead their respective teams to an illustrious state title. Some of Alabama's 2016 and 2017 commits made some noise this week.
2016
 Jonah Williams, OT, Folsom, CA (Folsom)
Williams and the Folsom offensive line powered the Bulldogs to a 49-21 victory over Franklin on Friday night. The line anchored the 435 yards passing and 5 TDs from QB Jake Jeffrey. Folsom remains in the third round next week.
Kendell Jones, DT, Killeen, TX (Shoemaker)
The Grey Wolves lost in OT to North Mesquite, 14-13. No stats were recorded for Jones but he did reaffirm his commitment to Alabama via his Twitter (@HULKJONES50)
Raekwon Davis, DT, Meridian, MS (Meridian)
Meridian took care of Oak Grove 35-29, getting some revenge for a loss to Oak Grove earlier in the year. No stats were recorded for Davis. Meridian moves to 8-5 and will see Petal next week.
B.J. Emmons, RB, Morganton, NC (Freedom)
Emmons had his worst performance of the season as he was held to 14 yards on 12 carries in the Freedom's 21-6 loss to dominant Kings Mountain. Emmons rushed for 2,417 yards and 36 touchdowns in 2015. The Patriots finished 11-2.
Chris Owens, OG, Arlington, TX (Lamar)
Lamar squeaked by Eastwood 42-35 last week. Lamar is now 11-1 as they get ready to face Mansfield next week.
Deonte Brown, OG, Decatur, AL (Austin)
The Black Bears will advance to the state semi-finals for the first time in 32 years after dominating Gardendale 53-38. Brown and the rest of the offensive line gave their QB enough time to score 7 TDs on 461 total yards this week. Austin is now 11-1 and is set to face fellow Alabama commit, WR T.J. Simmons and top-ranked Clay-Chalkville.
Jaquan Yulee, ILB, Chesapeake, VA (Indian River)
The Braves beat Kecoughtan 18-7 last week. No stats have been posted from the game. Indian River moves to 11-2 and will play Hampton next week.
Miller Forristall, TE, Cartersville, GA (Cartersville)
Cartersville beat Liberty County 28-7 last week. Forristall had four catches for 39 yards and showed his skills on the defensive side of the ball with two sacks. The Hurricanes remain undefeated and face Jonesboro next week.
T.J. Simmons, WR, Pinson, AL (Clay-Chalkville)
The top-ranked team in the state of Alabama manhandled Minor 50-14 last week. Simmons caught two passes for 27 yards in the game. Clay-Chalkville advances to 14-0 and will face fellow Alabama commitment, OG Deonte Brown and Austin next week in the semi-finals.
Joshua Perry, S, Amite, LA (Amite)
Amite just got by Alabama RB target, Devin White's North Webster Knights in a 45-42 win last week. No stats were recorded for Perry. The 7-5 Warriors will face Bogalusa next week.
2017
 Najee Harris, RB, Antioch, CA (Antioch)
Harris carried the ball 13 times for 118 yards and one TD in a Panthers 58-21 victory. Antioch stays unbeaten as they will play undefeated Foothill next week in the semi-finals.
 Cam Akers, RB, Clinton, MS (Clinton)
Clinton was eliminated by Starkville on Friday by a score of 45-27. Akers threw for 278 yards and one touchdown, while rushing for 194 yards and two touchdowns. He did have two INTs and a fumble as well. Clinton will finish the 2015 season 8-5
Netori Johnson, OF, Ellenwood, GA (Cedar Grove)
Johnson helped anchor the Saints offensive line to 501 yards total yards of offense, posting 381 yards on the ground and 120 through the air. Cedar Grove is now 10-1-1 and will face 9-3 Westside next week.
Jake Fromm, QB, Warner Robbins, GA (Houston County)
Fromm put on another show, going 31 of 47 for 379 yards and three touchdowns. Houston County is now 11-1 and will face Allatoona, who is also 11-1 next week.
Xavier McKinney, S, Roswell, GA (Roswell)
The Hornets took care Camden County 34-15 on Friday night. McKinney had  six tackles and ran the ball twice for 65 yards. Roswell goes to 12-0 as they will face Collins Hill next week.
Justin Wagner is the Scouting Coordinator for Touchdown Alabama Magazine, you can follow him on Twitter, at @jwag718