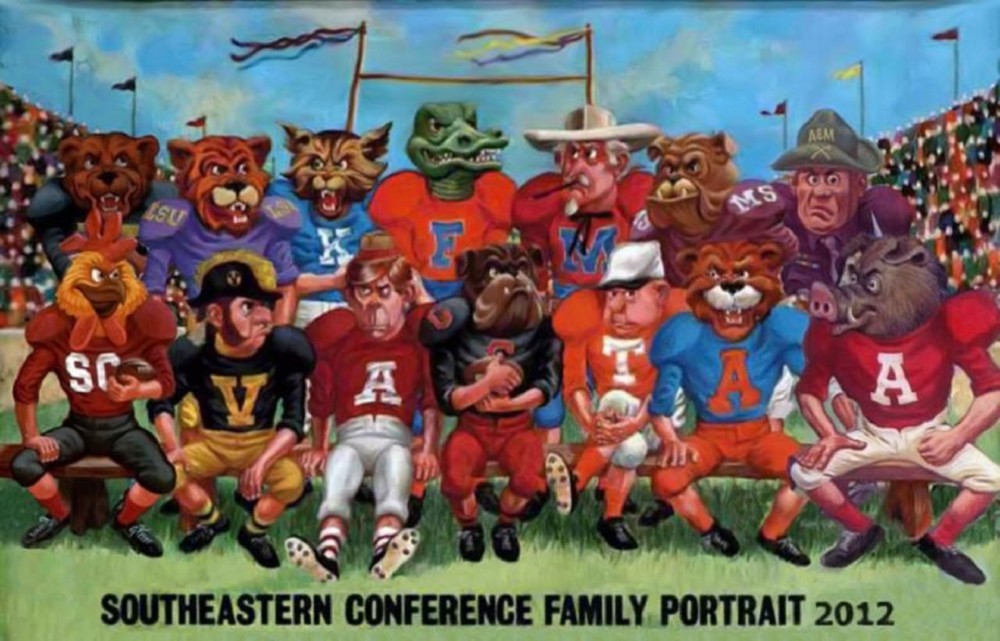 Larry's Losers in the SEC – Championship Week
By: Larry Burton
Well sports fans, we closed out the regular season the way we began it, with a perfect week of prognosticating picks from the pigskin picking pooch and I. That ends our regular season at 84-14 to about an 85% accuracy rate, not bad as it beat everyone else in the media by a country mile, but not in the 90% plus range we've done in the past. Still, well go into the championship, bowl and playoff seasons happy and look to pick that up just a bit.
With the regular season over, there's lots of things good and bad to reflect on. We'll say goodbye to Steve Spurrier, Gary Pinkel and Mark Richt tell Les Miles to keep hanging on by his fingernails to his job along with Gus Malzahn and Mike Stoops. As time goes by, we'll learn who will join Kirby Smart as new SEC coaches and welcome them to fray.
At the end of the regular season, we like to comment on the biggest surprise of the year and without a doubt, the biggest surprise was Auburn's demise. For a team that was picked to be first to finish as worst, to have a quarterback that was thought to be a Heisman Contender to wind up being a guy who couldn't threw a nickel in a wishing well and have the self proclaimed offensive genius of a head coach put out a team that struggled for first downs was just mind boggling.
Runner up was South Carolina, who we knew would have some problems, but spent most of the year sucking without much clucking over victories.
And when the year was over, we were left with the surprising Florida Mud Puppies and the pummeling Pachyderms from Alabama atop each division. Now they play for all the marbles that everyone else seems to have lost this season. So let's just jump right in and list the loser.
Florida vs Alabama – Jim McElwain's Mud Puppies have not done it pretty this year, but they made it to the big stage to take on the Tusked Ones from Tuscaloosa. Now coach Mac figures he knows this Crimson Clan pretty good and devise a way to hit 'em where they ain't on offense and Gator bite 'em good and hard on defense. They'll take another ugly win and smile so big they'll look like crocodiles doing a toothpaste commercial.
But Saban knows that he don't need to know the gang from Gainesville inside and out to know he can whoop 'em up and be grilling Gator tail by sunset. With the talent pool in Tuscaloosa verses that Gator gang, all he really has to know is just how to get to the stadium and turn them loose on those Lizards and it'll all be over.
Both teams have defenses that'll pop some pads all day long, but unlike the Gators, these Crimson Tiders don't have Alzheimer's and haven't forgotten how to score. So while it could be a low scoring game, the Tide should have no trouble doubling up the digits that these Swamp Lizards can post. Larry's Loser – Florida
Well that's it for this week folks, next up is Larry's Losers in the SEC – Bowl Season – Part one, where we'll have the prognosticating pug putting in overtime studying the stats and delving through data of all these non SEC teams. After all, we expect to do as well or better in the bowls than in the regular season and you have to put in the hard work.
So till then, go get all the snacks and beverages ready before Saturday and settle in for a championship weekend and then we'll find out who's bowling where and who's battling who.
LARRY HAS BEEN PUBLISHED IN ALMOST EVERY MEDIA OUTLET FOR COLLEGE SPORTS AND NOW PRIMARILY WRITES HERE FOR TOUCHDOWN ALABAMA. HE WRITES IS A COLLOQUIAL AND IRREVERENT STYLE FOR THIS SERIES OF ARTICLES. LARRY'S VIEWS AND SENSE OF HUMOR MAY OFFEND, BUT HE AIMS TO OFFEND EVERYONE EQUALLY. IF HE HASN'T INSULTED YOUR FAVORITE TEAM WITH LARRY'S LOSERS, JUST WAIT. FOLLOW LARRY ON TWITTER FOR INSIDE THOUGHTS AND GAME TIME COMMENTS AT HTTPS://TWITTER.COM/LBSPORTSWRITER
THANKS FOR SHARING THE LINK TO THIS STORY ON YOUR FACEBOOK PAGE