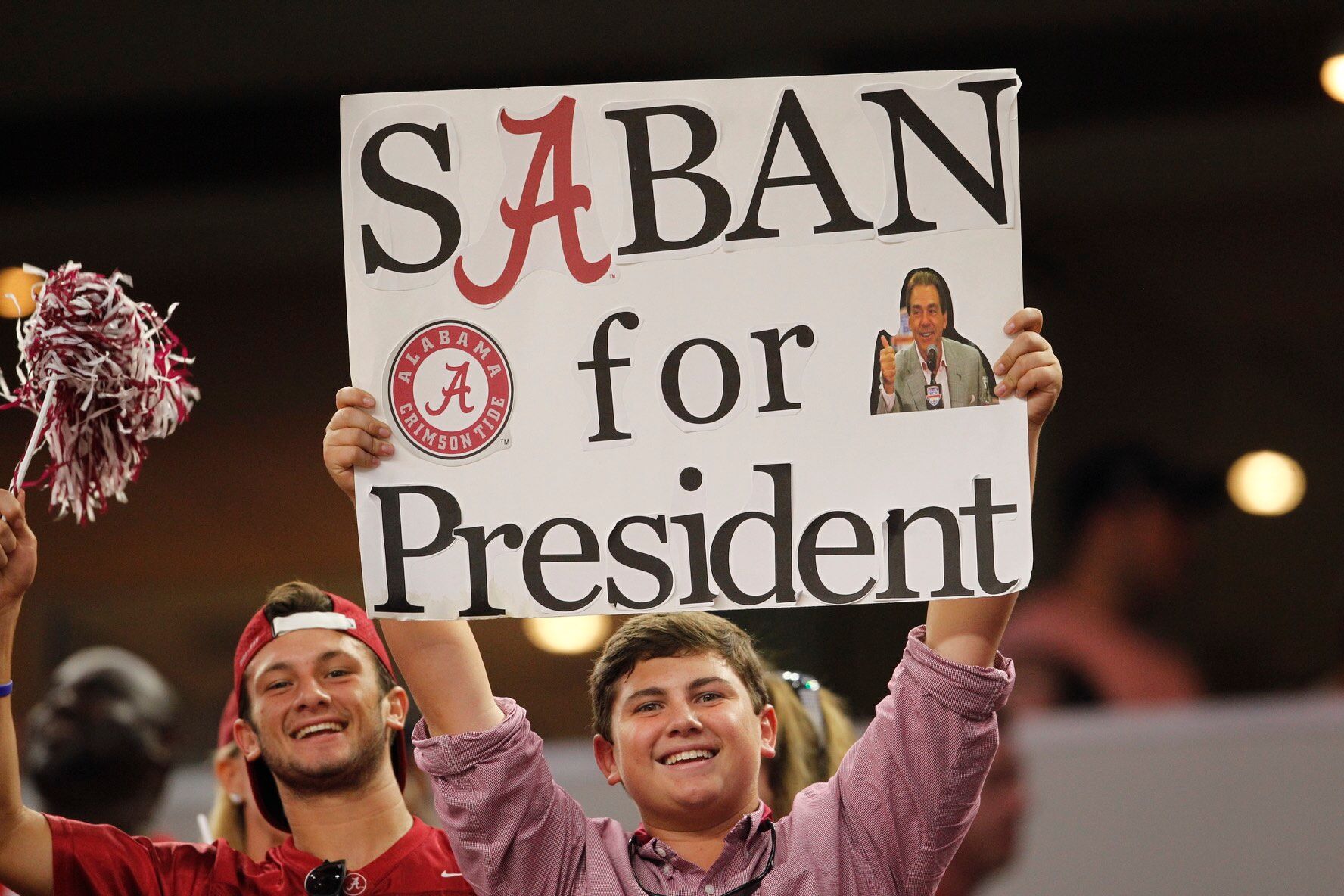 Some fans are worried with Alabama's current ranking on the recruiting leader board. This article tells them why they shouldn't worry.
Alabama to Close Hard and Big Late in Recruiting

By: Larry Burton
When an Alabama fan looks at the Rivals Recruiting board and does not see Alabama in the top 3 they start to wonder, when they're not in the top 10 they really start to worry. But should they?
While it's true that Alabama presently has a lot of three star commitments, more so that most years, Saban went shopping for particular positions and body types he knows he can develop to fill certain gaps, so Tide fans shouldn't worry that there are so many three stars where four and five star players usually reside.
Let's put things into realistic and historical perspectives.
First of all, Alabama is ranked 13 as of this morning, January 19, 2016 and yes signing day is closing fast. But Alabama only has 17 of their total in the committed column while every other team, except for Georgia and Clemson, have more folks already committed. The more you have committed the higher you rank. So realistically, once Alabama fills their quota and with early NFL departures, transfers and so forth adding to what we can sign, Alabama may have up to 10 other players than could sign. That alone will push them up into the top realm.
But the real thing that will push Alabama up is the quality of the late commits that Alabama is looking to sign. This weekend at least 22 recruits will be on campus to have a look around and be courted by the staff. Last weekend was another time when recruits the Tide were looking over were there for visits. Some of the bigger names Alabama is pursuing may not pull the string on their announcement until national signing day itself.
Now to put things in a historical perspective.
Alabama has a history of closing big at the end when those big names announce. So just because they aren't number one today, don't think they can't finish there or at least near the top. But the main thing to keep in historical perspective is this, not all five star players wind up being tomorrow's stars. The history of college football is littered with five star and four star busts. Top recruiting classes haven't always translated into top teams and things change greatly from year to year in how many of those top recruits even stay with their initial teams.
The other point to be clear on is this, it's not who you get on signing day top to bottom as much as it matters what you do with them once you get them. Keep in mind Rashad Johnson was a no star walk on who became a team captain, All American and now a great NFL player. Saban and his staff know what to do when it comes to developing talent.
At other schools it has been said that a guy comes in playing like the best in his position of any high school player in the country and leaves that college still playing like a great high school player. Alabama seems to be able to take a two star and make him an All Star. That is where the real difference is made.
It has been clearly proven that Nick Saban doesn't have to get everybody on the top of his list to win championships, but clearly it has made the job easier.
Names still on national hot sheets with a chance for Alabama to get commitments from:
Jared Mayden, 6'0" four star corner back from Texas who like Jeremy Pruitt. Mutual admiration between him and the Tide, it looks good at this point.
Nigel Knott is another corner back Saban wants. He is from Mississippi, but doesn't seem to mind leaving the state. By the time he starts playing at Bama, he should be a 6'0", 178 pound lock down kind of player. He's a four star now and a heavy lean toward committing.
A.J. Brown, 6'2"  four star wide receiver from Mississippi, said to be another Julio Jones type receiver. Lives in Starkville, but coaches feel good about landing him here.
Jeffrey Simmons is a big time defensive end, 6'3.5" and about 277 pounds, he's thought to hard to pull out of Mississippi, but Alabama's Bo Davis and Saban have both been working him hard.
Michail Carter is another big defensive end that Alabama is working hard. He's 6'4" and about 302 and is a beast. Many thought this Georgia native would be a solid Bulldog lock, but he's warming up to Alabama and may be waiting to see where others fall.
Demetris Roberson is another five star receiver, just under six foot, who was hot on the Tide and may be getting cold feet from the competition the Tide is stacking up there. He's from Savannah, Ga. and has one more visit here before deciding. Some say he could be leaning to the Irish.
Keith Gavin is another big receiver at 6'3", he's from Crawfordville, Fl. and coaches feel good about signing him. This four star was committed to Fl. State but decommitted.
Mecole Hardman, don't you love that last name? At 5'10" he's still a big five star athlete who Saban would love to have at corner. Saban just visited him and he likes Alabama, especially Jeremy Pruitt.
Lyndell Wilson, a five star 6'2", 220 pound outside linebacker from Montgomery is hot on Alabama. You can expect him to wind up in Crimson and he's a five star too.
Ben Davis, a 6'3", 240 pound linebacker from Gordo, Al. was someone the Tide wanted and seems to be a lock to get. Another five star that will shoot up the Tide's rankings. Said at first Georgia was his main target because of Kirby Smart, but his father played ball at Bama and the coaches here are winning him over.
JUCO recruiting:
Saban has had luck in the past pulling in great JUCO talent that has helped the Tide and this year may not be any different.
Johnathon Kongbo, a big prospect that seems to have an Alabama lean is just over 6'5" and 260 pounds. He is the nation's top JUCO recruit and is a 5 star defensive end and also is looking at Tennessee. This is the same Jr. College that Saban snagged Jesse Williams from.
Jamar King, another 6'5", 285 defensive end from California is someone Saban is high on if he doesn't land Kongbo. Right now he's just rated as a three star, but Saban feels he is under rated and would be a great catch.
__________________________
Lastly, there could be a wildcard that just pops up that nobody saw coming. It's happened before and could again.
So while Alabama isn't at the top right now, they will be by the time the smoke clears on National Signing Day on February 3rd, they will be among the leaders once again and if that wasn't good enough news for the Crimson Tide fans, then the fact that the 2017 class is shaping up to be even better should be.
Saban is in a comfortable place with recruiting now. He's considered the pipeline to the NFL, the man who'll make sure you leave campus with a national championship ring on your finger and the man who will put you squarely in the eyes of the nation every Saturday. Every college recruit will at least consider Alabama, based on what it represents alone and with Saban's status at the reigning rock star of college football coaching every recruit will glad to pick up the phone or visit Tuscaloosa just to say that Saban wants them.
In all, there's little for an Alabama fan to worry about at all.
Here are the current committed players and the seven who have already enrolled:
| | | | | | | | | | |
| --- | --- | --- | --- | --- | --- | --- | --- | --- | --- |
| Charles Baldwin | OL | Brooklyn, NY | 6'5″ | 305 | | | | 6/5/15 | yes |
| Deonte Brown | OL | Decatur, AL | 6'4″ | 320 | | | | 4/29/15 | |
| Riley Cole | LB | Oneonta, AL | 6'3″ | 217 | | | | 6/11/15 | |
| Raekwon Davis | DT | Meridian, MS | 6'7″ | 305 | | | | 1/18/16 | |
| Trevon Diggs | WR | Gaithersburg, MD | 6'0″ | 188 | | | | 11/7/15 | |
| B.J. Emmons | RB | Morganton, NC | 5'11" | 205 | | | | 7/20/15 | |
| Miller Forristall | TE | Cartersville, GA | 6'5″ | 215 | | | | 6/13/15 | yes |
| Jalen Hurts | QB | Channelview, TX | 6'2″ | 196 | | | | 6/5/15 | yes |
| Shawn Jennings | DB | Dadeville, AL | 6'2″ | 217 | | | | 7/28/15 | yes |
| Kendell Jones | DT | Killeen, TX | 6'4″ | 351 | | | | 5/22/15 | |
| Chris Owens | OL | Arlington, TX | 6'4″ | 315 | | | | 4/22/15 | yes |
| Joshua Perry | DB | Amite, LA | 6'1″ | 181 | | | | 5/11/15 | |
| Brendan Scales | TE | Wildwood, MO | 6'4″ | 220 | | | | 4/17/15 | |
| T.J. Simmons | WR | Pinson, AL | 6'1″ | 191 | | | | 2/19/15 | yes |
| Tyler Simmons | WR | Powder Springs, GA | 5'11" | 191 | | | | 1/2/16 | |
| Jonah Williams | OL | Folsom, CA | 6'5″ | 280 | | | | 4/4/15 | yes |
| Quinnen Williams | DT | Birmingham, AL | 6'4″ | 265 | | | | 6/30/15 | |
Larry has been published in almost every media outlet for college sports and now primarily writes here for Touchdown Alabama. Follow Larry on Twitter for inside thoughts and game time comments at https://twitter.com/LBSportswriter
Thanks for Sharing This Link on Your Home Page of Facebook!