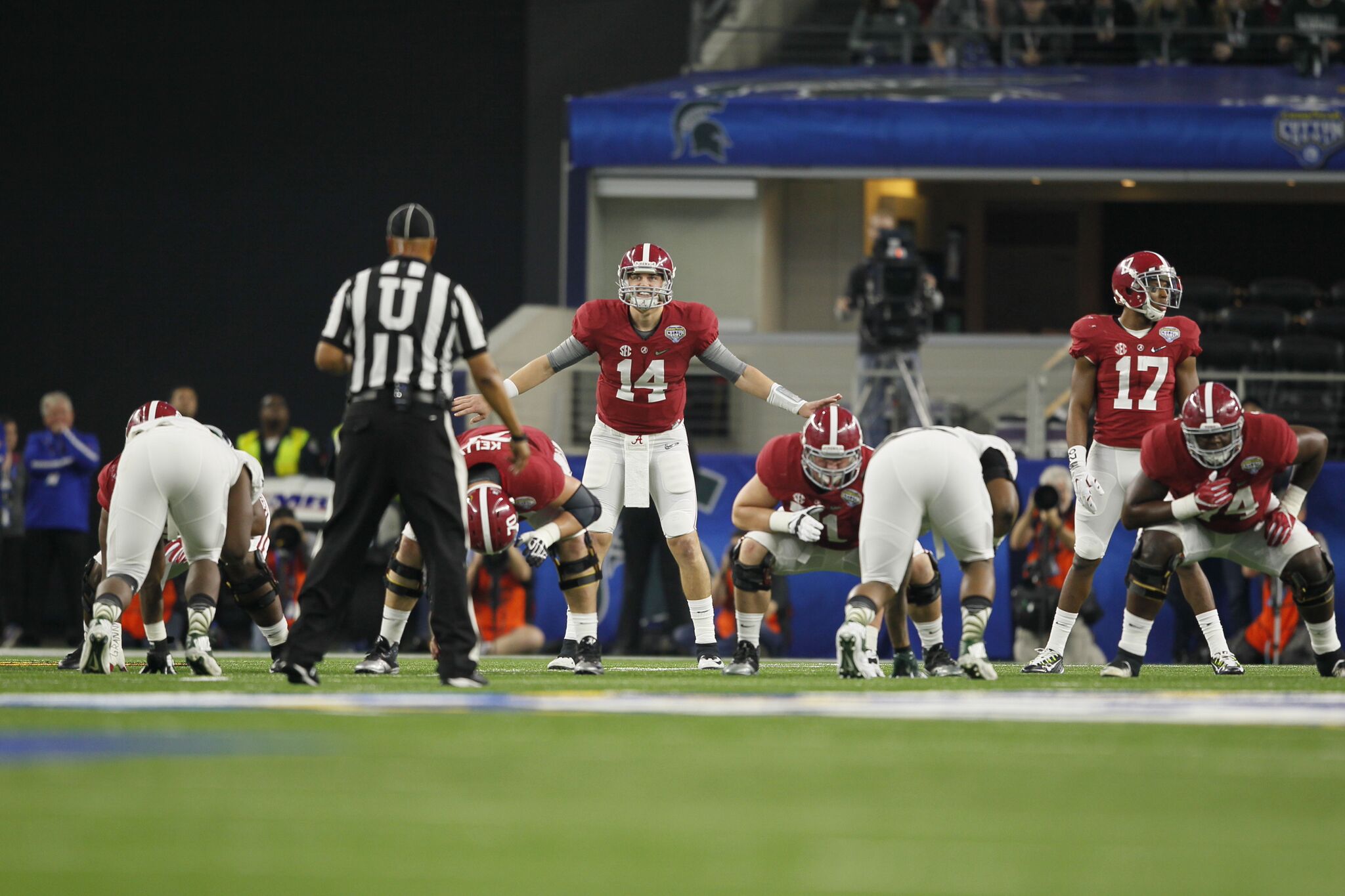 Alabama's Jake Coker Feels Dissed, But He'll Have the Last Word
By: Larry Burton
Today Alabama's Jacob Coker put it bluntly when he told the press that yes, he was "pissed off" by being dissed by the NFL Combine. Not everyone gets an invitation to the combine and Coker was one of them that didn't.
Why? That's a complicated question, but you may glean the answer by what the NFL says on it's official site. Here that is:
How are players selected for the NFL Combine?
Participants are determined annually by a Selection Committee. The Directors of both National and BLESTO scouting services, which combined represent twenty-five NFL teams, are joined by members of various NFL player personnel departments to form the committee. The participating NFL executives can rotate on a yearly basis, and remain anonymous. ALL eligible players are reviewed and voted on by the committee members. Each athlete receiving the necessary number of votes, by position, is then extended an invitation. While it is not a perfect science, the goal of the committee is to invite every player that will be drafted in the ensuing NFL Draft. (end of NFL cut and paste)
In other words, the people in charge of the invitations didn't think Coker was worthy.
Now the question is, should he have been judged worthy?
CBS Sports rates Coker 270 in the draft, 14th at his position and 7th round pick at best, but likely a free agent. Same numbers from NFLDraftScout.com. And walterfootball.com said:
 Jacob Coker, QB, Alabama 
Height: 6-5. Weight: 236. Arm: 31.38. Hand: 9.88.
Projected 40 Time: 4.88.
Projected Round (2016): 6-FA. 
3/3/16: Coker had a rocky start to the year, but played better to help lead Alabama to a National Championship. He completed 67 percent of his passes in 2015 for 3,110 yards with 21 touchdowns and eight interceptions. The senior did not work out at the combine. 
Coker has good size and a strong arm, but looks like a project for the NFL. He has a long windup in his delivery and lacks athleticism in the pocket. Coker didn't impress at the Senior Bowl. As one source said, "Coker is a poor man's Mike Glennon." (end of cut and paste)
Even Coker's own head coach gave reasons that Coker wasn't invited when he told the press today, "I think the reason Jake didn't get invited to the combine wasn't because of Jake. I think it was because there were 97 juniors that came out. I think that's an issue and a problem we need to address with the NFL." 
But what do the numbers say?
Alabama finished 62nd in passing among division one schools. According to ESPN, he was the 24th best rated quarterback in their Total Quarterback Rating Chart and the NCAA rated him number 31 in passing efficiency. OK, those numbers may make him one of elite quarterbacks coming out by numbers alone, but there is one number that everyone that rates quarterbacks aren't taking into account and that number is one.
That's the number of championships Jake Coker has won in his one season as a starting quarterback in college football. Not one person who rates college talent can deny the man is a winner. He doesn't rattle easily, shrugs off a bad pass or bad game and just gets better. He finds a way to win and in the NFL, isn't winning the goal every team is shooting for?
So while teams may draft a guy with more impressive numbers, few others can be drafted that have won when it mattered and that alone should get Coker a long hard look.
So when asked about the NFL Combine snub, Coker said, "Oh man, I don't want to get started on that," said Coker, who did play in the Senior Bowl. "It's all good, man. It pissed me off, but hey, it didn't change my work ethic or the way I've been working. Hey, it is what it is."
And it won't change who the man is. A winner is a winner.
Larry has been published in almost every media outlet for college sports and now primarily writes here for Touchdown Alabama. Follow Larry on Twitter for inside thoughts and game time comments at https://twitter.com/LBSportswriter
THANKS FOR SHARING THE LINK TO THIS STORY ON YOUR FACEBOOK PAGE