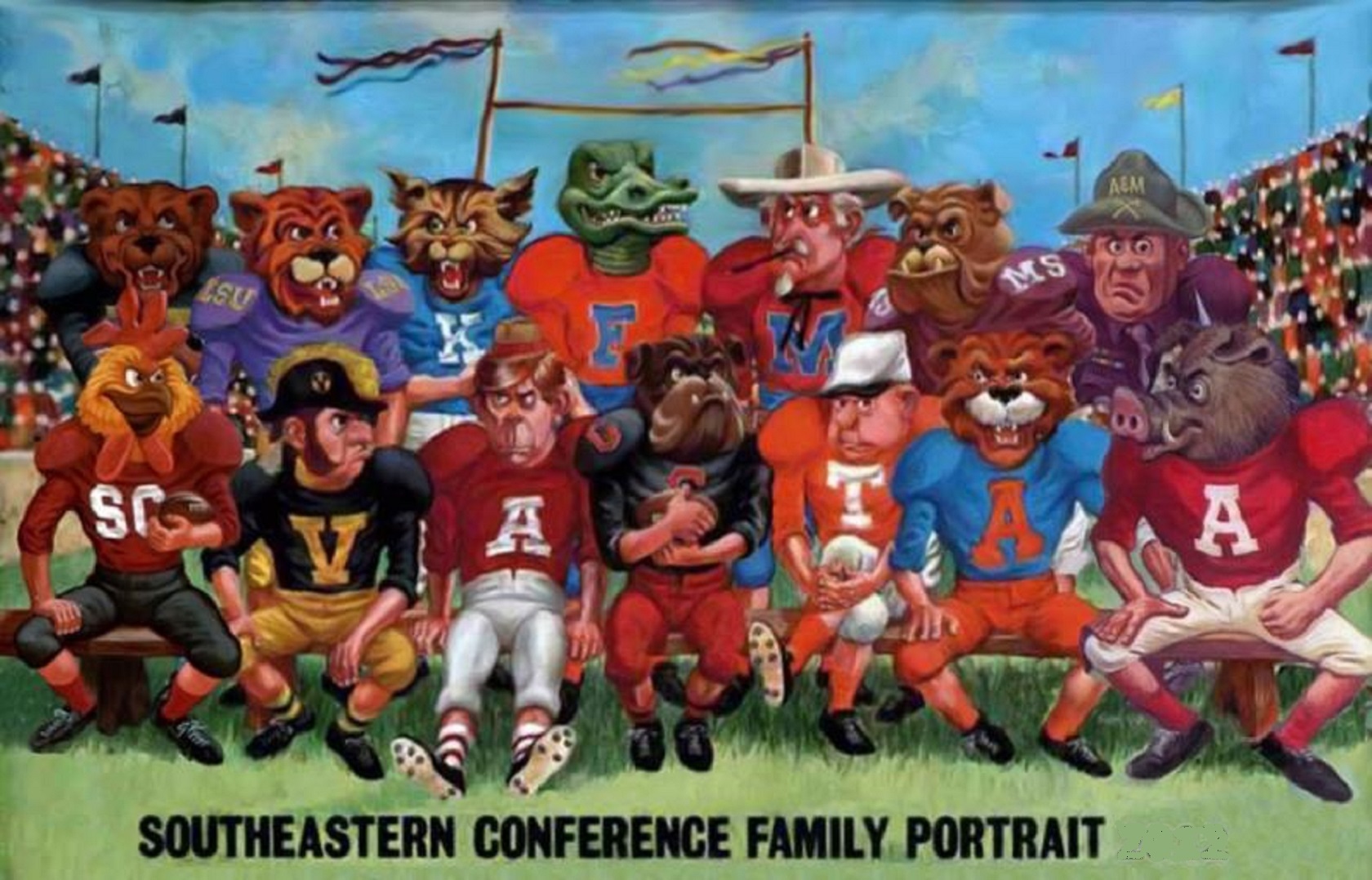 The West may be the best, but someone has to land the laurel of Larry's Loser, so let's examine who it can be and see if you agree.
Larry's Losers in the SEC – Preseason Picks – West Division
By: Larry Burton
What a wild season last year was. Alabama ended the season on top but needed a lot of luck to land out of the losers list at the end of the year. I don't think this year's winner can count on another team converting a 4th and 23 with a wild lateral and having two different teams knock off someone else to get them in the championship game. It was a wild ending to a crazy season indeed.
The West has been the best for a while now, but the East is catching up. With that said, we still expect the West to dictate the SEC again this season, the worst team in the West would kill the worst teams in the East, but the East will feast on a team or two from the West this season. With all this said, let's just jump right in and start picking the losers in the West and working up to the best.
Texas A&M – These Aggies have been draggies since Johnny Partyball left for the NFL and wins have come harder and farther between in the past few season. Coach Kevin may be on hot seat, but it's fixing to start blazing if this prediction comes true.
John Chavis is going to hold up his end of the deal, but scoring points could be a problem for these football farmers. More quarterbacks have jumped ship than Titanic passengers and they're left with no experience leaving a pair of JUCO and graduate transfers fighting it out for the starting job and that's not good, especially when you figure in a new offensive line too.
Now while we have the Aggies as the Saggies this season in the West, that old Texas lightning could strike again and they could dazzle us all with a breakout season. But we just don't see that happening and instead, they'll battle all season to stay out of the cellar. Larry's loser in the SEC West – Texas A&M
Mississippi State – Dan's Dog pound top dog departed and with Dak Prescott pulling plays out of his pants these pooches could prove to provide less than a pleasing season to the folks who come to Starkville for the Dog show every Saturday.
But we think that Mullen has been mulling over how to deal with this problem and with his resume of rushing quarterbacks to reliably ready running and gunning playmakers, that he'll find a way to put enough points on the board to keep them off the bottom, but we could see the offense putting these pooches on the bottom of the pile too.
This team is a lock to make a bowl with this schedule and with a little luck they could go up a little, but certainly not a lot. This season isn't going to be one to remember for these Bulldogs, but the rebuilding process will lead to less dreary days for these dogs.
Auburn – The gild is off the lily with the Gus Malzahn era and this is a do or die year after last season's paltry performance on the plains in which they extremely luck just to have made bowl game. Another season like that will be the last one for Malzahn in college football as he may have to go back to high school to run that smoke and mirror offense that everyone has seen and figured out by now.
Last year's quarrelsome quarterback continues his quirky play, so Malzahn may go to the bench for a less questionable QB. The defense took a step down with Coach Crazy, aka the Mad Muschamp leaving and it's hard to find a few players to build around to make a run of any consequence.
With four cupcakes on the schedule, they'll only have to beat lower two mid tier SEC teams to make a bowl game and personally, six wins is all that the pigskin picking pooch and I can see in this season and that should have the moving truck moving over to the Malzahn's this holiday season.
Arkansas – These little Piggies didn't go to the market, but they did go bowling last season and thoroughly whipped a Wildcat from Kansas country. Yes, once these bacon boys got hot, they were a hard to handle herd.
But just when the Hogs started tearing tushies with the tusks, Brandon Allen graduates and that we think will be the difference that keeps the Pigs from placing higher on the plateau. But if they get a go to guy to take those snaps and fling that football and frighten their foes, they could go a notch or two higher. Likewise without good quarterback play, they could slip a notch too.
This pack of Pigs will be hard to predict from performance to performance, but we see them getting back in the bowls this Santa Claus season. While they won't make a run for the top, they are continuing to build toward that day and this is a team that will cause us trouble in the picking party this season. We just know as they could knock off a big boy here and lose one they weren't supposed to there.
Ole Miss – The Rebels could and should be the number two team in the SEC West, but Ole Miss seems to be one of those teams that is always looking a gift horse in the mouth. For two years in a row, they knocked off the bad boy on the block, Alabama, put themselves in the driver's seat of the SEC West and then overthought everything and just fell apart as the season went on.
Until a team learns how to FINISH a season, they just won't escape our list of losers. Coach Hugh Freeze just can't light a fire that stays lit with these boys.
This season he has the SEC's best returning quarterback, but some key losses in other areas, as well as having to play Alabama, LSU and the East's Georgia will spell three SEC losses at least this season. Both Bacardi and I feel that's just three too many to claim second place, but if the upset one of those three, anything can happen.
LSU – ESPN has these Bayou Boys atop their power ranking and that means that they see an awful lot that old Bacardi the Wonderdog and I can see from these troublesome Tigers. They still have no quarterback that scares anyone and no matter how good the defense is, you have to score to win.
They have a ton of talent including Leonard Fournette and some good pass snaggers on offense and a solid defense that will elevate them past them past the also rans in the conference and if their quarterback comes around, they could really put on a run, especially with one of the easiest schedules in the West.
I really think this is the third best team in the West, but with this schedule, they'll finish second, so says the pigskin pickin' pooch and I, but this will be an interesting team to watch all year long. Coach Les Miles always makes an LSU game an interesting one to watch and we're glad he's solidly back on the sideline this season. They seem to have a chance against everyone, but don't have a clue how to beat Alabama and that's why they're number two.
Alabama – You know, it gets tiring of being called an Alabama homer and that's why I always pick the Tide to win the West, but when you pick them and the do win almost every year it should be called just being correct.
Coach Nick Saban hasn't rebuilt Alabama but once, when he first got there, since then, he's just reloaded and with the talent stacked up in Tuscaloosa, they're going to be atop the heap for a while. It's hard to look at any position and not see a top SEC player, a potential NFL draft pick or someone who won't dominate the guy across from him and as long as that kind of recruiting stays red hot, so will the Tide.
Not only does Alabama have the talent, but Saban proved in the last championship game that they still have the smartest head coach too. Put all this together and you just have a team that just has to wind up at the other end of the loser's list. Until they are finally beaten and drug off the top of the mountain, you just can't pick against them.
And that's the end of this year's list for Larry's Losers in the SEC preseason edition. One thing is for sure, the season will be fun, filled with upsets that none of us saw coming, but in the end, this is the sludge that we see floating to the top. Vanderbilt will stink up the East and the Aggies will be the worst of the West.
While it's still too early to predict who'll walk home with the big trophy from the College Football Playoffs, you can bet an SEC team will have something to do it.
With these forecasts in the finished folder, old Bacardi the Wonder Dog goes back to his football studies and I'll take some time to tour relax the brain cells before football season overdrive. Before you know it, we'll get going with the weekly woes around the first of September and this pair of pickers wish you a wonderful summer. And even though Bacardi turned ten this spring, that's 70 in dog years, he says his senses have never been sharper and he's looking forward to a fantastic fall with you all. Till then, use your sun screen and remember it only used externally.
LARRY HAS BEEN PUBLISHED IN ALMOST EVERY MEDIA OUTLET FOR COLLEGE SPORTS AND NOW PRIMARILY WRITES HERE FOR TOUCHDOWN ALABAMA. HE WRITES IS A COLLOQUIAL AND IRREVERENT STYLE FOR THIS SERIES OF ARTICLES. LARRY'S VIEWS AND SENSE OF HUMOR MAY OFFEND, BUT HE AIMS TO OFFEND EVERYONE EQUALLY. IF HE HASN'T INSULTED YOUR FAVORITE TEAM WITH LARRY'S LOSERS, JUST WAIT. FOLLOW LARRY ON TWITTER FOR INSIDE THOUGHTS AND GAME TIME COMMENTS AT

 HTTPS://TWITTER.COM/LBSPORTSWRITER
THANKS FOR SHARING THE LINK TO THIS STORY ON YOUR FACEBOOK PAGE