Alabama in the Pros
Ex-Tide star D.J. Pettway talks NFL, getting a second chance and UA's outlook for 2016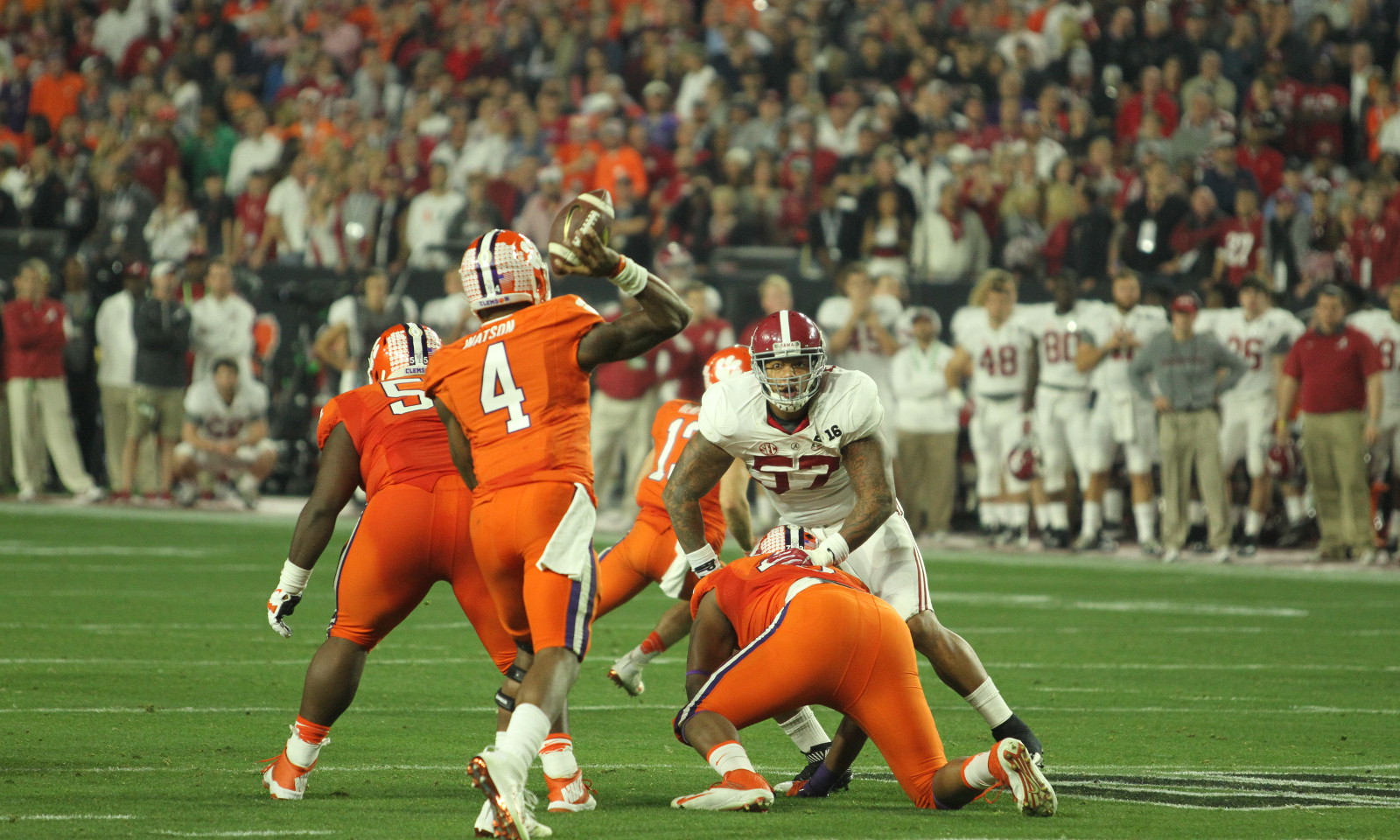 TUSCALOOSA, Ala.| Sometimes, one has to go through hell before seeing how good heaven is.
New Orleans Saints defensive end D.J. Pettway faced this situation head on back in 2012 as a freshman. He was on Alabama's national championship roster, posting eight tackles, four tackles for loss and 2.5 sacks during the season—unfortunately, an off-field issue would slightly alter the course of his career.
A dismissal from the program would occur shortly after, causing Pettway to take the junior college route at East Mississippi. Each institution has its own training grounds when it comes to football; however, there is something special about the hard work, toughness and discipline from coaches at marquee programs that create a magnetic pull on players.
Coach Nick Saban is one of few administrators that provides a second chance.
He reached out to Pettway for the Crimson Tide's 2014 recruiting class, signing both he and defensive tackle Jarran Reed. Focused and re-energized, Pettway became one of the leaders on defense in 2014 and 2015, while earning his bachelor's degree from the university.
The Pensacola, Florida native was exceptional in the team's run to a national championship, collecting 18 tackles, five tackles for loss and two sacks during the 2015 season. Despite not being selected through seven rounds of the 2016 NFL Draft, Pettway inked a rookie free agent deal with the New Orleans Saints. He said he'll be forever grateful to Alabama for always believing in him.
"Just the fact that they gave me a second chance and didn't throw me in the trash is something I'll always cherish," Pettway said. "Alabama taught me to never give up on someone and how to forgive someone. People make mistakes when they are young and everyone has been there. It's hard to put into words on how I feel about those guys because of what they did for me."
He has a new outlook on life, but Pettway has always been a gifted competitor on the field.
He ended his tenure at Alabama with 48 tackles, 12.5 tackles for loss and seven sacks. A trip to the NFL Scouting Combine would follow, in which he posted a 40-time of 4.99 seconds, a 28″ vertical, a 108″ broad jump and 17 reps of 225 pounds on the bench press. Numerous media pundits labeled Pettway as being undersized for a defensive end (6-foot-2, 265 pounds), nevertheless, he joins a roster full of experienced playmakers—including Cameron Jordan.
"Cam Jordan is a great leader, first of all," Pettway said. "He's teaching me how to be a pro based off the way he carries himself and his competitive spirt. He's one of the best that I've seen and I try to soak up all of his veteran tactics."
Along with Jordan, Pettway will be under a high character coach in Sean Payton. Payton, who enters his 10th season at head coach, has guided New Orleans to five playoff appearances in nine years.
He was suspended by the National Football League in 2012, due to the bounty scandal.
The Saints failed to qualify for postseason action in the last two years, but it does have a Super Bowl title from the 2009 campaign. Pettway regards Payton in the same manner as he does Jordan.
"Sean Payton is a player's coach and I am blessed to be a part of the organization," he said. "I wouldn't want to be anywhere else or playing for any other coach that's how much I respect that guy."
"I respect his vision and his plan and I'm bought in."
Much of the NFL is full of former Alabama players and for Pettway, his college teammate in linebacker Dillon Lee will continue his career in the pros with New Orleans. Lee, like Pettway, encountered some off-field troubles at Alabama, but was able to re-focus and become successful.
Lee, a native of Buford, Ga., had two highlight moments from the 2015 college football season.
He intercepted a pass off LSU's quarterback Brandon Harris and picked off Michigan State's quarterback Connor Cook in the Goodyear Cotton Bowl, to seal a 38-0 victory for the Tide.
"Dillon is doing a great job and is a very versatile player," Pettway said.
"I think he has adjusted well. Alabama prepared us for the next level."
One thing Pettway took a firm hold of was Saban's "us against the world" mentality. Many analysts had Alabama written off after its 43-37 loss to Ole Miss, but the team rallied together.
Just like Pettway's second chance, the loss to Mississippi forced the Tide to play to its full potential.
Pettway said the 2015 season was one that tested Alabama's character as a group.
"We had a lot of people on our team who refused to lay down after a loss or a bad situation," he said. "We had a team full of competitors and fighters and it showed week in and week out."
It felt good to beat Auburn, LSU, Georgia and others, but Pettway cherishes more than just the victories. For him, it was bonding with teammates that made 2015 his best year of football.
"The best moments were the plane rides after wins and just dominating as a team," he said. "It's the best feeling the world because we all loved one another and played for each other."
As he continues to adjust to life in the NFL, Pettway is also looking forward to watching the progress of his former teammates next season. Alabama returns experience on defense and much talent on the offensive side of the ball. While everyone else is making preseason award watch lists, Pettway refuses to single out anyone.
"I'm excited to see everyone," he said. "I want everyone to do good and set a standard in the league for Bama players. It will help the guys that are coming out next year if we represent well."
Stephen M. Smith is a senior analyst and columnist for Touchdown Alabama Magazine. You can "like" him on Facebook or "follow" him on Twitter, via @Smsmith_TDALMag.