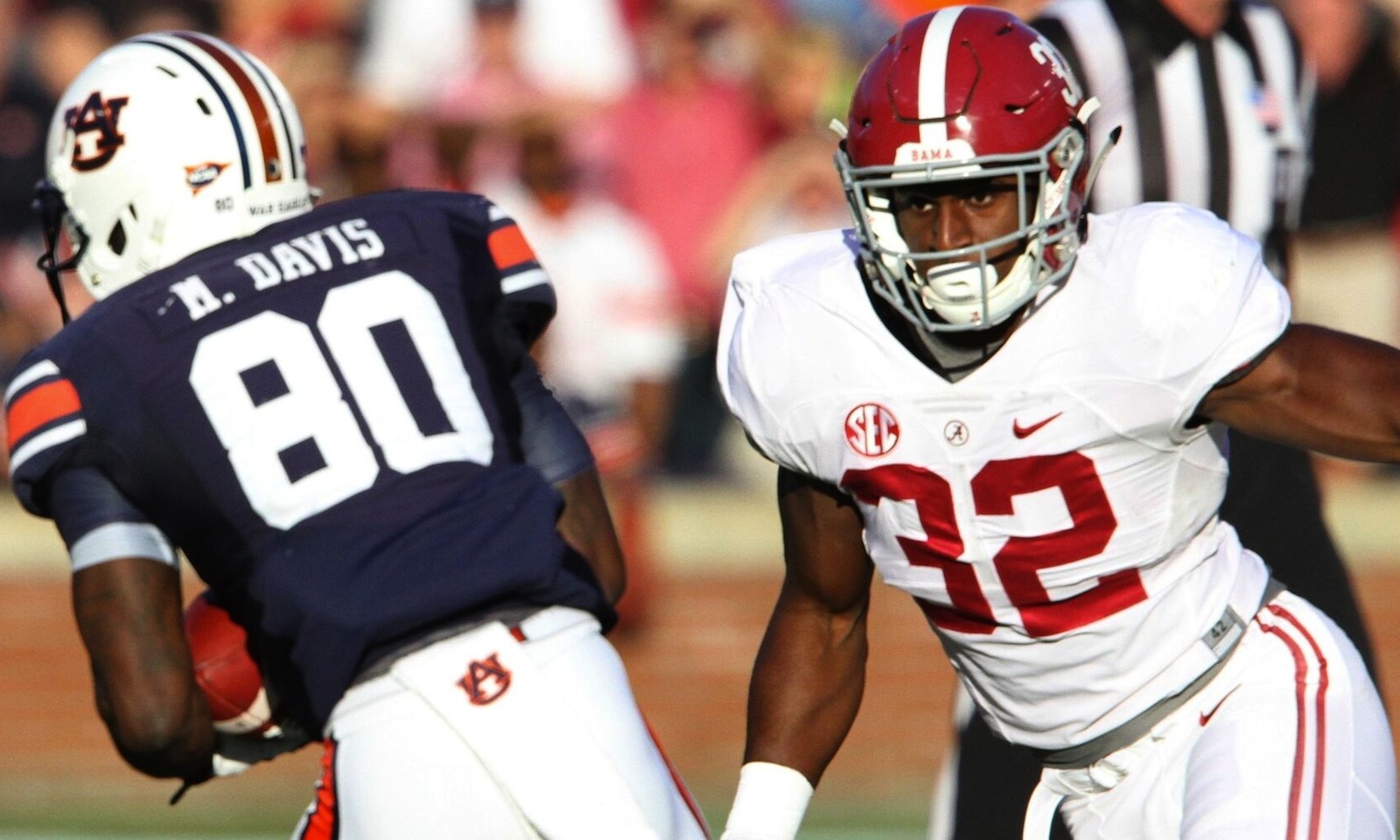 With just 24 hours until the Iron Bowl kicks off, I thought it'd be good to hear from the other side of the state. Alabama fans are feeling confident ahead of Saturday's game but the Auburn fan base is certainly not giving up quickly. The Tigers have shown they have a strong team but the lack of offensive consistency has haunted them.
So to learn more the 13th-ranked Auburn Tigers, I sent some questions to a good friend of mine and lifelong Auburn fan Bobby Dyer. Bobby currently is an SEC writer for endzonescore.com and you can find him on Twitter here.
(My questions are in bold. Bobby's answers are in italics.)
Let's get started with a little bit of rivalry talk. From the Auburn side of the Iron Bowl, is the rivalry starting to feel one-sided with Nick Saban being in charge?
Surprisingly, no. It's easy to jump to the conclusion that the rivalry is one-sided— since Nick Saban arrived at Alabama, the Crimson Tide have won three different Iron Bowls by at least 28 points. However, Alabama has won the last two Iron Bowls by "only" 27 combined points (given their 29-point average margin of victory, I'll take it). Also fascinating is that Alabama hasn't won three consecutive games against Auburn since 1992. Auburn's won the game twice in this decade, and two other times has played competitively with Alabama into the fourth quarter— this rivalry is closer than people think.
I had Auburn pegged for 8 wins this season and they've reached that mark already. Is this season already a success for the Tigers?
I like to think so. Eight wins, with the potential to reach ten, is a nice rebound from last year's disappointment. Even more so, the way Auburn reached eight wins has been very impressive. After a very shaky 1-2 start with some stupid decision-making on offense, the Tigers came roaring (pun intended) to life in October. When was the last time Auburn demolished two SEC West opponents in a row by a combined 77 points? By the way, that Arkansas win was especially satisfying, I love seeing Bret Bielema lose.
The Tigers are currently the second highest ranked team in the SEC which means they would get the bid to the Sugar Bowl. Is the Auburn fanbase thinking ahead to the postseason at all?
Yes and no. Yes, everyone is curious where Auburn will fall once the entire conference picture is put together at the end of the season. However, there's no way to know until we see how Auburn plays against Alabama. So much of our postseason fate rests on the Iron Bowl that it's impossible to look past it.
This season, Auburn's running game has been the key to the offense. What can the Tigers do to break through the nation's top rush defense? 
Getting some healthy running backs would help. Having Kam Pettway back in the lineup is easily the biggest boost the Auburn offense could get at this point. Alabama's defense is phenomenal (69 rushing yards per game, right?), but even the toughest linebackers and defensive backs will get tired of tackling a 240-pound wrecking ball. Pettway's greatest value against Alabama won't necessarily be huge chunk plays, because he won't have the opportunity for a ton of them, but rather those two or three-yard runs. Against Alabama, you have to keep the chains moving, and consistently picking up two to four yards with hard, downhill running is critical in moving the ball against a top-ranked defense.
We are 12 weeks into the college football season and it seems Coach Malzahn still does not know what he's doing with the quarterback situation. Is it frustrating to see as a fan and what can he do to fix it on Saturday?
 In his defense, he's in a bit of a predicament. He's got a quarterback with a bum throwing shoulder, one who's lightning fast but couldn't throw the ball into the ocean, and another who crumples under pressure. As frustrating as it is to watch, I have to constantly remind myself that there's not much he can do about it. When healthy, I think Sean White might be the best quarterback in the SEC— even after that abysmal performance against Georgia, he still leads the SEC in completion percentage and touchdown-to-interception ratio. But like many other positions on Auburn's roster, the quarterback spot has been shaken up by injuries, so the coaches have been trying to make do with what they have. I'll admit that I wish Auburn had a better backup plan for when its starting quarterback goes down.
Alabama's Jalen Hurts has been good but has been prone to make mistakes on offense. Which Auburn defenders will need to step up to make the big plays that will keep the visitors in the game?
Auburn's defensive success starts up front, with Carl Lawson and Montravius Adams. The duo has combined for 13.5 sacks and 21 tackles for loss this season, and has completely terrorized opposing offensive lines. Alabama's O-line is a different story, but the Tigers have more talent and depth up front than anyone else the Crimson Tide have faced this season. You said it, Hurts isn't the most efficient quarterback, and tends to make mistakes under pressure. Pressure is the Auburn defense's specialty.
If you could choose two Crimson Tide players (one on offense, one on defense) to stop on Saturday, who would it be and why?
On offense, you've got to shut down Jalen Hurts. The true freshman has been one of the most dynamic individuals in the SEC, accounting for 29 total touchdowns, and he is the engine that makes Alabama's offense go. On defense, I'd like to make Jonathan Allen ineffective. A monster of a man, he's one of the most disruptive forces in the middle of the field that college football has seen this year, and he's capable of blowing up plays all by himself.
I will not ask for a specific score prediction but I have not heard a lot of confidence coming from Auburn this week. Will the underdogs cover the 20-point spread? And could they even pull off the upset in Tuscaloosa?
It's OK, I have an official score prediction— Alabama 17, Auburn 9. You didn't read that wrong, I truly believe that Daniel Carlson is more likely to hammer home three field goals than Auburn's offense is to find the end zone. Auburn's defense is (in my humble opinion) the second-best in the SEC, and is perfectly capable of keeping the game close. LSU's defense did a phenomenal job against Hurts until the fourth quarter, when they continually broke containment and let him run wild. But Auburn's defense has yet to give up 30 points in a game this season, and the offense has rushed for over 400 yards six times. Auburn is a quality football team— it'll take everything they've got, but the defense is strong enough to play a tight game and give the offense a chance to make a big play or two. The only question, as always, is whether or not they'll execute.
Caleb Turrentine is a columnist and contributor at Touchdown Alabama Magazine. He also does work for Alabama's team page at Bleacher Report. Follow him on Twitter, @CalebTurrentine.