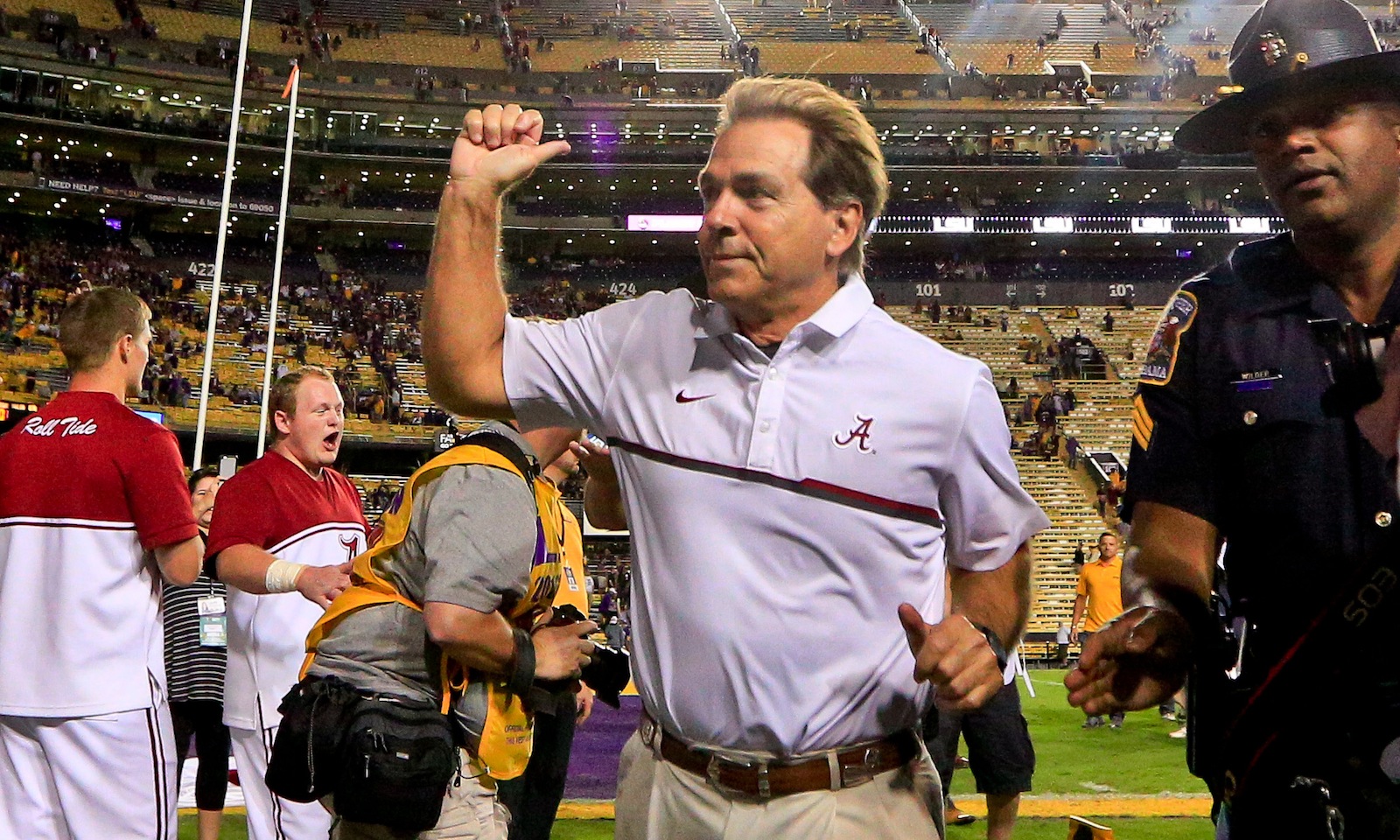 The College Football Playoff field is finally set and this season comes down to four final teams. The debating will continue but it will not matter at this point. The 13 week college football season has led us to these four programs that will play for the national championship.
There was not much surprise to the field but Penn State may have the only case of getting snubbed by the committee. However, you cannot blame the selection committee for putting any of these teams ahead of a 2-loss Big Ten champion.
Alabama and Washington will get the playoff started on Saturday, December 31 at 3 p.m. EST. Since the Crimson Tide earned the top seed, they get to play close to home and the Huskies will have to travel to Atlanta for the semifinal. Shortly after, Ohio State and Clemson is scheduled to kickoff at 7 p.m EST at the Fiesta Bowl.
With plenty of time between now and the start of the playoff, you can expect full previews for each team in the coming weeks. For now though, we wanted to give a quick rundown of each of the four teams to help you with this week's football discussions at work.
1 Alabama Crimson Tide
13-0, SEC Champions
Quality Wins: vs. 9 USC, 14 Auburn, vs. 17 Florida, at 20 LSU, at 21 Tennessee
Losses: None
Head Coach: Coach Nick Saban is finishing up his tenth season in Tuscaloosa. The (already) Alabama legend has already won four national championships for the Crimson Tide while winning another one in 2003 with LSU. If Saban were to win another one, it would give him six total national titles, tying him with Paul "Bear" Bryant with the most of all time. The Tide's head coach has a 3-2 advantage over the other three coaches in the playoff, losing twice to Urban Meyer.
Biggest Strength: It is pretty obvious to anyone that has watched Alabama this season that the strength of the team is the defense. And more specifically, it is the rush defense. The Crimson Tide's defensive front has held opponents to just 63.4 yards per game on the ground, which is 30 yards less than anyone else in the country. They have only allowed three rushing touchdowns all season and zero since the Tennessee game in Week 7. Alabama has held four opponents to less than 50 rushing yards this season and has only allowed one opponent to average more than 3.0 yards per carry.
Biggest Weakness: With a defense like Alabama's, it is easy to forget the problems that the Crimson Tide has had on offense. Jalen Hurts has been exceptional for a freshman but he has been known to make mistakes against good defenses. Despite having a defense filled with ball hawks, Alabama only has a plus-5 in the turnover margin. That is only good for 36th in the country while the 19 turnovers lost is tied for 71st nationally. Lane Kiffin's offense has turned the ball over at least once in 11 of 13 games this season, including multiple turnovers in six of the last eight games.
Player to Watch: There are plenty of players to watch on Alabama if you are just looking for a good football player. However, if you're looking for the key to the Tide's national title hopes, you do not have to look past the quarterback. And it is all because of the weakness mentioned above. Each of the teams in the playoff rank in the nation's top 20 in turnovers forced (Washington is 1st) so Hurts will need to hold on to the ball. Hurts only gained 139 yards of total offense in the blowout win over Florida but most importantly, he took care of the ball.
2 Clemson Tigers
12-1, ACC Champions
Quality Wins: at 14 Auburn, 13 Louisville, at 11 Florida State, vs. 22 Virginia Tech
Losses: 23 Pittsburgh
Head Coach: Dabo Swinney has led Clemson to a second consecutive appearance in the playoff during his sixth straight season with 10 wins. The Tigers program has found new heights under the 8th-year head coach and Swinney will hope to lead his team back to the national championship so they can finish what they could not last season. Swinney's 87-28 career record as a head coach has all come at Clemson. The Tigers have lost just nine games since the start of the 2012 season. Dabo Swinney is 1-1 against the three other coaches in the playoff, beating Urban Meyer in 2014 and losing to Saban's Alabama team last season.
Biggest Strength: The Tigers have seen success in their passing game thanks to quarterback Deshaun Watson. However, the biggest strength of this team may not be through the air. Clemson has put a major focus on winning the battle of third downs and it has shown. The Tigers are sixth in the nation with a 51.5 percent success rate on third downs, which probably has a lot to do with Watson pulling the strings on offense. The ACC champions are also successful on the defensive side of the ball, allowing opponents to convert just 29.7 percent of third downs (6th nationally).
Biggest Weakness: If turnovers can be considered a weakness for Alabama, they may could be considered a disaster for the Tigers. Clemson is tied for 67th in the country with an even turnover margin this season and they are the only team in the playoff to not rank in the top 40. Deshaun Watson has been one of the best quarterbacks this season but still has thrown 15 interceptions, which can be expected in a pass-heavy offense. However, against these playoff teams, the Tigers will not be able to afford multiple turnovers per game if they want to win a national title.
Player to Watch: Cornerback Jadar Johnson has made a habit of showing up in big games this year for the Tigers. The senior has had nine career interceptions but just became a full-time starter this season. Johnson had an interception in games against Auburn, Louisville, Florida State and South Carolina this season. Three of those games came down to the final possession. Johnson's playmaking ability has shown so far this season and do not expect that to stop as the stage gets bigger on New Year's Eve.
3 Ohio State Buckeyes
11-1, 2nd in Big Ten East
Quality Wins: at 7 Oklahoma, at 8 Wisconsin, 6 Michigan
Losses: at 5 Penn State
Head Coach: Urban Meyer has won 85.5 percent of his games in his 15-year coaching career, which is the highest among active coaches. He has led his teams to seven Top 5 finishes, two undefeated seasons and three national championships. It's a two-man conversation for best coach in the country between Meyer and Saban and there may not be much to separate them. Meyer has a 2-2 record against Saban and the two may not have many more chances to meet. Meyer lost in his only meeting against Swinney and has never faced Washington's Chris Petersen.
Biggest Strength: It's hard to say that Meyer is not the biggest strength of this team but Ohio State is filled with talent on the field as well. The Buckeyes secondary has proven themselves as one of the best in the country. They ranked sixth nationally in passing yards allowed per game and third nationally in passing touchdowns allowed. Ohio State leads the country with just 5.42 yards allowed per pass attempt. They are also fourth in the country with 19 interceptions and their seven interceptions for touchdowns leads the country.
Biggest Weakness: J.T. Barrett was supposed to be on of the clear-cut Heisman finalists this season but his issues with consistency have gotten in the way. The junior quarterback has had a great season but there has certainly been issues in the passing game. Through the first four games of the season, Barrett was averaging more than four touchdowns per game. In the final eight games, he only had four multi-touchdown games and had three games where he completed less than 50 percent of his passes. The Buckeyes could make up for his poor games, especially when the quarterback could have a big game on the ground, but the ability to throw the ball down field will be the key for Ohio State's offense in the playoff.
Player to Watch: Running back Curtis Samuel is one of the most dynamic players in the country and the junior may be primed for a Heisman campaign if he decides to stick around for 2017. Samuel averages 13 offensive touches per game-with 9.8 yards per touch-and is used in the running and passing attacks. He has had at least one touchdown in 11 of the 12 games this season. During Ohio State's loss to Penn State, Samuel only had a season-low two carries despite having a 74-yard touchdown run on one of those carries. Samuel's usage may dictate how the Buckeyes finish the 2016 season.
4 Washington Huskies
12-1, Pac-12 Champions
Quality Wins: 18 Stanford, at 19 Utah, vs 10 Colorado
Losses: 9 USC
Head Coach: Chris Petersen may still be mostly known for his years at Boise State where he led the Broncos to seven consecutive 10-win seasons. Included in those years were two undefeated teams that finished the season with a win in the Fiesta Bowl. Petersen is in his third year at Washington and has given the program its first conference championship since 2000. Despite Petersen's past success, this will be the first time that he will get to play for a national championship, which would be the first for Washington since 1991. Petersen has yet to face any of the other coaches in the playoff but has a chance to cement himself in the conversation for best coach in the country.
Biggest Strength: This one is pretty easy to see as Washington leads the country in turnover margin. Their plus-21 mark is two higher than anyone else in the nation and it has been a consistent build all year. The Huskies have forced 33 turnovers this season, which also ranks first nationally. The Pac-12 champions have had 17 different players record a takeaway this season. On offense, they have been able to take care of the ball. Quarterback Jake Browning has thrown just seven interceptions this season, despite throwing the ball 30 times per game. The Huskies have had just one game this season in which they did not force multiple turnovers and have only had two games this season when they turned the ball over more than once.
Biggest Weakness: Washington ranks 17th in the country in rush defense, allowing just 123.5 yards per game. However, the Huskies have had games where their rush defense got torched by opponents. They have only allowed three teams to go over the 200-yard mark but it was against mediocre rushing attacks. Arizona, Oregon and Utah all rank in the nation's top 50 in rushing yards per game but none of them are above Alabama or Ohio State. Washington has managed to turn the switch recently, not allowing a team to run for more than 3.7 yards per carry in the last five weeks of the season. However, if the defense is left on the field too long, you can expect the opponent's rushing attack to be the downfall of the Huskies.
Player to Watch: Jake Browning has been great this season and has had his name mentioned in the conversation for the Heisman Trophy a few different times. He has completed at least 60 percent of his passes in 10 of the 13 games this year and, as mentioned before, has turned the ball over in just five different games. Browning's success, like the success of Jalen Hurts for Alabama, does not always come by filling the box score. Against Colorado, Browning completed just 37 percent of his passes and finished with 120 yards of offense. However, he did not turn the ball over which helped lead to the Washington blowout win. Browning's first multiple turnover game of the season led to the only loss of the season for the Huskies. Browning will be facing the best defenses he has seen all year in the playoff so his ability to take care of the ball will be a major factor to their success.
Caleb Turrentine is a columnist and contributor at Touchdown Alabama Magazine. He also does work for Alabama's team page at Bleacher Report. Follow him on Twitter, @CalebTurrentine.