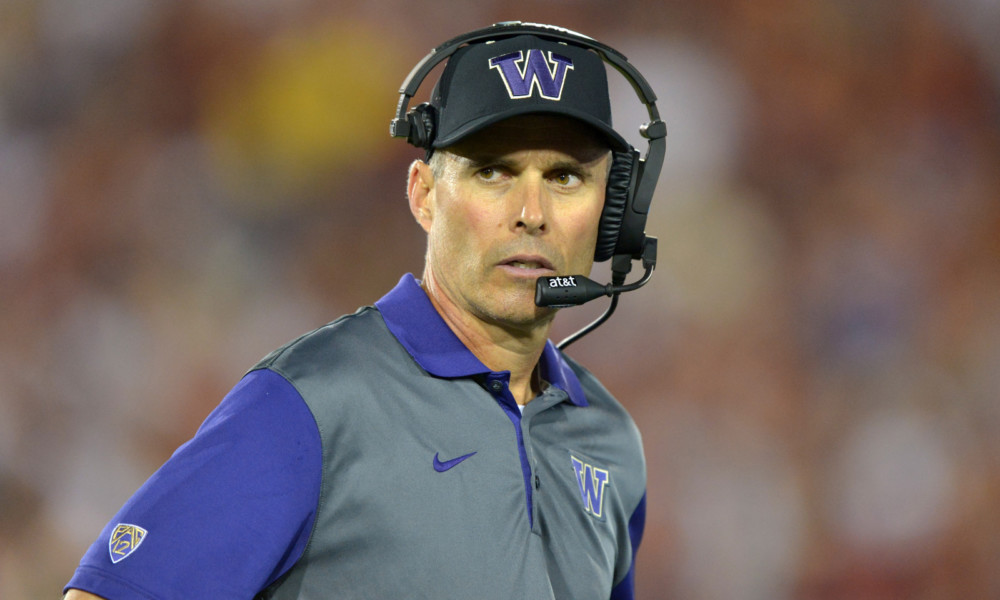 We are within 24 hours of the College Football Playoff and I know many people cannot sleep with all of the excitement. To help keep you occupied, I reached out to some of my favorite writers from the other three teams in the playoff and got their thoughts on the final four.
Q: Before we get to questions on the matchup, let's talk about the season. Was Washington's success and eventual inclusion in the playoff a surprise to the fanbase? Is this season going to be considered a success even if the Huskies lose to Alabama?
From my seat, the Huskies are a year ahead of schedule. In 2015, the Huskies had the youngest offense in school history — and probably the youngest in the FBS — with true freshmen starters at quarterback, running back and left tackle. At one point last year, the Huskies were 4-6 and they had to scramble just to get to the Heart of Dallas Bowl. Winning three straight to end last year was a springboard into a 2016 that brought a lot of early attention and hype. The Huskies were a trendy pick to win the Pac-12. Of course, they won the conference for the first time since 2000 and players and fans alike felt like they belonged in the College Football Playoff. And, yes, there is a sense that the season has already been wildly successful, regardless of what happens in the Peach Bowl. Most Husky fans believe that this is just the beginning of what could be a long run of success for Chris Petersen in Seattle.
Q: Nick Saban and Urban Meyer are considered by many to be the two best coaches in college football. How close is Chris Petersen to those two names?
Well, Petersen hasn't won a national championship, so he probably doesn't belong in the same conversation. That said, he's only in Year 3 of his first job at the major Power Five-type program. Boise State, of course, accomplished great things with its limited resources, but I think we're starting to see what Petersen and his staff can do with resources that are on par — or close to be on par — with some of college football's elite programs.
Q: Now to the matchup… Some people are calling this game an extreme mismatch. Do you think that is because they have not watched Washington much this season or do you think the underdog status is justified?
Alabama is Alabama, and folks out West know that. And obviously, when you look at the results from their one common opponent, USC, there's plenty (more) reason for Alabama to be confident and optimistic about this matchup. I tend to think folks aren't appreciating the strength Washington's defense, and I think this has a chance to resemble Alabama's 10-0 win at LSU. I do think Alabama will win, but it could be closer than most people down South think.
Q: Jake Browning's ability to take care of the ball almost got him to the Heisman ceremony. How important will the turnover margin be in the game against the Crimson Tide?
That's maybe the one thing that Husky fans are clinging too this week. No one in the FBS has created more turnovers than UW, and UW's offense has been excellent at protecting the ball. In fact, UW's running backs haven't fumbled once this season. Turnovers are obviously crucial in any game, but it feels like the Huskies have to win the turnover margin Saturday — and win it handily — to have any shot at an upset.
Q: If there were two Alabama players (one on offense and one on defense) that the Huskies would choose to shut down in the Peach Bowl, who would they be and why?
I don't know if anyone has blocked Jonathan Allen, and I don't know if many offensive linemen in the NFL will be able to block him consistently. He will be a problem for UW's offensive line, obviously. And I'm curious how the Huskies will defend O.J. Howard. They haven't seen a tight end like him this season, and UW players have been quite complimentary of him this week.
Q: Before we get into questions about the playoff, let's talk regular season. Coming into 2016, was a second consecutive playoff appearance expected by the fanbase? And is this season already considered a success to most of the fans?
I think realistically, we understood how difficult it is to win more than 90% of the games on the schedule and break into the brilliantly small playoff field. For that reason, I don't want to say making the playoff was the "expectation," but it was certainly a goal. Last season was a magical ride, largely because it was so unexpected. This year, we had a ton of weapons returning on offense. With Watson in presumably his final season at Clemson, this is our year to claim the title and show the nation that you don't have to be a storied blood blue with mountains of cash and a win or die attitude to claim sports most special championship.
Q: Is there a sense of revenge against Alabama for Clemson fans because of last year or is everyone focused on Ohio State?
I'd call it redemption, not revenge. Alabama, for as much as some want to hate them, doesn't do a whole lot that I would register as sinister. I don't want this era of Clemson football to be remembered like the Utah Jazz teams of 90s that couldn't get past Michael Jordan's Bulls teams. Dabo Swinney has built a program around principles and doing things the right way. I can't help, but feel our community deserves a national title after 20 years of mediocrity followed by Coach Swinney building a program by doing all the right things.
Q: Deshaun Watson is confident enough to say he's the best player in the country despite barely missing the Heisman again. However, I cannot say that I disagree with him. Is he better this season than he was last season and what do you expect from him in the playoff?
I don't know that he's better than a season ago. His interceptions didn't go down as we expected, but his rushing numbers did. That said, he and the Tigers seem to be peaking at the right time. The Tigers offense has shown flashes of dominance and as we got deeper into the schedule those flashes appeared more often and lasted longer. This came to a head against the Gamecocks as the Tigers won 56-7. I think the coaching staff will use the threat of Watson running to open up plays for Gallman on the ground and some run-pass options like we saw in the ACC Championship when Watson threw an easy TD to Hunter Renfrow.
Q: Clemson's roster was full of big name playmakers last season and many of them returned. Who is the one offensive guy (other than Watson) that needs to show up for the Tigers to win a national championship?
Last year, the Tigers were without their top two deep-threat WRs, Mike Williams and Deon Cain. That played a role in them falling painfully close to capturing their first national championship since 1981. Now they're both back and the Tigers are getting more explosive each week. Watch out for #7 Mike Williams to make an impact in the playoffs. He has 83 receptions, 1,171 yards, and 10 TDs after missing last season with a fracture in his neck.
Q: The Tigers grabbed the 2-seed in the final week of the rankings but Ohio State is still the favorite in most people's minds. Does the team feel disrespected at all because of that and how do you think they will respond?
I hope so! Last season, the Tigers played best whenever they felt disrespected. After years of being on upset alert seemingly every week, they seem to have won over the media. Fortunately for Clemson, being a small underdog per Vegas may them fired up.
Q: Final question, how confident are you in this Clemson team hoisting the trophy on January 9th?
Picking one team over the field is foolish. It's going to be incredibly hard to beat not one, but two great teams. That said, I think the Tigers have the second best shot to win the title (behind Alabama). Their aggressive defensive style matches up well against an Ohio State offense that needs to stay on schedule to avoid passing downs where they struggle. I think they're the team with the best shot to take down the Tide, and while I may not make that pick, it's certainly not an outlandish one.
Q: Before getting into the playoff matchups, let's discuss how we got here. Some people say the inclusion of the Buckeyes is controversial. Why does Ohio State belong in the final four, specifically ahead of Penn State?
Ohio State got into the playoffs over Penn State based off a few different reasons but one stands above all, strength of schedule. Ohio State's ranked second in the Sagarin strength of schedule ranking, and more importantly is 3-1 in 4 games against current top-10 opponents and 4-1 against current top-30 opponents. Penn State by the same-metric is 6th and is 2-1 against the current top-10 and 4-2 against the current top-30. The second loss here was undoubtedly the difference maker, as the committee couldn't put a 2 loss Big Ten champion above a division opponent with a markedly better strength of schedule and better results. If Penn State beats Pitt they're in, unfortunately for them that game combined with the Michigan loss sunk their ship to the playoffs. In addition, I think that the committee saw OSU's very close loss, mainly from poor special teams play, against Penn State and determined it to be a fluke. OSU beat Big Ten runner up Wisconsin, on the road, in OT as well as 6th ranked Michigan at home in OT. That's on top of beating Big 12 champion, and 7th ranked, Oklahoma handily on the road, and then blowing out a good 9-3 Nebraska team 62-3 at home. Ohio State with 1 less loss and several very good wins gets in over a team from the same division who won in a home almost flukey game. At the end of the day, Ohio State belongs in because of their fantastic strength of schedule which brought them into the playoffs. No team, save for Alabama, had as tough as a schedule as Ohio State and despite the very narrow loss to Penn State this Buckeye team deserved a playoff spot.
Q: Last year, Dabo Swinney got a lot of attention for being one of the best coaches in the country last season. How big do you think the gap between Swinney and Urban Meyer is?
The gap between Dabo Swinney and Urban Meyer is a tough question and certainly not an easy one to answer. Both have achieved remarkable levels of success in their positions for the past several years and both have brought their teams from down years to both making their second playoff appearance. What sets the men apart most glaringly is Clemson is Dabo's first coaching position, and while he has found remarkable success at Clemson, Urban has been around the block and succeeded at every HC job he has had. In the current CFB climate I think that Urban Meyer and Nick Saban are clearly in a tier of their own, based on current and prior performance and recruiting. For the Dabo Meyer comparison it's easy to just look where each was at when Dabo took over at Clemson, while he was taking over Urban was winning his second national championship at Florida. Dabo has no doubt made Clemson a team to beat and has really put them on the map, which is a terrific accomplishment. Urban though has put together consistent top recruiting classes and is an incredible 62-5 at Ohio State. While looking at wins and losses is definitely a misnomer and doesn't tell the full story, looking at that compared to Dabo's still very good 87-28 record is astounding. While Dabo has a respectable .757 total record at Clemson, Urban has an astronomical .925 winning percentage. Urban has had consistently good teams dating back to his days at Bowling Green, and has won everywhere along the way. Dabo is a very fine coach and has gotten Clemson to near the top but Meyer's successes quite frankly put him at another level.
Q: Ohio State's defense thrives of being aggressive and forcing turnovers. Both Clemson and Alabama have struggled this year in ball security. What would be the magic number for turnover margin for the Buckeyes to win a national title?
Turnovers this season have been Ohio State's bread and butter and if they're to beat Clemson and Alabama they need to be able to capitalize on them. One of the easiest metrics to see turnover margin clearly is the average of turnovers won and lost. OSU has recovered 25 turnovers while losing only 9, which comes out to a 1.33 average. That 1.33 average is good enough for 3rd in the NCAA behind only undefeated Western Michigan and Washington. Here's a couple interesting stats about how good OSU's secondary has been with interceptions, despite being tied (with Washington) for 6th in the country in total interceptions they're 1st in both interceptions return yards, and interception return touchdowns. OSU's pick-6's has all seemed to come when they really needed them, including a massive Malik Hooker pick-6 against Michigan. Hooker is by far the leader in interceptions for the team with 6 for the team and taking 3 of those back for a touchdown. When Malik is on the field there is always the potential for a massive pick-6 from him. For OSU to be able win both games, they have to be able to take away the passing game, which is easiest to do through interceptions. Overall though OSU's passing defense has also been exceptional, at 6th in the country with 164.5 yards given up a game. That's mainly the work of the secondary combo of Hooker, Damon Webb, Marshon Lattimore, and Gareon Conley who have all played exceptionally well. On just pure turnovers if any of those 4, or the rest of the defense, can come up with 2+ turnovers in a game I really like OSU's chances. Obviously that depends on the offense not having any but with a turnover margin of plus 2 and with the offense converting on those perhaps the OSU defense is good enough to hold anyone in the country.
Q: What is the key matchup that Ohio State needs to win to advance to the championship game?
For a key matchup to beat Clemson with I'm going to play off the last question a lot and say the Ohio State secondary against Deshaun Watson and Mike Williams. Williams has been the prime target of Watson, the deservingly so vaunted Heisman finalist, and averages a very impressive 90 yards per game of receiving. His matchup will be against Gareon Conley and if Conley can dominate that matchup it takes a large chunk of Clemson's offensive firepower away. No matter how good a quarterback is if his receivers are locked down he will struggle. Outside of the Buckeye defense I would say the second most important matchup is the Ohio State run game vs. the Clemson d-line front. Ohio State's run game is very much three-pronged between Mike Weber grinding it out between the tackles, J.T. Barrett's legendary scrambles, and Curtis Samuel and his ridiculous speed on the outside. Just those 3 have accounted for 26 touchdowns with 9,9, and 8 respectively, which is an insane amount. Clemson's run defense is strong at 22nd in the country with 125.8 YPG given up and Ohio State needs to go well over that to win. With Curtis Samuel having 704 yards on only 91 carries if he gets a lot of touches Clemson's defense, with a very good front of Dexter Lawrence, Carlos Watkins, and Christian Wilkins, could very much be in for trouble.
Q: Finish the sentence: For Ohio State to be national champions, the Buckeyes will need to…
Pass the ball well. It's no secret that OSU hasn't been passing the ball well (77th nationally with 221.2 YPG) and the offense has struggled as a result. If Noah Brown can come up with an equivalent game to the Oklahoma game where he had 4 touchdown catches, this game could be over quick. The Buckeyes focus these past few weeks has been shoring up the passing game and if J.T. and Co. managed to do that look out.