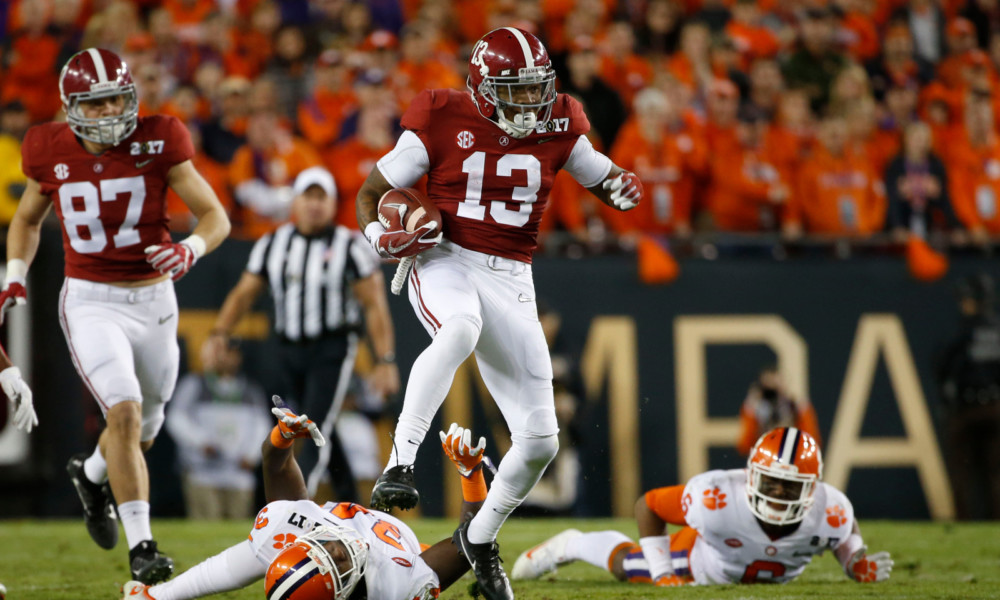 He hauled in Jalen Hurts' first chunk yardage pass against University of Southern California (39 yards, touchdown) and his last desperation heave versus Clemson University (15 yards) in the 2016 season.
ArDarius Stewart does not have the physicality of Julio Jones, star power of Calvin Ridley or route running prowess of Amari Cooper; nevertheless, he is a pure competitor and playmaker. A former quarterback and four-star prospect at Fultondale (Ala.) High School, Stewart signed in Alabama's star-studded 2013 recruiting class. During his three seasons of field time (2014-16), he totaled 1,713 yards and 12 touchdowns on 117 catches. The 6-foot-1, 204-pounder was one of Jake Coker's favorite targets during the Crimson Tide's national championship run in 2015, while leading this year's group in both yards (864) and scores (eight).
Per CBS Sports' NFL Draft Tracker, Stewart is listed as the 81st overall prospect and 11th wide receiver in the upcoming draft. He's projected as a second to third round value (day two pick). Though seven teams have the wide receiver position as a "top need," TDAM's third installment features the top five draft spots for Stewart.
Los Angeles Chargers (AFC West, 2016 record: 5-11)
Phillip Rivers still has three to five years of football left in him.
In the midst of losing Vincent Jackson and Malcom Floyd, the Los Angeles Chargers (formerly known as San Diego Chargers) drafted wide receiver Kennan Allen from California in 2013.
Allen was the NFL's Rookie of the Year that season, recording 1,046 yards and eight touchdowns on 71 catches. Since then, he's encountered issues with his right knee, kidneys and collarbone. Tyrell Williams finished 2016 as a 1,000-yard target (1,059) and both Dontrelle Inman and Travis Benjamin had four touchdown receptions; however, none of these three are "go to" weapons. It may not address the need early on, but Los Angeles isn't taking chances at seeing another mishap to Allen and not having anyone step up.
Buffalo Bills (AFC East, 2016 record: 7-9)
Buffalo may be in hot water come March. Per sporatic.com, five of the Bills' 23 unrestricted free agents for 2017 are wide receivers. Robert Woods is not only on the list, but he's also the leading target from 2016.
Woods caught 51 passes from Tyrod Taylor for a team-high 613 receiving yards and a touchdown. Joining him as unrestricted free agents are: Percy Harvin, Justin Hunter, Brandon Tate and Marquise Goodwin.
Next, let's consider the future of former first-round pick Sammy Watkins.
Despite setting a Bills' rookie record in 2014 and collecting a 1,00-yard season in 2015 (1,047), Watkins has sustained calf, ankle and foot injuries. He saw action in just eight games this season, amassing 28 catches for 430 yards and two scores. If healthy Watkins can be a primary receiver, but if not—Buffalo then turns to having a "receiver by committee" situation. It will lose quite a few players to free agency, so the Bills may snag some wide outs within the first three rounds.
Baltimore Ravens (AFC North, 2016 record: 8-8)
It's time for new swagger in Baltimore.
Aging receivers was the reason behind Joe Flacco's rough season. Mike Wallace did turn in a 1,000-yard year, but Wallace is 30 years old. Steve Smith Sr. is pushing 40, and behind him lies projects waiting to be developed.
Coach John Harbaugh and the Ravens have Breshad Perriman and Kamar Aiken, but it needs more.
During its Super Bowl run in 2012, Baltimore had three quality wide outs in Anquan Boldin, Torrey Smith and Jacoby Jones. The franchise desires help in the secondary and another edge rusher, but getting Flacco back to an elite level of play takes fresh blood at the receiver position.
Tampa Bay Buccaneers (NFC South, 2016 record: 9-7)
Jameis Winston came close to making the playoffs in 2016. Tampa Bay's first-round pick threw for 4,090 passing yards and 28 touchdowns to 18 interceptions on a 60.8 percent completion percentage.
Unlike Los Angeles, Buffalo and Baltimore, the Buccaneers have a consistent and healthy No. 1 wide receiver in Mike Evans. He snatched 96 passes for 1,321 receiving yards and 12 touchdowns, earning NFL second team All-Pro honors and a trip to the 2017 Pro Bowl.
A stable No. 2 guy is what Tampa Bay is after. Adam Humphries and Russell Shepard could be the ones for the team, yet both need to be more consistent. Cecil Shorts III and Josh Huff were not targeted a lot, and Vincent Jackson (34) will not be in the league much longer.
Philadelphia Eagles (NFC East, 2016 record: 7-9)
He's a small school guy, but Carson Wentz proved he can run an NFL offense. Some parts of his game need work, and that will come once Philadelphia pairs him with a like-minded receiver.
By like-minded, one is stating the type of person that loves to prove himself.
Jordan Matthews, Dorial Green-Beckham and Nelson Agholor all have solid catch radiuses, route running abilities and body frames, but Wentz wants someone with an edge to them.
ArDarius Stewart played with a toughness about himself in three years of field action at Alabama. Whether the pass was high, low, on time or late, if the ball was in his area—he was making adjustments to bring it in.
Like Wentz, Stewart brought positive energy to the Tide.
Stephen M. Smith is a senior analyst and columnist for Touchdown Alabama Magazine.  You can "like" him on Facebook or "follow" him on Twitter, via @Smsmith_TDALMag.