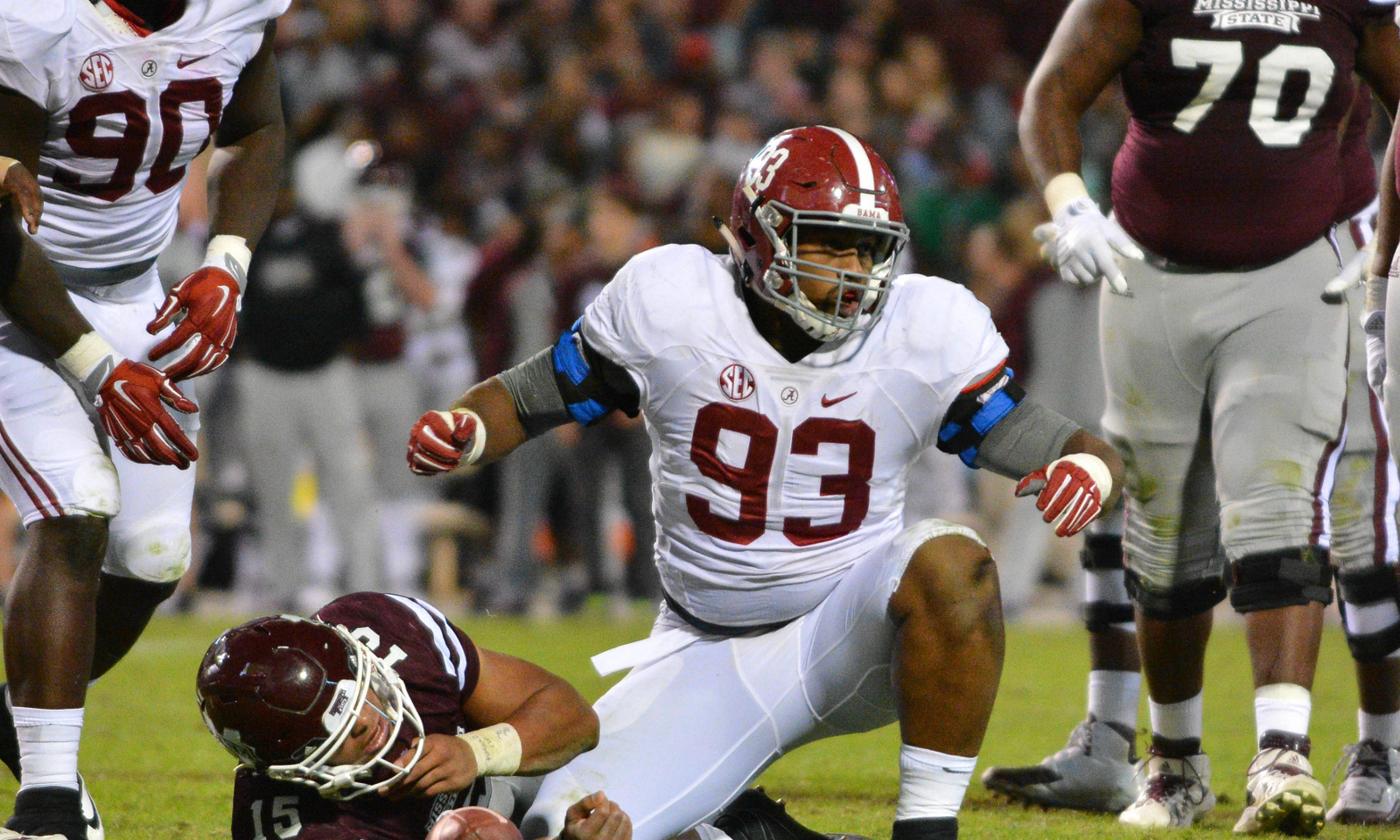 There were a lot of people who questioned Jonathan Allen's decision to return for his senior year at Alabama. He was considered a borderline first-round pick, and the risk of injury weighed on the minds of scouts and analyst heading into this past season.
Well, it looks like Allen's decision paid off in a major way. He went from being considered a late first-round talent to one of the top overall players in the upcoming draft. Let's take a look at what type of skill set he will be bringing to an NFL defense come next season.
Position: Defensive Lineman
Hometown: Anniston, Alabama
Height: 6'3
Weight: 291
Projected 40-time: 4.9
Projected Round: 1st Round (Top 10)
STRENGTHS:
Jonathan Allen might have been the most complete player in all of college football this past season. He is an exceptional defender who can effect opposing offenses in a variety of ways.
The first thing that stands out about Allen is his ability to play technically sound football while maintaining a high level of violence. He dominates opposing offensive linemen at the point of attack due to his initial burst combined with his superb hand placement. He can shock and shed with force against the run, and his arsenal of moves as a pass-rusher makes him a problem against the pass as well.
Allen has shown versatility during his time at Alabama. He can line up on the outside and create pressure bending off the edge, or he can effectively bump down inside as an interior pass-rusher. His best pre-snap alignments are head up (2-technique) or on the outside shoulder (3-technique) of the guard.
He provides a nice burst as a penetrating interior defensive lineman, and that is more than likely where we are going to see him play most often on Sundays — at least on passing downs.
A high level of football IQ is also one of Allen's biggest assets. He does an excellent job using his eyes, and it allows him to effectively sniff out screens and draws in a timely fashion. You won't find better player to lead a positional group than Jonathan Allen.
WEAKNESSES:
It's extremely hard to find a weakness in Allen's game. There are some scouts who say that Allen should be a full-time defensive tackle in the NFL, but they also worry about his ability to hold up if he was asked to constantly play inside at his current weight of 291-pounds.
In an ideal situation, I believe Allen would excel in a role similar to the way that the Seahawks use Michael Bennett. On run downs, line Allen up on the edge and allow him to be an effective power end. In passing situations, slide him inside and let him use his combination of size and speed to create havoc on opposing quarterbacks.
Allen is never going to have the necessary burst or bend to be an effective, every-down defensive end, but that just means that defensive coordinators need to move him around and play to his strengths based off of the situation. This is very doable in today's NFL, and there shouldn't be any issues in allowing Allen to do just that.
CONCLUSION:
There is little doubt that an NFL team is going to be thrilled with the addition of Allen to their roster. Schematically, there isn't a team within the top 10 — or in the NFL for that matter — that is completely off the table for needing Allen's services as a result of his versatility.
For the most part, he has the ability to play anywhere along the defensive front in both a 4-3 and a 3-4 defense. It'll be interesting to see how high Allen ends up going considering similar defensive linemen have fallen in recent drafts.
With that said, do not be surprised if a team like the Chicago Bears (No. 3 overall), the Jacksonville Jaguars (No. 4 overall) or the Tennessee Titans (No. 5 overall) decide to jump at the opportunity to add a player such as Allen to their roster.
Clint Lamb is a columnist for Touchdown Alabama Magazine. You can "follow" him  on Twitter @ClintRLamb.