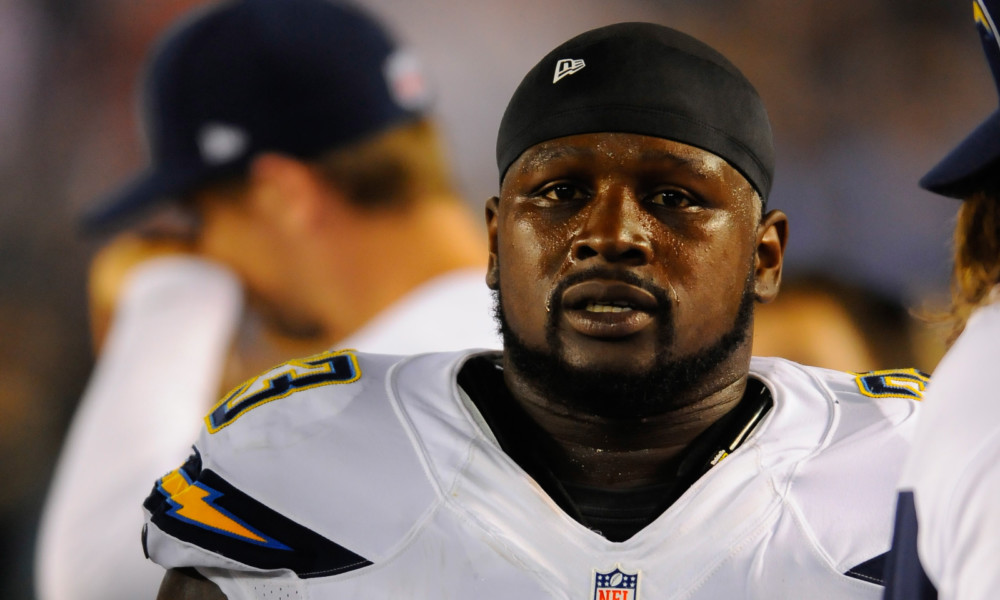 Le'Ron McClain is a student of the game.
During his career at Tuscaloosa County High School, University of Alabama (2003-06) and the National Football League (2007-13), he learned from the best and used it to cultivate his own style.
After years of gleaming from others, the 32-year-old is now faced with an opportunity to mold the next generation of talent. Following his service as offensive coordinator last season, McClain assumes the role of head coach for the West Alabama Chargers—a semi-pro team in Tuscaloosa.
He's a part of the Amateur Development Football League and though he didn't like the direction of the offense in his first season, McClain is excited about the talent and chance to run the show. In driving from Atlanta (Ga.) to Tuscaloosa on Friday, the ex-Crimson Tide standout and seven-year NFL veteran was overjoyed and talked about his continuation of being around football.
"I love structure," McClain said. "After talking with the commissioner of the league about this opportunity, I knew that this was something I had dreamed about."
The Amateur Development league takes on the same landscape as the NFL with 32 teams and two conferences; however, the rules of this venue favor the collegiate game.
Prior to coaching, McClain was involved in putting on football camps for high schools around Tuscaloosa.
He's all for creating avenues to division one programs for guys that were not given a chance, nevertheless, McClain understands the sacrifices needed in order to accomplish goals.
"The difference with our league is no one gets paid," he said. "I have to pay out my pocket and the players pay dues. "One of our goals is to get the people of Tuscaloosa behind us for sponsorships."
Even with the right players and the right coach, a stage must be provided to showcase dominant efforts. For West Alabama, divine intervention made its call through one of McClain's mentors.
"God just blessed us," McClain said.
"I reached out to Jeff McNealy, who was my coach at Tuscaloosa County School, and he got me in touch with his wife, the principal of Holt High School. Mrs. Jacqueline is allowing us to use the field every Saturday for home games. Before this, we would hold our practices on a dirt field on the west side of Tuscaloosa."
Minus some negatives, McClain is focused on being the next best coach in the game.
"I'm taking every gem that I've learned and applying it," he said. "I have to be effective with my guys, because they all truly respect me. They believe that I can help them get to the next level, whether it's college or pro.
As for his philosophy, the Tuscaloosa native is taking a page from Tide football head coach Nick Saban and New England Patriots coach Bill Belichick: two of the best in their respective fields.
"When people bring up the West Alabama Chargers, they will know that we are relentless, we play fast and we are physical," McClain said. "Whether it's win, lose or draw, I want our opponent to know that we put something on them. Our guys will have a never quit attitude."
While his position warranted a certain nastiness, McClain's offensive prowess will come from someone that many Alabama fans were both happy and disappointed to see leave the program.
"I studied a lot of what Lane (Kiffin) did and have added pieces to my scheme," McClain said. "Our offense will be the power spread and our plays will come from the I-pistol formation. We're going to ground and pound teams, but we'll also have a vertical passing attack. I don't want to put a lot on my guys, but the playbook is 150 pages."
He's recruited talent offensively from Pickens County and Tuscaloosa to Arkansas, but McClain said one of the impact leaders for this year's group lies along the Chargers' defensive front.
People remember Jonathan Allen, A'Shawn Robinson, Reuben Foster and Tim Williams from the Tide's top-ranked 2013 signing class, yet the name Darius Paige does not register. Paige, who was listed at 6-foot-4 and 314 pounds at the time, was disqualified from the team because of a medical issue.
In Paige's departure, room was made for Bradley Bozeman to join the 85-man roster.
"Paige wants a second chance," McClain said. "He's already come in hungry and ready because the training he experienced at Alabama. He's explosive on the edge and is holding people accountable in practice. Much of the time, it's Paige taking the defensive players through drills."
With an I-pistol offense and 4-2-5 (nickel) scheme on defense, McClain is poised to return to the playoffs after getting bounced out the first round a year ago. His men are locked and loaded for tonight's game at Prichard (Ala.) Stadium, but in the long run—McClain expects to help five players sign offers for college, Arena Football or the NFL. Regardless of being out the professional game for three years, he's developing strategies and rubbing shoulders in order to make his return.
"I want to be an offensive coordinator and running backs coach in the NFL, but for now I am coming after a graduate position at Alabama," McClain said. "I am ready to get back around."
Stephen M. Smith is a managing editor and columnist for Touchdown Alabama Magazine.  You can "like" him on Facebook or "follow" him on Twitter, via @Smsmith_TDALMag.