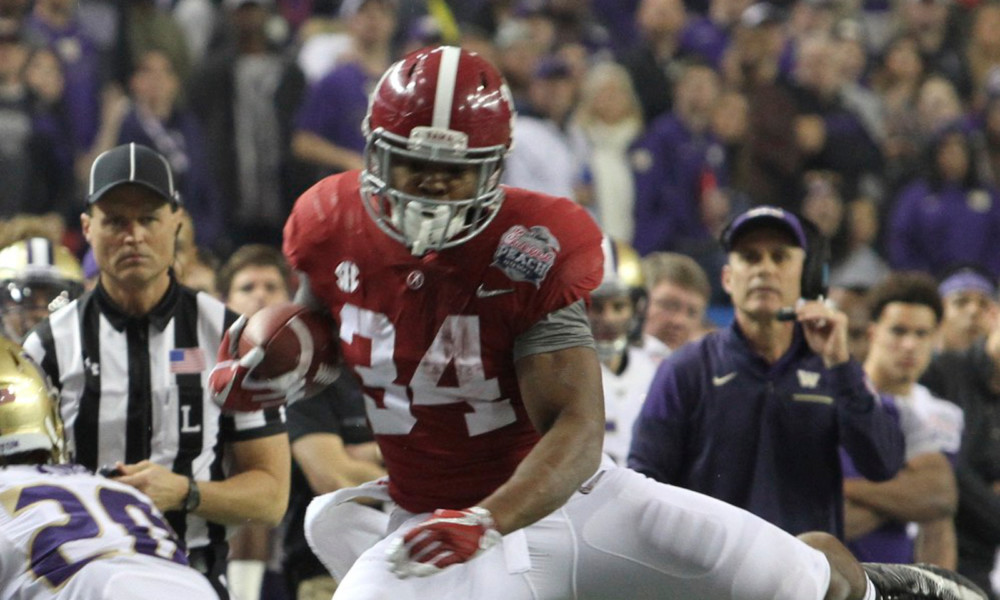 If you are  an Alabama fan, then you would have to agree that the running back position is going to be quite interesting for the rest of this spring heading into fall camp. With the addition of Najee Harris, who was the nation's best football player coming out of high school, practice sessions for the Crimson Tide will add even more energy and hype for every player on the team — as they intend to locate a featured back for 2017.
When one player leaves, the next man up emerges and gets the job done. That's just what rising junior Damien Harris did in 2016. Harris was the Tide's leading rusher last year with 1,037 yards and two touchdowns.
Let's also not forget Bo Scarbrough, who shined late in the 2016 season and showed explosive he can be. The junior from Tuscaloosa, Ala., finished the year with 812 rushing yards and 11 touchdowns on 125 carries.
The projected depth chart later on for the 2017 season should list Damien Harris, Bo Scarbrough, Josh Jacobs, B.J. Emmons, Najee Harris and another early enrollee in Brian Robinson. Najee Harris is going to give Scarbrough and Damien Harris a mental challenge, as he plans on generating significant playing time.
One thing that stands out about Harris is his size.
The California native is a physical freak, standing at 6-foot-2 and 227 pounds. He carries an ideal muscle mass to former Crimson Tide back and 2015 Heisman winner Derrick Henry, while possibly having the footwork and vision to match. It is no question as to why Harris was so coveted in this year's recruiting cycle, seeing that he totaled 2,776 yards rushing (9.5 average) and 36 touchdowns during his senior year at Antioch High School.
We can only see how his game will translate to the next level, but we all do know one thing: he punishes his defenders. Harris is a stout down hill runner, who can also be effective in the zone stretch game to the outside.
Since 2008, Tide's head coach Nick Saban has never been hesitant about playing freshmen. It would be a shock to see the younger Harris get the starting nod over Scarbrough and Damien Harris against Florida State to open next season; however, Alabama is the type of program that can plug and play with anyone.
Despite being exposed to Damien Harris and Bo Scarbrough, Harris must prove that he's the No. 1 back for this program. Though he ended last season with over 1,000 yards, Nick Saban and company turned to Scarbrough when the games got bigger and stages got brighter. With having six scholarship backs on its roster, it will be interesting to see how position coach Burton Burns goes about keep each one satisfied.
Fans, who do you see as the potential number one rusher for the Crimson Tide in 2017?