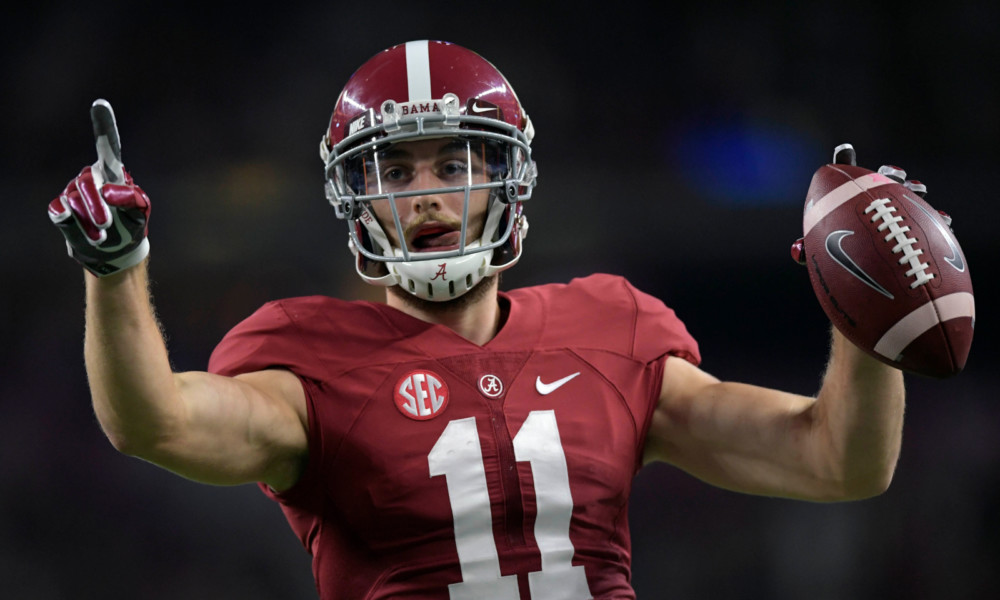 College football presented him with the best of both worlds and though one team had him in a different role, Gehrig Dieter appreciates every avenue that's prepared him for the NFL Draft.
After setting records at Bowling Green State University, the South Bend (Ind.) native desired an opportunity to compete on a national championship team. With Alabama slowly moving Robert Foster through a rotator cuff injury in 2015, Dieter seized a chance to step in and be an integral part of the Crimson Tide's 2016 Southeastern Conference title unit. His 214 receiving yards and four touchdowns were a vast difference from his 1,033 yards and 10 scores at Bowling Green; however, Dieter said he doesn't regret his decision.
"Anytime you can come to a program like Alabama and get both the coaching and resources that we have, it is an incredible experience," Dieter said in Monday's interview on the Midday 180 show via 104.5 The Zone.
Numerous media outlets have Dieter as an undrafted rookie free agent, but his film from both Alabama and the Falcons could say otherwise. The 6-foot-3, 207-pounder showed that he can be a primary target and a sound utility player. He emerged as an exceptional blocker for the Tide, assisting quarterback Jalen Hurts, a fleet of running backs and talented receivers to huge yardage and multiple touchdowns.
His secure hands and fundamentals even gave Saban's bunch a lift on special teams.
"I felt like I did all the little things that the team needed to win," Dieter said.
"I knew coming here that I would have to be involved on special teams. I had to do some of the dirty work and it was something I wanted to prove to the team that I could do anything that was asked of me."
As for his potential future in the National Football League, the former graduate transfer compares his game to Green Bay Packers' receiver Jordy Nelson. Both guys carry the same height and had little fan fare in college.
"He's one of the top five to 10 best receivers in the game," Dieter said on Nelson. "The production that he's done offensively is among the greats. I believe that I can do exactly what he's doing at the next level."
Seeing that Dieter is a Packers fan, it would a dream come true scenario for head coach Mike McCarthy and Green Bay to select him in the latter part of this month. Currently, he is both training for the draft and continuing his coursework at the University of Alabama for his master's degree.
Stephen M. Smith is a managing editor and columnist for Touchdown Alabama Magazine.  You can "like" him on Facebook or "follow" him on Twitter, via @Smsmith_TDALMag.