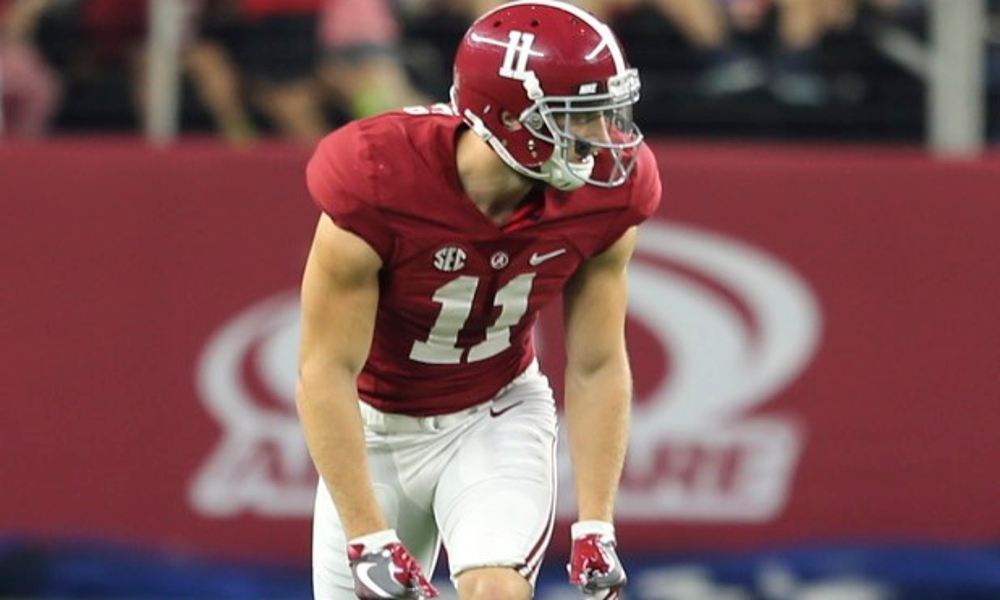 As the NFL Draft approaches, we take a look at each of the Crimson Tide prospects and decipher which teams are the best fits for them.
Position/Size/Weight/40-Time: WR/6-3/207/4.58
Career Stats: 144 receptions, 1707 yards, 15 TD
Mock Draft Projections: 6-7/Undrafted Free Agent
Best Fits (Ranked):
1 – Dallas Cowboys – Last season, Dallas picked up Zeke with the fourth overall pick and Dak Prescott in the fourth round. As they say, "the rest is history."  Ezekiel Elliot went on to be the league's leading rusher and Dak Prescott defiantly took over the starting job from Tony Romo. While the Cowboys will almost certainly go defense early, expect for them to add depth to their receiving corps late. At Bowling Green, Dieter proved to be a reliable pass catcher and at Alabama he proved to be an exceptional perimeter blocker as well as special teamer. With the way Dallas rolled last season, Dieter's skill set and Dallas' scheme go hand-in-hand.
While it's unlikely he would see the field a lot on two-receiver sets, if Dallas puts Dak in the shotgun with four targets out wide, having a guy that can run-block on the perimeter like Dieter would benefit Dallas – especially with draws and screens. Typically, teams do not draft receivers based on their run-blocking abilities, but when it comes to Gehrig, he already has a well of experience doing it. More importantly, they won't have to worry about dealing with an ego with Dieter. He knows his skill set and will ask for nothing more.
2 – Seattle Seahawks – Seattle boasted the league's worst offensive line in 2016 via Pro Football Focus. Quarterback Russell Wilson was being knocked around all season – to the tune of 41 sacks. The Seahawks are in play for nearly any lineman they can get their hands on in this draft. In the late rounds, though, a player like Dieter would give them more than just another pass catcher. His aforementioned run-blocking ability on the perimeter would benefit them – especially on draws, screens, and Wilson's scrambles.
The Seahawks do not have a particularly deep pool of receivers, either, so Dieter would also have a chance to play his way into certain packages – particularly near the end zone when running seems the obvious choice.
3 – Tennessee Titans – Speaking of offensive lines, the Titans were on the other end of the ranking board as their line earned the No. 1 spot on PFF. DeMarco Murray and Derrick Henry are both extremely talented running backs and will continue to blossom behind the big fellas up front. The general consensus is that the Titans will be targeting a play-making receiver early in the draft – particularly with their fifth overall pick.
Should they use a late-round pick on Dieter, he could surprise Titans fans next year.
While not blazing fast (4.58 40-yard), Gehrig showed in his time at Bowling Green he can be a reliable pass catcher. At 6-3, he's got the size to be a 'go-and-get-it' target near the end zone, but can also help them get the ball down the field with his well-noted perimeter blocking skills.
For a team looking for pass-catchers, Dieter could be a value pick late in the draft.
Jake Weaver is a contributor for TD Alabama Magazine and Bama Hoops Hype. You can contact him via email [email protected] and follow him on Twitter for sports news/commentary @JAWeaver0.