Recruiting
Some ideas as to who should be plugged in with the position needs at Alabama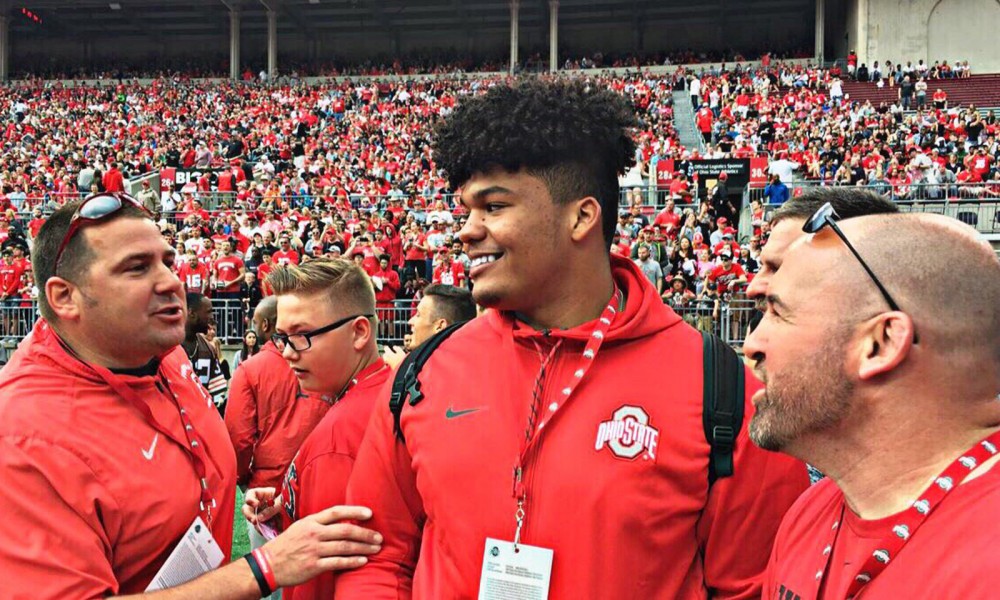 Signing Day has been over since February, but if you're not licking your chops at the new guys that could possibly come to Tuscaloosa, perhaps you should. Alabama is set to have another juggernaut year with the talent already in place and the outstanding talent it has brought in. However, if we look into the crystal ball of what Alabama needs to fill at various positions, who should we be looking at?
That is the ultimate question. In the meantime, here are some interesting ideas that could very well come into fruition at the needs Alabama finds itself having after this season.
Offensive Tackle
Well, there's the No. 1 OT in the country in Jackson Carman — who is also a top ten player in the country.
The 6-6, 290-pound lineman from Fairfield High School in Ohio is all that and more when it comes to what you want in an offensive tackle. So much so that he garners offers from Alabama, Arkansas, Florida, Clemson and a plethora of other suitors, including Ohio State. The Buckeyes are a stone's throw away from Carman's high school, and the fact that the coach in Columbus is named Urban Meyer makes recruiting him that much tougher on everyone else. He's a monster with decent footwork but deadly and powerful blocks on contact.
Okay, so what if Alabama doesn't land the No. 1 overall guy in Carman?
Well we must not forget that guys who aren't five-star players have been known to be turned into monsters at Alabama. Sometimes it's like an episode of Whose line is it anyway where "everything is made up and the points don't matter." Well do the stars always matter? (Ask four-star and three-time national champion Barrett Jones if his 4 stars mattered or ask Heisman winner Mark Ingram, a 3 and 4 star running back depending on which outlet you asked, if his stars meant anything to him in the long run.)
Having said all of that, a recruit that's warming up to scouts at the Capstone and we all need to keep an eye on is Nicholas Petit-Frere. A marquee name at Berkeley Prep in Tampa, Fla., Petit-Frere is an absolute monster.
He's a 4 star player who gives a 5 star effort. You can't coach his ability to play until the whistle blows and since he does, he's either pancaking some poor defensive lineman or blowing up a linebacker from the side of the linebacker's body. Because he can gain ground and has tremendous foot work for a bigger man, whoever ends up with him will receive a lineman like former Alabama great Andre Smith and since Carman appears set on the Buckeyes, we might see this guy at the Capstone.
Safety
Minkah Fitzpatrick and Ronnie Harrison are Juniors which is always the toss up position for the fans and the program to be in when it comes to depth. Are they gonna stay? This season will say a lot about that. With whispers of Fitzpatrick possibly moving to cornerback and with only 3 scholarship players behind Fitz and Harrison, Bama will have to find some young blood to make that position a little deeper.
This position in itself is an interesting eyebrow raiser when it comes to the possibilities after we go through the season and the turnover that will be there after seasons end. As for the number 1 safety recruit BJ Foster of Angleton High School is watching the recruiting battle taking place for his services between Texas and Ohio State and many are saying he'll end up playing for the burnt orange and white and oddly enough hasn't even been offered by Alabama. However that phrase can easily change to "Hasn't been offered by Alabama, yet." We know how crazy recruiting season.
Never fear though fans, the number 2 Safety in the country Tyreke Johnson of Trinity Christian Academy in Jacksonville FL, appears to be pretty high on the Tide. The 6-1 191 prospect is a four star (or five star in some outlets.)  player ranked 18th nationally. They appear to be leading his choices and that seems to be reassuring. He is an absolute monster at his position and could be extremely deadly if the Tide pick him up. He has visited his home state Florida Gators twice already and he seems very intrigued by them, but the battle for his services are heating up.
And then there's the hometown hero and probably the best safety in the state of Alabama, 4 star safety Myles Mason. Alabama has been consistently good in picking the players it wants in its home state. Very seldom does Alabama see recruits it wants leave the state and go elsewhere. (Unless you're Jameis Winston. Well played Jimbo.)  Auburn, Tennessee, Mississippi State, and the Tide are the SEC schools in contention to pick up this sensational player and the advantage of recruiting by proximity swings in Alabama's favor. It's not hard to recruit a kid in a suburb of Birmingham when that's practically your back yard.
In our next spotlight on positions that need to be filled, we will talk of Defensive linemen and Cornerbacks.
Ty Pulliam is a Recruiting Analyst for Touchdown Alabama Magazine. You can like him on Facebook.