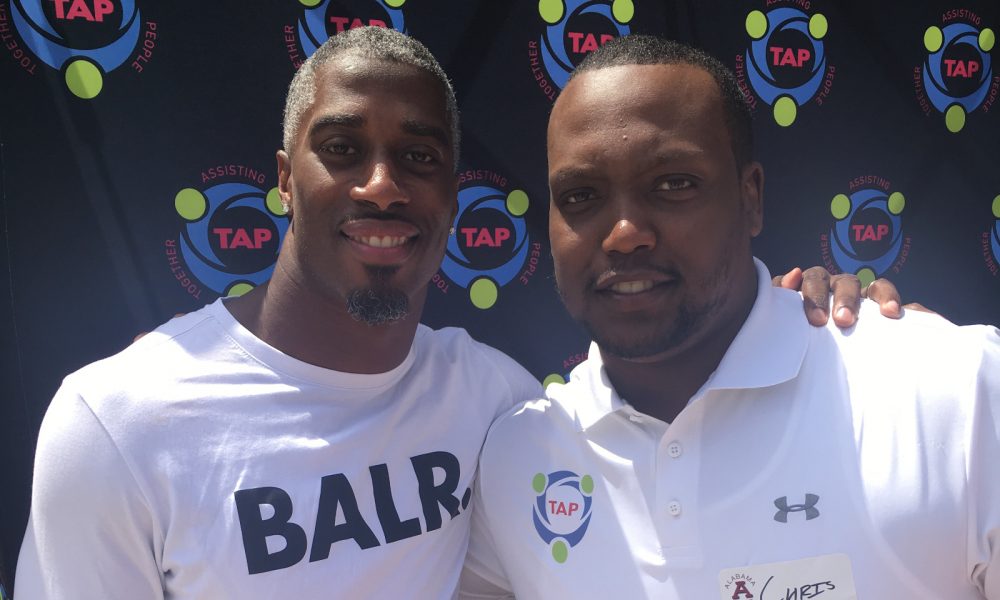 TUSCALOOSA, Ala.– It has been eight years since he's worn crimson and white gear for screaming fans inside Bryant-Denny Stadium and helped Alabama football win its first national championship (2009) under head coach Nick Saban, yet just his name alone looms well within the community.
With a smile, a hand full of books and his team behind him – Together Assisting People – former Crimson Tide defensive back Chris Rogers was on the University of Alabama's campus last week doing what he does best, helping the next wave of athletes become more than that title. After founding TAP in 2010, Rogers has grown the company into being one of the biggest non-profit organizations in Birmingham, Ala. His mission is simple, but powerful. The goal for TAP is to prepare young athletes to be success in life outside of athletics.
To pair with the idea and some things he learned as a student and player, Rogers decided to pour out his thought process into a book entitled "Beyond The Field: An athlete's guide to greatness."
In speaking with him before the A-Day game, he shared with me the process that went into putting the book together as well as what he hopes young minds will gain from the information.
"I put my heart and soul into this book," Rogers said. "I wrote from the point of view of me being 15-16 years old and the things I should have known but did not know coming to UA."
Once you flip past the cover page of a young Rogers holding the 2009 BCS national championship trophy, a journey begins on how you can create opportunities for yourself.
"The book has it all," he said. "Everything from financial literacy to social media and dinner etiquette is expressed. Time and time again, so many young athletes in our community are taught to dribble the ball, run and jump. People give us a road map to play ball, but not one in life."
Being well-rounded is the message Rogers wants to send. He's taken it upon himself to give the next generation of ballers a chance to see the full picture, especially when facing adversity.
"I want to make sure our kids are polished," he said. "It doesn't matter if they choose a university or go straight into the workforce, I simply want next generation to be ready for what life brings."
Although his competitive nature comes from a desire to not be out worked, Rogers' thirst to see each individual succeed is a product of two head coaches that wanted the best from him.
"Coach Shula is doing great things in the NFL and Coach Saban will go down as one of the greatest coaches, if not the greatest coach of all-time," he said. "From both, I learned that it's all about preparation. There is no luck in this. If you put in the work, great things will happen."
As high school surrounding Tuscaloosa and the entire Alabama landscape prepare for graduation, the focus for Rogers and TAP, Inc., is to make all ACT scores for their students are top-notch.
"The average score for African American boys nationally is a 15," Rogers said.
"For that benchmark, you really need a 20 on the ACT to get into a major school. Our boys are behind across the county, so we took the initiative to provide the resources so they can have good scores."
Seeing the height, weight and talent stipulations that come with any athletic venue, a small percentage lies among the ones who actually get an opportunity to pursue a professional career.
"It's mostly genetics that comes with that," Rogers said. "If you take half of what you put into the football field on your books, who knows where you will end up in life. Make sure you are being cultivated."
Even in his desires to make the National Football League, Rogers would see his Plan B start to emerge sooner rather later during his tenure at Alabama.
"The biggest happened to me in 2008 when we lost to Tim Tebow," he said.
"I thought I was going to play in the SEC Championship Game. Our cornerbacks got torched that game and I didn't get in like I thought I would. I was on the bench that game and all I could think about was 'I am great, but we just got torched by Tebow and I didn't get in.' At that moment, I started to think about how I needed a Plan B and then I got into grad school my senior year."
It was more so to have assured success versus fear of the unknown behind the start of Together Assisting People. According to Rogers, one would rather have a clear-cut idea than to face what-ifs.
"God has really blessed me," he said.
"Our brand has grown, and I've been able to win a lot of awards. I was able to be a part of Steve Harvey's mentoring program, but this is bigger than me. I'm blessed to have people around me that help with this."
From a national championship to now molding greatness, Rogers continues to stand by his principles.
For every person that purchased a book, he took time for photos, autographs and shared laughter with children and their families. Whether it's Birmingham, Tuscaloosa or any area in Alabama, Rogers is not stopping until every student-athlete can see the value of education.
Stephen M. Smith is a managing editor and senior writer for Touchdown Alabama Magazine.  You can "like" him on Facebook or "follow" him on Twitter, via @Smsmith_TDALMag.