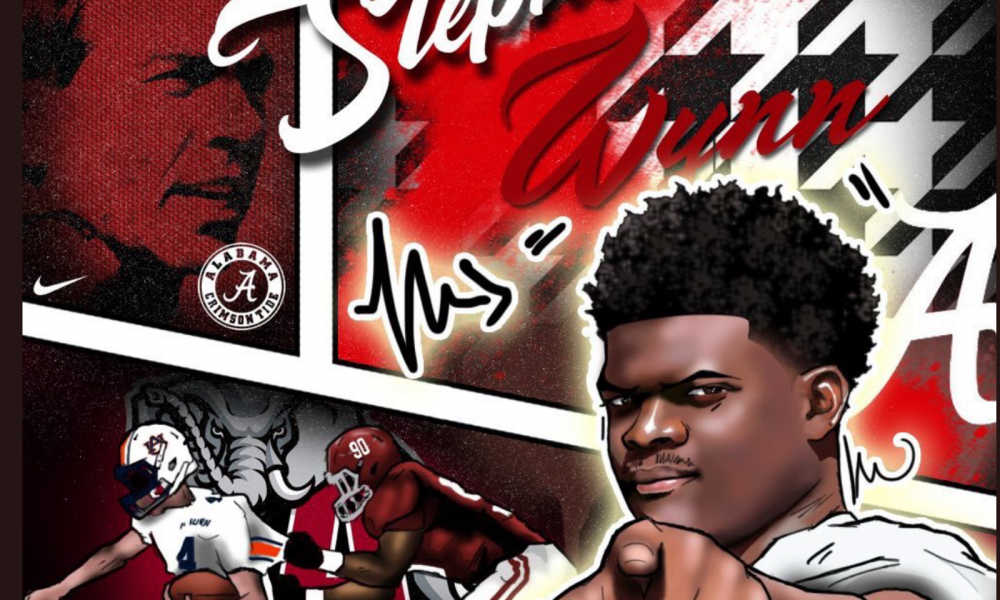 Anderson, SC
As I predicted earlier last week, Alabama in recruiting would be ok. Today is without a doubt a huge day for Alabama football. Today Stephon Wynn committed to Alabama accompanied by a gorgeous Alabama themed mural posted to his Twitter.  The 6'4″ 285 pound 4-star Defensive End committed in his hometown of Anderson, SC although he plays for athletic superstar prep school and powerhouse, IMG Academy in Bradenton,FL.
Wynn chose this day as a salute and dedication to his grandmother who passed away while he was in middle school. He chose returning to Anderson as a tribute to the foundation of his playing career.  Wynn, who started at football tradition rich T.L. Hanna High School in Anderson, SC has awe striking footage on his hudl that you can see if you can follow or cut and paste the link below.  His skill set is almost identical  to former Alabama and now Buffalo Bill great Marcel Dareus. He can stop the run and flatten the quarterbacks and his persistence will not let him be denied in getting the man with the ball.
Wynn chose Alabama over South Carolina and Georgia and for a while was a Georgia lean. We at Touchdown Alabama say welcome to the University of Alabama family and Roll Tide Stephon.
Ty Pulliam is a recruiting analyst and contributing writer for Touchdown Alabama Magazine. You can follow him on Twitter @TDAlabamamagTy