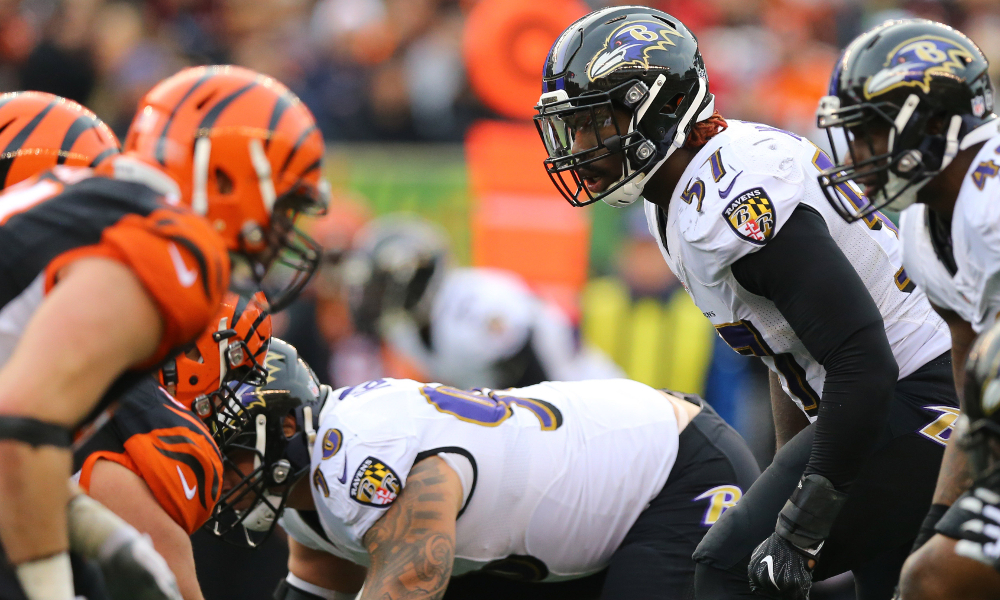 An absolute menace in Tuscaloosa, C.J. Mosley may have been the best linebacker Nick Saban has ever coached at Alabama. After racking up multiple years of success for the Crimson Tide, Mosley was taken by Ozzie Newsome's Baltimore Ravens with the 17th overall pick in 2014.
In his first three seasons since entering the league, C.J. Mosley has put up some beautiful numbers. He tallied 232 total tackles, seven sacks, three forced fumbles, six interceptions, and 23 pass deflections. He was named to the NFL's All-Rookie Team in his first year and has been selected to two Pro Bowls. Ravens fans watched as their star linebacker retired in glory when Ray Lewis danced his way to a Lombardi Trophy in his final season, and shortly thereafter the reins were passed down to the young Mosley. He has since turned into a superstar of his own.
Through two games, he has looked like one of the most dominant defensive players in the league. He recorded eight tackles, a deflection, and an interception in the Ravens' rout of the Cincinnati Bengals in week one. In their week two matchup with the Cleveland Browns he looked even more impressive, leading the team in tackles by a wide margin with 10. This weekend he and his teammates will be tasked with the Jacksonville Jaguars – a game in London with an 8:30 A.M. kickoff time. Expect to see Mosley trying to lay the wood on Jaguars' running back, Leonard Fournette, early and often.
Now, in his fourth season, C.J. Mosley is considered a veteran on one of the nation's top defenses. His squad has already turned in two straight performances in which they picked off four different passes, giving them a league-leading eight on the year.
Should Mosley's numbers continue to shine, and Baltimore keeps finding ways to stifle their opponents, the inside 'backer should start to receive a lot of media attention. Though it's an early kick-off, there will be plenty of eyes on he and his guys Sunday morning. Don't be surprised to see him take the opportunity to show the world what he can do, much like Landon Collins did last season.
It's early, but the odds are looking better for Mosley as a contender for NFL Defensive Player of the Year. He deserves every bit of it.
Jake Weaver is a lead writer for TD Alabama Magazine and Bama Hoops Hype. You can contact him via phone at 205-612-5060 or on Twitter @JWeaverFootball