Nick Saban
Saban talks national anthem, says he 'respects everyone's right not to be censored'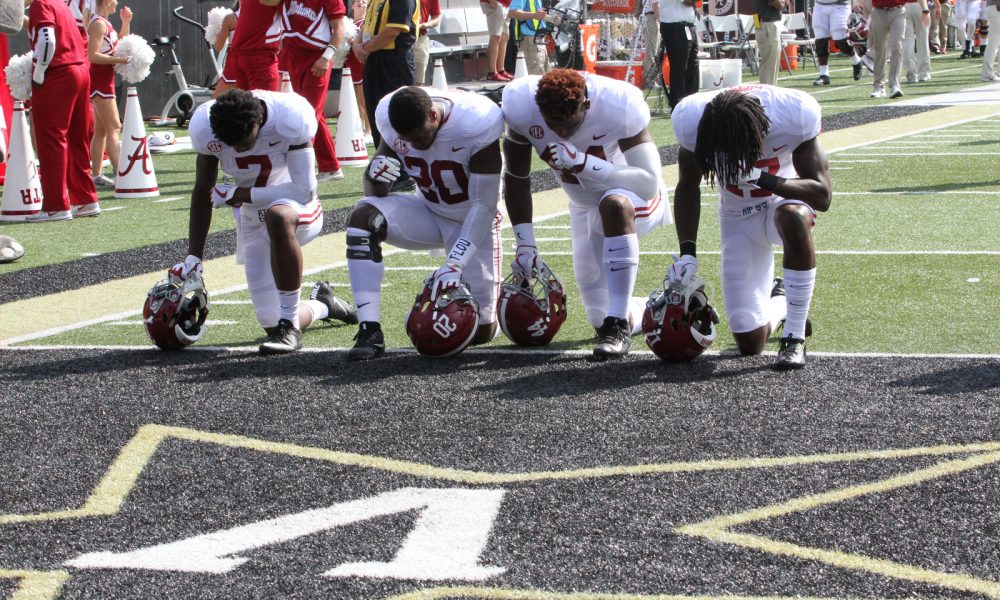 The sporting world has been under fire in the last couple of weeks, especially with more professional athletes choosing to kneel for the national anthem in protesting racial inequality. 
While most of society believes Donald Trump's run to be the United States 45th president was a joke, the man behind The Apprentice is our Commander-in-Chief, and as of last week – he lashed out at NFL owners saying how they need to fire players that kneel during the anthem. 
"Wouldn't you love to see one of these NFL owners, when someone disrespects our flag to say, `Get that son of a bitch off the field right now!" Trump said via the New York Post last week. 
To think all it took was a threat from Trump to get powerful men of athletics understanding what their players were trying to convey is sad; however, both professional and collegiate athletes were already woke on the situation.
At the University of Alabama, running back Damien Harris has voiced a number of times through social media on his displeasure with what's happening. 
Despite him being just a football coach in his eyes, Nick Saban took a crack at attacking the issue of politics in football on Monday in his presser after defeating Vanderbilt. 
"I don't keep up with all that stuff as much as everybody else does," Saban said.  
"But to me, some of the things that we do in our country when I grew up were unifying events. And it's a little painful to see that those things are not so right now. But, I also respect everyone's right not to be censored in terms of the way they express their beliefs." 
Sports was a safe haven at one point in time: an avenue of escape for people that encountered problems at work, home or in the community. What started as a simple kneel from former 49ers quarterback Colin Kaepernick in fighting police brutality and racial inequality has turned into an all-out war in judging whether you are a real American citizen or not.  
Even when he wants to be neutral and not provide much information on political thoughts, Saban's closing statement gave much wisdom on the problem at hand. 
"I don't have the answers to all the questions," Saban said. "I know that most good things come out of love, respect, compassion and unifying people, and most bad things come out of hate, dislike and deceit. Hopefully, we can kind of focus on the above and not the below." 
As players around the NFL continue to kneel and not emerge from locker rooms during the anthem, student-athletes at Alabama will continue to kneel in prayer before each game. 
Stephen M. Smith is the managing editor and senior writer for Touchdown Alabama Magazine.  You can "like" him on Facebook or "follow" him on Twitter, via @Smsmith_TDALMag.