Alabama Football News
Nick Saban talks his appreciation of Minkah Fitzpatrick; says he's an 'easy guy to like'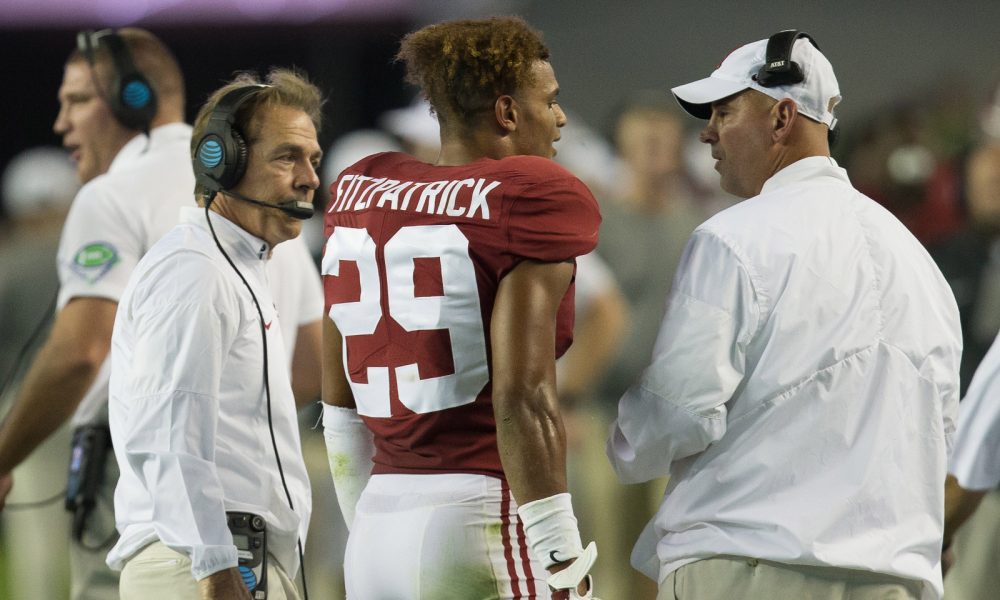 Who doesn't love "Money Minkah?" 
It is hard to dislike a player when he or she has done exactly what has been asked of them from high school, collegiate or professional level. Although he normally rants during game week, Alabama football head coach Nick Saban took Wednesday's presser as a moment for stories. 
One of the journeys that Saban took the media on was how much he appreciates Crimson Tide safety Minkah Fitzpatrick and what he has meant to the program.
Before coming to Alabama, Fitzpatrick was a New Jersey native who was a five-star athlete at Saint Peter's Prep School. 
He was recruited to be an outside cornerback, and despite losing to Marlon Humphrey during the summer of 2015, getting the nod at Star in the nickel package would begin his success story. 
"I loved Minkah when we recruited him," Saban said. "He has a great family and a great personality. I can still remember having dinner in his home when we went on home visits." 
Much of Fitzpatrick's talking, which consists of hard hits and pick-sixes, is done on the field but when the media does approach him – the junior flashes a bright smile and a studious attitude. 
Competition is the cornerstone of Alabama football, and whether the tests are physical or mental, Saban and defensive coordinator Jeremy Pruitt want the most constant competitor in the room. 
He may always get after Fitzpatrick because of his potential; however, Saban does this because the 6-foot-1 defender reminds him a lot of himself. With a smile, the 65-year old said the potential top-10 draft pick for next year is 'the kind of guy that is very easy to talk to.' 
"He's interested in a lot of things," Saban said. "He's just an easy guy to like. You like being around him. You certainly like the way he plays. You like when he tries to embrace things that you want him to do. He's always been 100 percent committed to the team and the process." 
He has been a special player since arriving two years ago, but Fitzpatrick's welcome to college football moment came at Kyle Field in College Station, Texas.
He intercepted Kyle Allen twice, returning both mistakes for scores.
His 14 points helped the Tide dominate Texas A&M 41-23 in its newly-renovated venue, while him earning All-American weekly honors from Football Writers Association of America.
Getting recognized as a Freshman All-American and making the SEC's All-Freshman team followed in his journey of assisting Alabama to a national title. 
In the absence of Eddie Jackson, Fitzpatrick accepted the challenge of playing safety down the stretch of last season. He recorded a team-high six interceptions – including two returned for touchdowns. This year, he's leading the team in total tackles (23) and has 2.5 tackles for loss, one sack, three pass breakups and two quarterback hurries. 
"When you have a lot of players on your team that really good guys, it's fun to coach," Saban said. "And he [Fitzpatrick] makes it fun to coach." 
Stephen M. Smith is the managing editor and senior writer for Touchdown Alabama Magazine.  You can "like" him on Facebook or "follow" him on Twitter, via @Smsmith_TDALMag.