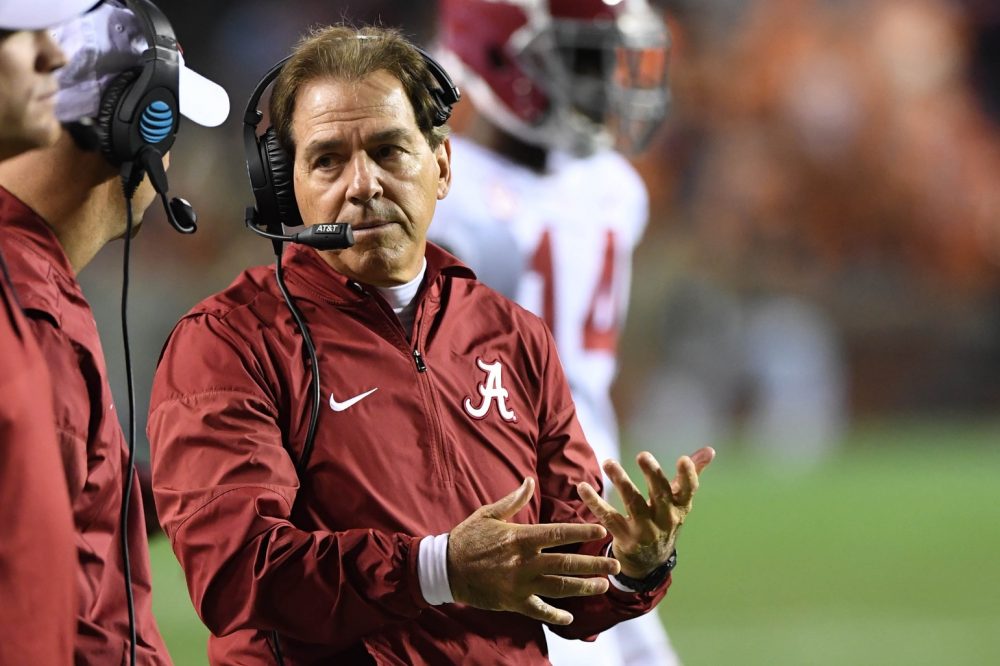 The selection committee for who gets into the College Football Playoff is going to have its hands full over the course of the next few days.
Alabama, who now sits at No. 5 after losing to Auburn 26-14 in the Iron Bowl last Saturday, is going to need some help if they want a chance at a fifth national championship within the last eight years.
One of the scenarios that could help the Tide is for No. 8 Ohio State to beat No. 4 Wisconsin in the Big 10 title game. With the Buckeyes currently sitting as a 6-point favorite, that scenario is extremely possible.
There have been rumblings that if Ohio State does get the win over the Badgers, then they'll be the ones to jump into the top 4 and secure a Playoff spot. That possibility has sparked a huge debate as to which team deserves to get in should the Buckeyes beat Wisconsin.
Here are five reasons why it shouldn't be much of a debate because Alabama is the clear-cut choice.
1. The committee set the precedent in 2016
Last season, the committee decided that winning a conference championship wasn't a requirement to get into the College Football Playoff when they put an 11-1 Ohio State team — who did not win the Big 10 — in over a 11-2 Penn State team — who did.
What's even more is that Penn State had actually beaten Ohio State (24-21) in a head-to-head match up only a month before.
One reason for Ohio State being put in over the Nittany Lions was because Penn State had suffered a significant loss earlier in the season at the hands of Michigan, who they lost to 49-10 in Week 4. That sort of loss, while early in the season, did not go over well with the committee.
So, what's different about the situation between an 11-1 Alabama team — who won't have a chance to win its conference — and a 10-2 Ohio State team — who will?
Outside of Ohio State not having a head-to-head victory over Alabama — which actually plays in the Tide's favor — not much.
2. Alabama's resume is better than it appears
There are a couple of victories that people need to take a closer look at on Alabama's schedule in order to get the full context.
First off, Florida State back in Week 1. Wait, you mean the game that was marketed as the greatest opening game in college football history? Yeah, that's the one.
Prognosticators point to where Florida State is at right now — which is a 5-6 record with a chance to become bowl eligible with a victory over Louisiana Monroe on Saturday — without taking into account where the Seminoles were at when Alabama played (and beat) them.
Florida State was a top 5 team coming into the season, and they were returning a quarterback who was expected to be in the mix for a Heisman Trophy.
Deondre Francois had thrown for 3,350 yards and 20 touchdowns in 2016 while also adding another 198 yards and 5 touchdowns on the ground. With star running back Dalvin Cook gone to the NFL, the offense was suppose to be built around the redshirt sophomore quarterback.
Instead, he tore the patella tendon in his left knee during the game against the Tide, and he was later ruled out for the year — well after the score was already where it would stay at 24-7.
The Seminoles have gone on to drop five more games this season, but three of those were by six points or less — including only a 4-point loss to No. 7 Miami.
Is it not entirely plausible that a potential ACC Offensive Player of the Year candidate — who was also a Heisman favorite — could've at least made a difference in those three games?
Let's also take a closer look at No. 23 Mississippi State, who finished the regular season with an 8-4 (4-4) record.
Heading into the Egg Bowl last Saturday, the Bulldogs were 8-3 (4-3), and their losses were to three teams vying for a Playoff spot — No. 6 Georgia, No. 2 Auburn and No. 5 Alabama. They were also the No. 14 team in the country.
State's quarterback Nick Fitzgerald — who the entire offense was built around — went down early in the first-quarter against Ole Miss, and the Bulldogs lost 31-28 as a result.
Like with Francois, it is entirely possible that Fitzgerald would've at least made up a difference of three points considering he was the most important player on Mississippi State's team.
Here's how Nick Fitzgerald stacks up against Baker Mayfield as far as how important they are to their team's offense.

N. Fitzgerald = 60.4% of yardage/63.1% of TDs
B. Mayfield = 62.6% of yardage/60.9% of TDs

Losing him definitely didn't make any significant difference, though. https://t.co/ITuhZqIw0g

— Clint Lamb (@ClintRLamb) November 24, 2017
With a victory, State would've been 9-3 (5-3), and they would've been up there in the same range as a No. 9 Penn State or No. 12 Michigan State.
The committee can't take Kelly Bryant's injury into account when considering Clemson's loss to Syracuse and then turn around and ignore the losses that Florida State and Mississippi State suffered at the same position.
3. Ohio State has been dominated twice this season
Alabama's biggest loss in 11 seasons under Nick Saban was 14 points, which has only happened a few times.
In just this season, however, Ohio State has already dropped two games by 15 points or more, including a 31-point loss to a 7-5 (4-5) Iowa team in Week 10.
In last 2 years, the 8 teams which reached the CFP had 6 losses by a combined 31 points. Ohio State's 2 losses this year have been by a combined 46 points (loss at Iowa was by 31).

— Chris Fallica (@chrisfallica) November 29, 2017
It would be extremely hard for the committee to sell that a team who got beat by 31 points to a mediocre opponent such as Iowa is one of the top 4 teams in the country.
4. Alabama would be favored over any other team
Yes, Alabama did just lose to Auburn by 12 points on Saturday, but that doesn't mean that Vegas believes that would happen again if the two teams played on a neutral field.
In fact, Vegas still has Alabama as a favorite against every other team in the country at a neutral site.
Interesting thing ESPN just put up: Alabama would be favored against any team with potential to make it into the playoff, with Ohio State having closest odds (-1).

— Kevin Harrish (@Kevinish) November 29, 2017
In addition, Oddsshark gave a very convincing reason why Alabama should make the Playoff, and a big reason is that they had the Tide favored over every team being considered except for two — Clemson (+1) and Auburn (pick).
If the committee is looking for the best four teams in the nation, wouldn't that include the team that would be favored to beat just about everybody else?
5. Alabama should be fully healthy by the time the Playoff started
ESPN analyst Joey Galloway has mentioned on multiple occasions that Alabama hasn't played its best football in the month of November.
While that is true, let's also not forget that there have been multiple players — especially defensively — who have been dealing with injuries.
That holds true for Terrell Lewis and Christian Miller, who had not seen game action since Week 1 prior to the Auburn game. It also holds true for players like Mack Wilson, Minkah Fitzpatrick and Ross Pierschbacher, who have all been dealing with injuries that had caused them to miss games or be limited.
All of those guys played against the Tigers, but none were at 100-percent.
That won't be the case by the time the Playoff rolls around, and that should be taken into consideration by the committee — as their limitations or absence has almost certainly played a role in Alabama's recent struggles.
Let's talk about Galloway's comments, though.
The Ohio State alum claims that Alabama has struggled in the month of November, but he made no such claim in regards to the Buckeyes.
In closing, take a look at how the two teams have stacked up in the month of November.
Clint Lamb is an associate editor for Touchdown Alabama Magazine. You can "follow" him  on Twitter @ClintRLamb.
SaveSave
SaveSave
SaveSave
SaveSave
SaveSave