Alabama Football News
Alabama Needs Better Play From the Right Tackle to Overcome Clemson's Elite Defensive Line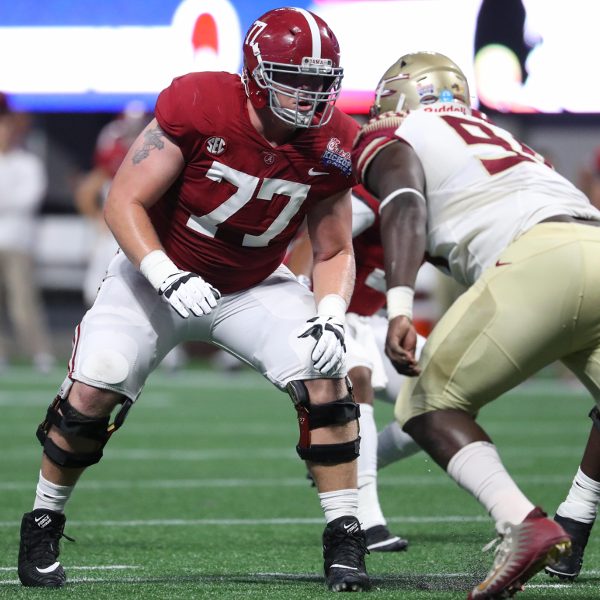 Leading the nation with 44 sacks on the season, the Clemson Tigers boast arguably the best defensive line in all of college football. Though the Crimson Tide's offensive line is slightly above average statistically, Jalen Hurts' mobility has turned a large handful of negative plays into neutral or even positive ones. On tape, however, a much different story unfolds.
Most of the time that Hurts was asked to drop back and pass from the pocket he received heavy pressure and instead tried rolling away from it to make a play. This, in turn, manifested itself into undeserved criticism of the sophomore quarterback's abilities as a passer. When investigated further, it is pretty clear that an overwhelming majority of this pressure comes from the right side of the line.
Even more specifically, it comes from outside the Tide's starting right tackle, Matt Womack. Watch the following plays and keep your eyes on #77:
Womack plays a very physical style of football, making him an above average run blocker at his position. However, he lacks both the foot speed and technique to keep up with quicker edge rushers and thus tends to get beat outside a lot.
On the season as a whole, the Tide's line has only given up 22 sacks to opposing defenses – good for 47th in the country, also known as about average. Though all is not bad for the No. 4 seed as they have, in fact, given up the third-fewest tackles for loss in the nation with just 45. As a team – meaning including Hurts' scrambles and designed runs – the Tide also rank eighth in the nation for rushing yards per game (265.3) though it may not always feel like it.
Though the numbers do not tell the entire story, there is indeed a silver lining to be taken from them and it is simply that the line is capable of handling any opponent when playing cohesively. Womack – despite his flaws – has actually graded out quite well on a game-by-game basis. When he plays well, he looks like one of the best in the conference, but when he is hit with a bad matchup his play can become detrimental to Brian Daboll's offense.
With nearly an entire month to prepare for the re-rematch with Clemson, Saban and co. will almost certainly look to give Womack more help on the right side. Damien Harris and Hale Hentges are the two most likely candidates to supply that additional support, and they have both proven capable to do so. With the game set to kickoff in less than a week, it will be an interesting factor to keep an eye on. If the offensive line struggles in pass protection like they did against Auburn, it could be a long night for the Tide.