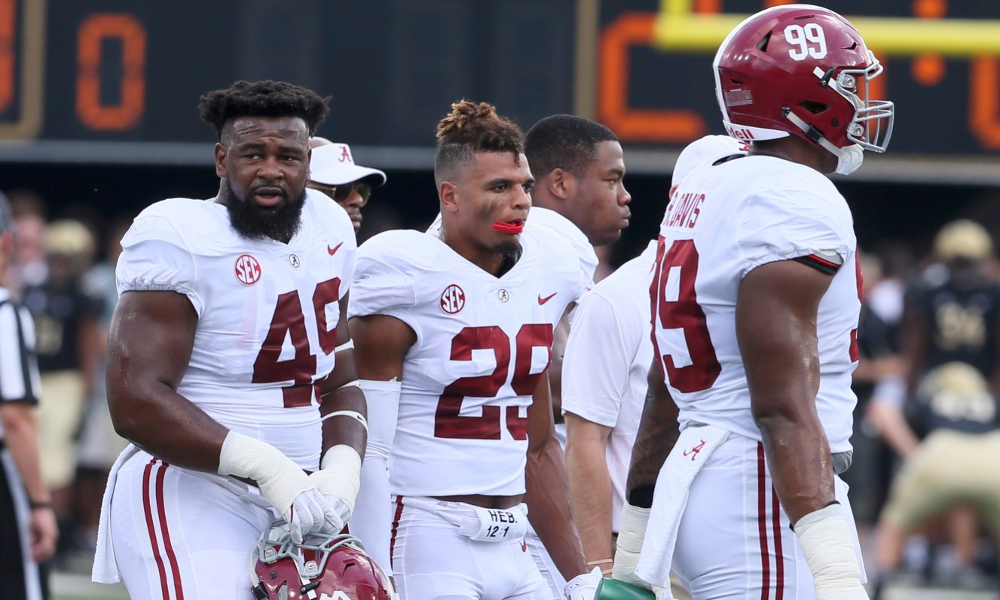 The power combo that is the Georgia Bulldogs' backfield leaders has them on the door step of their first National Championship trophy in over three decades. To do that, however, they must first find a way to overcome an Alabama team in the midst of a historical dynasty. There is no question that the team goes where their backs go, and if Kirby Smart could have it his way he would run them on every play possible. With the game in Atlanta – essentially the Bulldogs' backyard – the fans will feed Nick Chubb and Sony Michel with their energy every time they touch the ball.
Nick Saban and Jeremy Pruitt know are as familiar with this as anyone, but the question remains: how can they slow it down?
Initially, the go-to idea is to load the box and force them to have true freshman quarterback, Jake Fromm, throw the ball. While that may be the plan early, Fromm has a tremendous arm and is an elite thrower on sideline routes. With a stacked box, the rest of the defense will be man-to-man for a majority of the time. UGA's Wims and Ridley (Calvin's brother) are both exceptional wide receivers and have oft excelled versus man coverage. With Ridley as the deep threat and Wims as the go-to, strong-handed pass catcher, Alabama's secondary will have its hands full, too.
Putting seven or eight guys in the box may be possible early on as they try and get their young quarterback in rhythm, but as the game goes on we may see them spread things out to give their guys more space to maneuver. If that ends up being the case, as it likely will, do not be surprised to see a 3-3-5 type of lineup as the night unfolds.
This would put Hand, Payne, and Davis on the front lines as the initial run stoppers. Behind them would be some combination of Wilson, Lewis, and Evans. Having an extra defensive back on the field against Georgia may seem counterproductive, but Alabama's secondary is littered with elite tacklers. Minkah Fitzpatrick and Ronnie Harrison are arguably the best safety duo in all of college football and both can play as if their extra linebackers. Pruitt's blitz-happy scheme allows the tide to blitz one or more of their safeties and/or an extra linebacker while not necessarily force the defensive backs into man coverage.
For as long as Georgia uses their 'big' or 'heavy' personnel, expect the old-fashioned 3-4 base defense from Saban and Pruitt. However, when they inevitably try spreading things out Alabama cannot do what they did against Auburn in allowing the quick passing game (slants, comebacks, screens, dumpoffs) to beat them. An extra defensive back – even if they end up stacking the box, too – could be used as a pseudo-scare tactic to deter Kirby Smart and Co.
No matter what the final tactic ends up being, the key is slowing down Chubb and Michel first. If that does not happen, their is little hope for title #17 to be on its way back to Tuscaloosa.