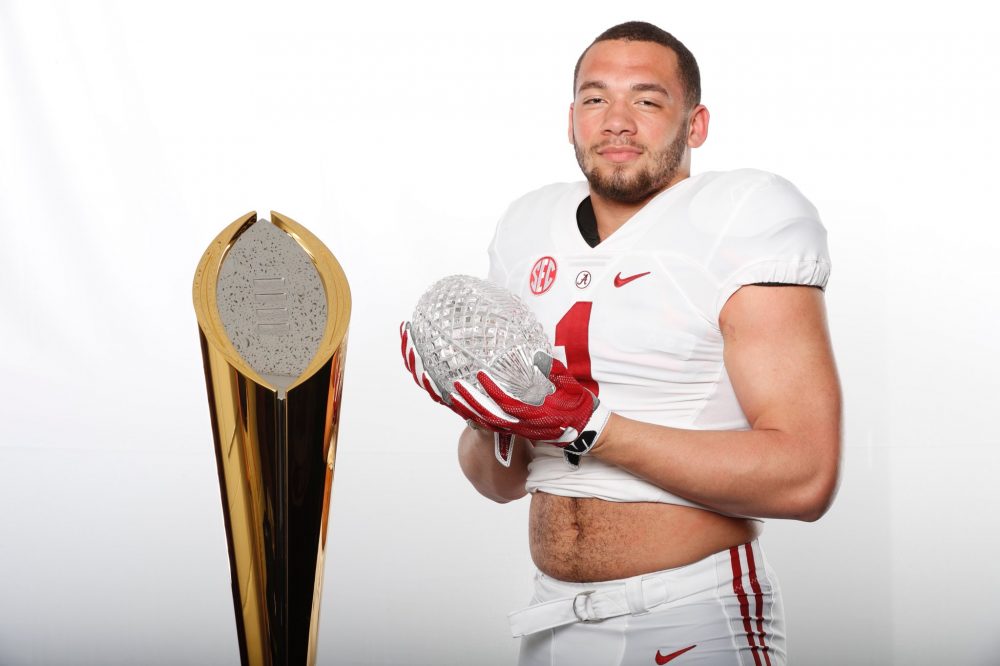 The Crimson Tide are rolling on the recruiting trail and they show no signs of slowing down. Their 2019 recruiting class has the potential to match some of the best classes Saban has ever been able to pull into Tuscaloosa. Moving forward, Alabama has some big targets on the board. Here are a few of those guys Alabama would love to pull in.
Clay Webb
Webb is arguably Alabama's biggest target at the moment. He is currently looking like one of the final pieces to complete the best offensive lineman recruiting class, ranking wise, Saban has ever had at Alabama. Webb is a 5-Star recruit and is the No.1 center in the nation. He is a monster in the trenches. He knows how to use his hands and outstanding footwork to be an effective pass blocker. Webb is also an outstanding wrestler and it easily translates to the gridiron. He knows how to get leverage and give a defensive lineman a hard time.
Darnell Wright
Wright would definitely seal up this class claims for the best offensive lineman class Saban ever assemble according to recruiting rankings.  Wright is the top guard in the nation and what a treat it would be if the Tide could  pull in both, the top center and tackle in the nation. Alabama is going to have to battle it out with some great schools to get  Wright, which is something the Tide doesn't mind doing. Especially, for an aggressive offensive lineman like Wright. He is a man among boys and uses his size to dominate. Of course, he will not be able to do that at the next level with so much dominance, but it is always good to have an aggressive offensive lineman on your team.
Nakobe Dean
Dean has been a huge target for Alabama for a long time now. Fortunately for the Tide, they were able to get to Dean early in his recruitment and it has put them in a great position with the Mississippi-native. Dean is one of the top defensive players in the nation, holding more than 20 offers from some of the top schools. Another thing working in Alabama's favor with Dean is that his relationship with Alabama did not change after Alabama's defensive coaching changes. His relationship is actually better with the new coaching staff than the old one. Dean is a special athlete. He has the ability to play both inside and outside linebacker. He could join Shane Lee at Alabama and be the leaders of a linebacker class that could be a great one.
Antonio Alfano
Alfano currently has Alabama in his top 3, which he dropped on April 22. the Tide are joined by Notre Dame and Penn State. Alfano has visited Alabama and it went pretty well. He has the chance to join three great defensive lineman that have already given Alabama a verbal commitment. Alfano is a violent tackler and has experience playing on the offensive line as well. He is definitely a handful at 6-feet-4-inches and 285 pounds. Alabama would love to have him.
Lakia Henry
Henry is one of the top JUCO linebackers in the 2019 class. Alabama has had some good luck with JUCO players in the past. Guys like Isaiah Buggs and Jaren Reed has Alabama feeling confident that they could turn JUCO players into dominant forces in the SEC.  The biggest advantage Henry can bring to the Tide is his experience. He has already played on the college level, although it isn't the SEC, it is college football experience. He is very knowledgeable of the game and can sniff out plays early and attack. He is also a pretty efficient tackler.
Will Reichard
Reichard is the nation's No.1 kicker. Everyone who follows Alabama football knows how important it is for the Tide to pull in a good kicker at any chance they could get and this one is right in their backyard. He has expressed to your truly that the Alabama offer was a dream come true. His commitment could come in the next couple of weeks. The Crimson Tide are definitely a huge player in his recruitment. It will be interesting to see if they could land the Hoover-Native.
Justin Smith is a Scouting/Recruiting analyst for Touchdown Alabama Magazine. You can follow him on Twitter, via @Jdsmith31Smith